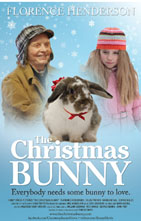 The Edmonds Theater is hosting a screening Saturday, Dec. 18 of the heartwarming film "The Christmas Bunny," with proceeds benefiting Rabbit Meadows, a rabbit shelter being built in Redmond.
Details:
Noon-2pm
Edmonds Theater  (415 Main Street, Edmonds)
Tickets: $6 donation to Rabbit Meadows
Reserve your ticket at RabbitMeadows.org
"The Christmas Bunny," starring Brady Bunch mom and "Dancing With The Stars" contestant Florence Henderson. is the story of a lonely foster child (Sophie Bolen) who finds a lost, injured rabbit in the woods on Christmas Eve. The Bunny Lady (Henderson), who runs a rabbit rescue in an old barn behind her Michigan farmhouse, nurses the rabbit back to health. "The Christmas Bunny" is an independent film shot in the winter of 2010 in and around Grand Rapids, Michigan.