Live Music
The Edmonds Arts Festival fills multiple stages during its three-day event beginning Friday. The City of Edmonds' Frances Anderson Center at 700 Main St. is home to the Anderson Center Playfield Amphitheater, the Plaza Patio and the Arts Festival Gallery. These venues are packed with performers through the festival, ending on Father's Day.
The Edmonds Arts Festival Gallery hosts events daily, including poetry readings by members of the Epic Group Writers at 2 p.m. each day of the festival.
On the Plaza above the library — Jazz on the Plaza features jazz players from many local high schools. In its fifth year, this venue showcases musicians from Kamiak, Mount Si, Meadowdale and Edmonds-Woodway. The collection of talented young musicians and the numerous ensembles highlights a rich jazz tradition for many local schools in this community. With the help of their sponsors, the Edmonds Arts Festival supports that tradition by offering venues for young musicians to build upon their passions and artistic pursuits.
The Anderson Center Playfield Amphitheater is considered the main stage of the festival. This location has booked an impressive lineup. The catalogue of performers is as diverse as ever, offering differing styles of music and quick stage rotations with headliners and beloved veterans to the festival booked as closing acts. Tailored specifically for the event weekend, the musicians were selected from numerous applicants to the festival. Three days of local and well-known musical groups, reputable solo artists, acoustic ensembles, and rock bands playing hourly through the open hours of the festival. Check out the full schedule at www.edmondsartsfestival.com/performing-arts-festival/
Tom Allison, a long-time volunteer and one of the Art Festival Directors, offered this: "Providing a venue for local artists and musicians is one of our goals. This event is perfect for local groups and bands who wish to perform at professional venues. Each act is compensated for their work and held to a standard – encouraging their artistry and professionalism. We couldn't be happier with our lineup."
The amphitheater is an open-air stage where seating is on the grassy lawn and a retaining wall abutting the playground. It allows festival goers to pop in for a song, a set, or a whole performance. Tucked between the Food Court and the Play Area at Anderson Center Playfield, it serves as a destination for some and a delightful diversion for others.
Madrona Middle School Orchestra & Jazz Band
Friday, June 14, 10 a.m.-noon
Edmonds Arts Festival
Anderson Center Playfield Amphitheater
700 Main St., Edmonds
Madrona Middle School students take the Amphitheater Stage to kick off a weekend of performances at the Edmonds Arts Festival. Directors Victoria Nelson conduct the Orchestra and Matt Edwards the Jazz Band.
Jazz on the Plaza – Featured Groups of Edmonds Woodway & Mount Si High Schools
Friday, June 14, 5 – 8 p.m.
Edmonds Arts Festival
Jazz on the Plaza, Frances Anderson Plaza Patio
700 Main St., Edmonds
Underage Quintet and The Mosaic, both Edmonds-Woodway High School ensembles, take the stage Friday with their contemporaries, The Fourtet from Mount Si High School.
Jazz on the Plaza – Featured High School Groups of Edmonds Woodway, Mount Si & Kamiak
Saturday, June 15, 4 – 7 p.m.
Edmonds Arts Festival
Jazz on the Plaza, Frances Anderson Plaza Patio
700 Main St., Edmonds
Knight Jazz from Kamiak and Mount Si's the Nate Wray Group are part of Featured Groups on Saturday before Phil the Tip Jar Quintet, an Edmonds Woodway High School Alumni Group, closes out the night.
Ranger & the "Rearrangers"
Friday, June 14, 2 – 3:00 p.m.
Edmonds Arts Festival
Anderson Center Playfield Amphitheater
700 Main St., Edmonds
This gypsy jazz band is well known for its raucous and spirited style. No stranger to live performance, they appear more than one hundred times yearly in the Puget Sound area. Catch them later in the summer when they headline the July 14 kickoff of the City of Edmonds 2019 Summer Concerts in City Park.
Kellee Bradley Band
Friday, June 14, 6:30 – 7:30 p.m.
Edmonds Arts Festival
Anderson Center Playfield Amphitheater
700 Main St., Edmonds
Kellee Bradley and her band have performed around the Seattle area for more than fifteen years including opening for major acts all over the Northwest. This rocking act will round out the first day of music at the festival. https://www.kelleebradley.com/about/
Side Project
Saturday, June 15, 2 – 3 p.m.
Edmonds Arts Festival
Anderson Center Playfield Amphitheater
700 Main St., Edmonds
The Side Project delivers indie-pop arrangements of cover songs alongside their original music.  They have reached critical acclaim and national attention with their music. Catch them on Saturday afternoon at 2:00 p.m. Also performing on the summer Concerts in Hazel Miller Plaza series on Aug. 13.
Stacy Jones
Saturday, June 15, 6:30 – 7:30 p.m.
Edmonds Arts Festival
Anderson Center Playfield Amphitheater
700 Main St., Edmonds
Stacy Jones and her band's notoriety includes performances at festivals around the country, recognition from blues associations and international acclaim for recordings and songwriting.  This Seattle area blues icon first appeared on stages like Engels pub where she was nurtured as a fledgling artist. Now, the Grammy-nominated singer and her band will entertain the hometown crowd as the closing act Saturday evening. Learn more at stacyjonesband.com/
Edmonds-Woodway High School – Mello-Aires
Sunday, June 16, 10 a.m.
Edmonds Arts Festival
Anderson Center Playfield Amphitheater
700 Main St., Edmonds
Led by Charlotte Reese, this vocal jazz ensemble brings their recognized successes to the mainstage to open Sunday's performances. After another year of notoriety, including recognition from Downbeat Magazine, successes at music festivals and accolades from educators in the northwest, the group takes the stage Sunday morning.
Edmonds-Woodway High School – Jazz I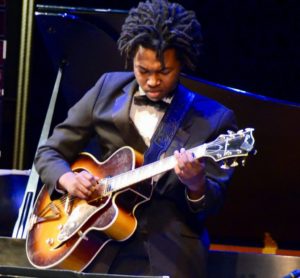 Sunday, June 16, 2:30 p.m.
Edmonds Arts Festival
Anderson Center Playfield Amphitheater
700 Main St., Edmonds
Include 2019 as another successful year for this regionally and nationally recognized, award-winning ensemble. One of the top jazz bands in the nation and a five-time finalist in the Essentially Ellington Competition, this group brings their high-caliber playing to the Amphitheater. Members of this group can be found this summer at the ever-popular Sea Jazz at the Port of Edmonds and on the Jazz on the Plaza stage throughout the weekend.
~ ~ ~ ~
Sunday Jazz at 190 Sunset – Jake Bergevin with Milo Peterson
Sunday, June 16, 11:30 a.m. – 2 p.m.
190 Sunset
190 Sunset St, Edmonds – Complimentary for guests of the restaurant
Jake Bergevin will be busy bringing Edmonds Woodway High School ensembles to the Edmonds Arts Festival this weekend, but he is still on to deliver another Sunday Jazz session during brunch at 190 Sunset. This week, he's joined by Milo Peterson on guitar. Milo is a guitarist and drummer with decades of ascribed successes in the Seattle jazz community.
Reserve your table here.
~ ~ ~ ~
Ray Charles – I Can't Stop Loving You – Seattle Repertory Jazz Orchestra
Monday, June 17, 7:30 p.m.
Edmonds Center for the Arts
410 4th Ave, N,, Adults $36, Children $10
The Seattle Repertory Jazz Orchestra features a collection of special guests to celebrate the music and legacy of the great Ray Charles. SRJO will be joined by graduating student soloists for each of the three performances. From Edmonds-Woodway High School, seniors Josh Nelson and Natalie Whitlock are featured on Monday night's performance at Edmonds Center for the Arts. Learn more at www.srjo.org/concert-series.
Studio Art
Edmonds Arts Festival
Father's Day Weekend – Friday to Sunday, June 14 – 16
Frances Anderson Center
700 Main St, Edmonds
For more than 60 years the Edmonds art festival has become one of the most beloved and well-known arts festivals in the state, if not in the country. More than 240 artists bring their art to this festival to sell original creations and display their unique one-of-a-kind wares. The artists and their works are assembled on the Anderson Center playfield and Plaza room. Learn more about Vendor Artists here: www.edmondsartsfestival.com/booth-artists-list/
Inside the Anderson Cultural Center you'll find galleries of juried art from 400 area artists. While the prizes are awarded in category and type, much of this art is also for sale.
Gallery Artists at  www.edmondsartsfestival.com/1631-2/
2019 Gallery Art Winners at www.edmondsartsfestival.com/winners/
With so many things to see and do at the Edmonds Art Festival, you will have to budget your time to see it all. Visit the juried art and pick a favorite in each gallery. Go downstairs at Anderson Cultural Center and see the student art. Look for the penguins that return on their migration to the basement halls. Walk through the food booths. Be spontaneous at the food court, where I recommend the piroshky.
Learn more at the Edmonds Arts Festival website – www.edmondsartsfestival.com or check out the Edmonds Arts Festival Program: simplebooklet.com/festival2019program#page=0
Dance
Dance Theatrics – Barclay Shelton Dance Center
Saturday, June 15, 12:30 p.m.
Edmonds Arts Festival
Anderson Center Playfield Amphitheater
700 Main St., Edmonds
Barclay Shelton Dance Center is an institution of dance in the Seattle area with more than forty years in the City of Edmonds. Dance Theatrics, their resident performing company, brings a showcase of work that features modern, jazz, ballet, tap, and hip-hop dance styles. This auditioned group provides performance opportunities for their students in their advanced classes. Learn more at www.barclaysheltondance.com/dance-theatrics
Theatre
Sherlock Holmes & the Case of the Jersey Lily
By Katie Forgette, Directed by Martin J. Mackenzie
June 14 – 30
Friday – Saturday 8 p.m., Sunday 2 p.m.
Wade James Theater
950 Main St., $28 for adults, $25 for juniors, seniors & military
The wit of Oscar Wilde meets the cunning of Sir Arthur Conan Doyle when Wilde brings his dear friend, Lillie Langtry, to Baker Street. The part of Oscar Wilde is played by Jacob Livingston and Jenifer Rifenbery plays Lillie Langtry. Someone has stolen the highly intimate letters Lillie exchanged with the Prince of Wales and now she is being blackmailed. Only Holmes, played by Jay Vilhauer, can solve the case, going so far as to disguise himself as an early version of Lady Bracknell from Wilde's latest play, The Importance of Being Forthright. All this while Watson, played by Joe Wack, falls head-over-heels for the Jersey Lily and a wicked professor attempts to bring the Crown to its knees. Plot synopsis by Playscripts, Inc.
Tickets and more information at: https://edmondsdriftwoodplayers.org/2018-2019-season/sherlock-holmes-and-the-case-of-the-jersey-lily/
— By Royce Napolitino
Royce Napolitino actively pursues his passion for live performance. Easily entertained, he is always ready to offer a round of applause or a hearty laugh. Royce finds joy in the expression of art, and you may find him singing, acting, or supporting other performing groups in Edmonds and around the Sound.