When restaurateurs Anthony Donatone and Peter Lamb and investor Robby Robertson — were kicking around naming ideas for their latest venture — an Italian restaurant on Edmonds Way — they hit on Bucatini. They liked it because it was a favorite pasta of theirs.
If you're not familiar with bucatini, it resembles spaghetti, but on closer inspection is wider and tubular, allowing sauce to seep into the center. Since the translation from Italian is "little hole," they also found it an appropriate name for their charming 1,200-square-foot space tucked in the corner of a Westgate shopping center in Edmonds. A little self-deprecating humor never hurt anyone.
They've received a warm reception by those of us in Edmonds who love great Italian food. As the restaurant prepares to double in size in the next month or two, there are no plans to rename the restaurant, to say. . .Manicotti.
The expansion will come with more kitchen space, and a 10-foot arch will open things up in the restaurant, bringing the two spaces together. A full bar service will also be available. Six more tables and eight bar stools will be added to the mix.
For dinner, I noticed my mouth instantly began to water when the server brought the daily specials board over. Each of the five items looked more delicious than the last. In this age of decision fatigue, you would almost give up hope, but honestly, if you love Italian cuisine, you'll probably be content with almost any random selection you make.
"There's an Italian expression that goes something like 'you can't be unhappy when you're eating pasta,'" said Lamb. If that's true, I'd say Bucatini specializes in happiness.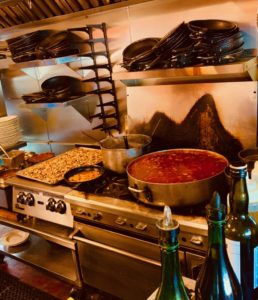 When they set out to cook up a batch of ragu, there are no half measures. The "sauce pan" is a gigantic, shallow, 35-quart pot, which happened to be simmering away when I visited with Donatone recently. Alongside it, a huge sheet of mushrooms cure. Everything smelled fantastic.
Donatone began working in Manhattan's Little Italy in an Italian kitchen at the tender age of 15. His guests over the last 40-plus years have included countless celebrities, some of whom can be seen in photographs displayed on the walls throughout the restaurant. He's owned and/or operated Italian restaurants in Miami, Saint Thomas, Chicago, Lake Tahoe, and most recently the well-regarded Casa D'Italia, which he opened in 2001 in Seattle's Ravenna neighborhood.
Even before 2013, when Casa D'Italia shut its doors, Donatone had his eye on Edmonds.
As Casa D'Italia was closing, The Seattle Times reported that maybe, as the Sinatra tune goes, the best is yet to come. Lucky for Edmonds, Donatone found the spot he was looking for, and after 15 months of renovations, opened Bucatini. Donatone likes being on the edge of "the Bowl" — in a center where parking is plentiful after 6 p.m. when most of the other shops close for the day. The lower cost of operating a restaurant in the Westgate area allows him to keep prices down. The staff appreciates not having to battle Seattle traffic and parking to get to work.
Donatone and Lamb, friends for 25 years, have both had Seattle restaurants. They just like Edmonds better. For Donatone, his kids' schools, his church, Harbor Square Athletic Club, and his home are all in Edmonds. It just made sense to put a restaurant together up here. Lamb was fine with the idea. His Edmonds connections go back 70 or so years with an uncle who was principal at Edmonds Junior High School, and an aunt who taught at Holy Rosary. Lamb has owned and operated Il Bistro, Queen City Grill and Branzino in the Seattle area. He doesn't miss the chaos.
In a way, Bucatini is two distinct restaurants.
In the afternoon, it caters to a lunch crowd that appreciates the value of their enormous and delicious sandwiches that possess a distinctly Italian essence. They may look like giant subs, but served on toasted ciabatta, and chalk full of traditional Italian flavors, they somewhat resemble a good stromboli or calzone.
In the evening, the menu and atmosphere transform into fine dining. One of the things that make their evening menu especially compelling is their relationship to Broken Arrow Ranch, enabling them to offer elk, wild boar, venison, duck, rabbit and other exotic meats. The wild boar sausage is particularly worth investigating if you haven't tried it.
But if that's not your thing, there are plenty of tamer options. You can't go wrong with their signature Bucatini – offered several ways to please almost any taste. Have it in the traditional style with olive oil, white wine, garlic, lemon and fresh herbs, or try it with marinara. Prefer a little seafood? Go with Bucatini Alla Napolitana — prawns, clams, mussels and calamari. Bucatini can also be had with meatballs, sausage or both.
Side note: Did you realize they have an outdoor patio? I've been going there for years and just discovered it.
Keep in mind that Bucatini offers to-go catering for events and parties and has partnered with Doordash.com for deliveries.
Out of respect for staff and family, Bucatini is closed on Sunday. Donatone half jokes — "We reserve Sunday for the three 'f's' – faith, family and football! But really, we do need a day off."
Drop in and congratulate Bucatini on their expansion — it'll be a good excuse to enjoy some great Italian cuisine.
Bucatini
9818 Edmonds Way
Edmonds
425-361-1487
www.Bucatiniedmonds.com
 — By James Spangler
The furthest thing from a finicky eater, James Spangler insisted on trying everything on the table from the earliest age. At 13, he prepared Baked Alaska for an entire classroom and has had an insatiable appetite for good food ever since. He'd rather be in the kitchen cooking for the people he loves than doing just about anything.