October!
For some of us, the turning of the calendar page means a bit more indoor time…
Some of us love living vicariously no matter the season…
For the armchair traveler in all of us, here are a select few epic travel/adventure memoirs:
"A Pilgrimage to Eternity: From Canterbury to Rome in Search of a Faith" by Timothy Egan. To be published 10/15/19.
Staff recommended: In his uniquely engrossing writing style, Egan weaves together the very personal story of his pilgrimage; the story of his Irish Catholic family and its relationship with the church; as well as stories about the history of the Christian faith that tie in with the cathedrals and towns along the Via Francigena.
The fact that this is his most personal book to date makes it even more compelling. What a great read.
"The Great Alone: Walking the Pacific Crest Trail" by Tim Voors. Why does a 44-year-old father leave his family for six months to walk 4,286 km across America on the Pacific Crest Trail? Tim Voors decided to embark on a life-changing hike, feeling alive, being afraid, pushing through pain, confronting emptiness and starting a passionate romance with the wilderness. He takes us through the physical, mental and spiritual journey he experienced on this epic hike.  And the cover photo is itself, epic!
"Walking to the End of the World: A Thousand Miles on the Camino de Santiago" by Beth Jusino.
This is a warm-hearted and engaging story about an average couple going on an adventure together.
The self-described "non-athlete" and "no risk-taker' recounts her 79 day walk with her husband along the historic pilgrimage route which takes them thru France and Spain — plus several pairs of shoes — as they trek up to 15 miles a day to find, at the end, "a gift to the soul."
Beth Jusino will be appearing at the 2019 Write on the Sound Conference in Edmonds. Visit the WOTS website for more information.
"The Road to San Donato: Fathers, Sons, and Cycling Across Italy" by Robert Cocuzzo.
A first-person account of an Italian-American father and son who take two weeks to travel, by bicycle, to the small town in Italy from which their great-grandfather emigrated early in the 20th century. In San Donato they explore the role their ancestral village–and their family–played in protecting Jews during World War II.
"Barbarian Days: A Surfing Life" by William Finnegan. Winner of the Pulitzer Prize.
Surfing only looks like a sport. To initiates, it is something else entirely: a beautiful addiction, a demanding course of study, a morally dangerous pastime, a way of life.
Staff recommended:  The writing is transcendent, the scenery is amazing.  Mr. Finnegan takes us around the world on his surfing adventures, from growing up in Hawaii to living in Manhattan and all kinds of spectacular destinations in between. Such a great book.
"Kook: What Surfing Taught Me about Love, Life, and Catching the Perfect Wave" by Peter Heller.
Heller details the strenuous, exciting adventure of learning to surf in only six months.
Staff recommended: You know him from staff favorite novels "The Dog Stars," and" The Painter," among others, this memoir is equally well-written and all the more impressive because he talked someone into paying him to learn how to surf… I apparently need to find an agent!
"Arctic Solitaire: A Boat, a Bay, and the Quest for the Perfect Bear" by Paul Souders.
"Professional photographer and amateur adventurer Paul Souders takes his C-Dory [way too small of a boat!]and his cameras to Hudson Bay to find and photograph polar bears over the course of three summers. "
Staff recommended: We love this book! The resulting photos are spectacular, and Mr. Souders is a much better writer than he gives himself credit for. Thoroughly enjoyed reading the words and being completely amazed by the photos.
Mr. Souders was a recent guest of Edmonds Bookshop; we have a few signed copies of his book left! [A great gift idea!]
"Alone on the Wall" by Alex Honnold. He tells, for the first time, and in his own words, the story of his 3 hours and 56 minutes on the sheer face of El Capitan, which Outside Magazine called "the moon landing of free soloing…a generation-defining climb. Bad ass and beyond words…one of the pinnacle sporting moments of all time." 
A few of the things going on this month at Edmonds Bookshop: [No wet suits, hiking boots, or massive backpacks necessary…]
October 2019 Book Club Book.  "The Friend: A Novel" by Sigrid Nunez.
Wednesday Oct. 16, 2019. 9 – 10 a.m.
Winner of the 2018 National Book Award for Fiction
Elegiac and searching, "The Friend" is both a meditation on loss and a celebration of human-canine devotion.
This was chosen for Moira's Seattle Times Bookclub. Some of the highlights from the online discussion about "The Friend" are here.
Thursday, Oct. 17, 2019 – 5 to 8 p.m.
Third Thursday Art Walk: The Edmonds Writing Sisters and their anthology, "Writing In Place: Prose & Poetry from the Pacific Northwest"
Join us in welcoming the Edmonds Writing Sisters and their brand new anthology of writings gathered over the years.  Seven women giving voice to their lives.
The Edmonds Writing Sisters joining us are: Kizzie Jones, Andra Lawrence, Joanne Peterson, Reni Roxas, and Monda Van Hollebeke.
More information [and lovely reviews!] on Kizzie's website, here.
Saturday, Oct. 19, 2019 – 12:00pm to 1:00pm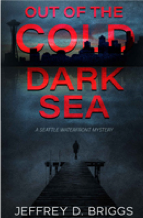 We are thrilled to welcome Jeffrey Briggs and the debut novel in his Seattle Waterfront Mystery series, "Out of the Cold Dark Sea."
The dark, cold waters of Puget Sound can hide its secrets for a long time until mysteries and old grudges arise like ghosts from a history long-forgotten. Alone on a pier in the pre-dawn rain, Martha Whitaker waits in vain for her mentor and long-time friend, Hewitt Wilcox. Martha must navigate secrets new and old to clear her name and locate her missing friend. Before anyone else is killed.
Visit his website here: jeffreydbriggs.com
Saturday, Oct. 26, 2019 – Noon to 1 p.m.
We are thrilled to welcome back local author, Paula Becker, and her very personal memoir, "A House on Stilts: Mothering in the Age of Opioid Addiction."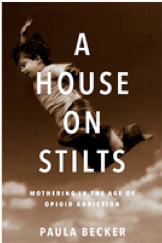 Paula Becker's son Hunter was raised in a safe nurturing home by his writer/historian mom and his physician father. He was a bright curious child. And yet, addiction found him. More than 2.5 million Americans are addicted to opioids, some half-million of these to heroin.

 This intensely personal account of trauma and survival offers a timely exploration of a family forced to grapple with America's opioid crisis.
Andrew Solomon, author of "Far From the Tree: Parents, Children and the Search for Identity," says of "A House on Stilts:" "Really brilliant. I often feel that addiction lies right outside in this way. This is a remarkable book. And an utterly terrifying one."
For more information about her new book, and so much more, visit Paula's website, here, www.PaulaBecker.org.
Recent book releases of note:
"The Testaments" by Margaret Atwood. The acclaimed author answers the questions that have tantalized readers for decades.
"Talking to Strangers: What We Should Know about the People We Don't Know" by Malcolm Gladwell. Staff recommended.
The Institute" by Stephen King.
"Guts" by Raina Telgemeier.
"Year of the Monkey" by Patti Smith.
"The World That We Knew" by Alice Hoffman.  Staff recommended.
"The Water Dancer" by Ta-Nehisi Coates. His first novel.
"The Dutch House" by Ann Patchett.  Staff recommended.
Some books of note being released in October:
"Blowout: Corrupted Democracy, Rogue State Russia, and the Richest, Most Destructive Industry on Earth" by Rachel Maddow. October 1, 2019.
"Harry Potter and the Goblet of Fire: The Illustrated Edition" by J. K. Rowling, Jim Kay (Illustrator). October 8, 2019. Finally!
"Grand Union: Stories" by Zadie Smith. October 8, 2019.
"The Body: A Guide for Occupants" by Bill Bryson. October 15, 2019.
"Olive, Again" by Elizabeth Strout. October 15, 2019. Staff recommended!
"A Pilgrimage to Eternity: From Canterbury to Rome in Search of a Faith" by Timothy Egan. October 15, 2019. Staff recommended!
"To the Land of Long Lost Friends: No. 1 Ladies' Detective Agency #20" by Alexander McCall Smith. October 22, 2019. Staff recommended series!
"Blue Moon: A Jack Reacher Novel" by Lee Child October 29, 2019. Staff favorite series!
You may pre-order any forthcoming title by giving us a call, or visiting our website.
Happy reading!
— By Elaine Mattson
Edmonds native Elaine Mattson has worked at The Edmonds Bookshop off and on since she was 12 years old, and has also worked at a book wholesaler, a book publisher, and for the book publishing division of a large local software company (yes, that one). "I was raised a book lover [thanks, Mom!]," Mattson says. "We got book lights by our beds as soon as we were old enough to read. And then I probably got in trouble for reading too late the very next night. And I still read too late!"