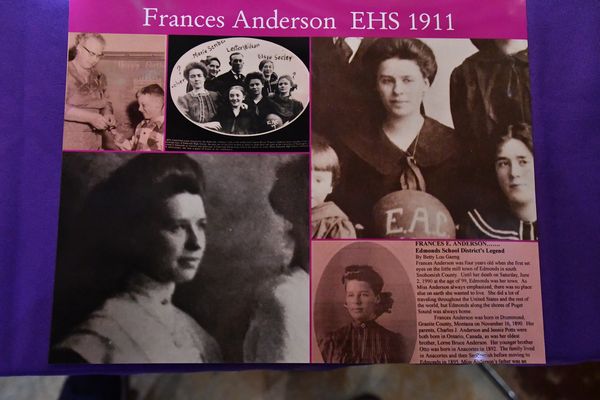 It was a gala evening at Edmonds-Woodway High School as more than 200 teachers, coaches, past and present athletes, family and friends gathered Thursday evening in the Great Hall to honor the 32 new inductees to the Edmonds-Woodway High School Athletic Hall of Fame. Heading the list —  it's about time — was Edmonds' own iconic athlete, educator and community leader Frances Anderson.
The crowd began gathering at 6 p.m., as former teammates, friends and coaches met for the first time in decades. Amid hugs, smiles and even a few tears, the years seemed to melt away as they shared and reminisced about past victories, defeats, and the many shared joys of high school athletics.
The event kicked off with a welcome from current EWHS Athletic Director Angie McGuire, who explained the goal of the Hall of Fame in recognizing athletes from the former Edmonds and Woodway High Schools, plus the current Edmonds-Woodway High School.
"When the schools were merged, there was no Athletic Hall of Fame," McGuire said. "We started it in 2015 to re-create and honor the history of athletics at our schools. So even if this building isn't your alma mater, it's your school. Welcome home!"
McGuire then turned the program over to Bill Hull, 1981 Edmonds High School grad and member of the Hall of Fame selection committee, to introduce this year's honorees, as follows:
Frances Anderson
Edmonds High School 1911 
42-year career as an educator and administrator in the Edmonds School District
One of seven in the 1911 graduating class of Edmonds High School, the second class to graduate from the new school.
Member of Girls' Basketball team at Edmonds High School
Participated in all sports made available to her at Edmonds High School
Elected as the first president of the Edmonds Improvement Club as EHS student
Continued involvement in athletics at the University of Washington, started 1913
Third woman to ever win three varsity letters at University of Washington
Earned UW letters in Baseball, Track and Basketball
While at UW, also excelled in hockey and golf
Returned to Edmonds and was hired to teach 2nd grade at Edmonds Grade School, 1917
Appointed Principal of Edmonds Grade School by school board in 1924, held position for 24 years.
Held community leadership positions in many organizations; Junior Camp Fire Girls, Eastern Star, Delta Kappa Gamma
Held every office in the local American Legion Auxiliary
Edmonds Library Board member and the Snohomish County Historical Society
First person to be awarded the title of Edmonds School District's "Living Legend" in 1984
City re-opened former Edmonds Elementary and named it in her honor, The Frances Anderson Center, 1979
The Frances Anderson Center became and still is the hub of all activities in the Edmonds Community, including the renowned Edmonds Arts Festival
FAC houses a pre-school, ballet school, Sno-King Youth Club, and offers many classes for youth and adults in the community.
Daun Brown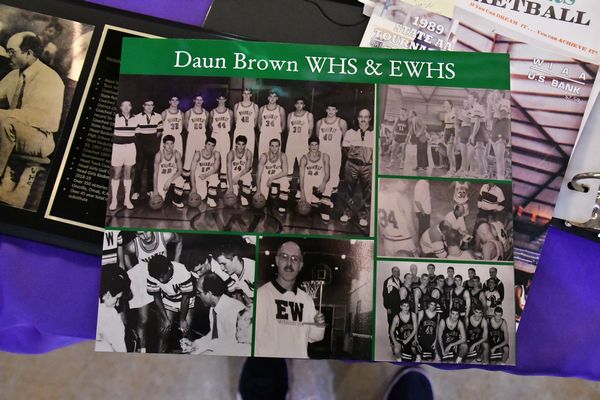 Coach, Woodway High School/Edmonds-Woodway High School
Head Basketball Coach Woodway High School 1985-1989
Took WHS to 3 consecutive State Appearances 1987, 1988, 1989
Coached 1986-87 team to a District Championship and 6th in State finish
Coached 1987-88 team to a 25-2 record, Wesco Championship, District Championship
Coached 1987-88 Team to 3rd in State finish, setting school record for top finish
Coached 1988-89 team to a Wesco Championship and 6th in State finish
Head Basketball Coach & Head Track Coach Mountlake Terrace High School 1994-97
Head Basketball Coach Edmonds-Woodway High School 1991-93, 1997-2001
Coached 1997-98 Team to a Wesco Championship and State Tournament appearance
Head Track Coach EWHS 1997-98
Head Girls Golf Coach EWHS 2001-2004
Head Girls Basketball Coach Mountlake Terrace High School 2018-19
Over 350 victories in 18 years as a Head Basketball Coach at Oroville, Omak, R.A.Long, Woodway and Edmonds-Woodway
Over 45 years total in Education as a teacher, coach, and substitute
Kolleen Faires
Woodway High School/Edmonds-Woodway High School, Class of 1992
Multi- Sport Athlete in Volleyball, Basketball and Track
4 varsity letters in Track, 3 varsity letters in Volleyball, 2 varsity letters in Basketball
Wesco Champion Long Jump 1989
Wesco Champion Triple Jump 1990, 1991, 1992
Northwest District One Champion Triple Jump 1989, 1990
Placed 6th in State 4X200 Relay 1989
Placed 3rd in State Triple Jump 1990
State Champion in Triple Jump 1991
Placed 2nd in State Triple Jump 1992
Set State meet Triple Jump record of 39-4 ½ 1991, held record for 21 years
Set Snohomish County Triple Jump Record 39-4 ½ 1991, held record for 22 years
Holds EWHS Triple Jump record of 39-4 ½, 1991
Volleyball team won Wesco Championship and 5thin State finish 1990
Received All-League Honors Volleyball
Member of 3rd in State Basketball Team 1991
Earned scholarship to jump at Washington State University
Broke WSU Freshmen Triple Jump record 1992
Pac 10 championship meet finalist in Triple Jump
WSU Honorable Mention Female Athlete 1996
Returned to ESD as LHS Track & Field Coach 1997, EWHS assistant Track Coach 1998
EWHS Head Track Coach 1999-2004, selected Wesco female coach of the year
Assistant Track Coach MHS 2017-present
Kevin Forrest
Edmonds-Woodway High School, Class of 2003 
4-year Varsity letter-winner in soccer
1st Team All-Wesco 2002, 2003
1st Team All-Area 2002, 2003
Led team to Wesco Championships in 2002 and 2003
Led EW Team to State Tournament appearances in 2002 & 2003
Led Crossfire Sounders club team to three State Championships
Earned full soccer scholarship to University of Washington
Played for University of Washington Men's Soccer Team 2003-2007
Four-year letter-winner and four-year starter at UW, two-time co-captain
Three-time All-Pac-10 Team honoree including first-team in 2004 and 2006
Pac-10 Player of the Year 2006
First-team NSCAA/Adidas All-Far West Region 2006
One of the nation's top goal scorers 2006, 2007
Soccer America preseason All-American 2007
Lowe's Senior CLASS All-America Team 2007
Pac-10 Scholar Athlete of the Year for men's soccer
NSCAA Scholar All-American 2006
Three-time first-team Pac-10 All-Academic Team
Ranks eighth on UW all-time list for goals scored with 34, 75 career points
Tied for fourth on UW single season lists with 16 goals
Drafted with the third pick by Colorado in the 2008 MLS Supplemental Draft, played for Seattle Sounders FC and Portland Timbers
Marcia Mecklenburg
Edmonds High School, Class of 1975
Multi- Sport Athlete in Volleyball, Basketball and Track
State Champion in Shot Put 1975
State Champion in Discus 1975
Winning Shot Put throw of 48-2 ¼ broke State Meet record 1975
Shot Put of 48-2 ¼ set EHS record, remains longest throw in EHS, WHS & EWHS history
USA-USSR Jr. Track and Field Meet, Lincoln, Nebraska 1975
Competed 4 years in Track at Seattle Pacific University
4-time AIAW National Championship qualifier in shot & discus 1976,1977,1978,1979
Competed at both National and International level; Pan Am Games Trials: 1975, Pacific Conference Games, Australia 1977
USA-USSR Indoor Track and Field Meet, Ft. Worth, Texas 1979
AAU Outdoor National Championships Participant 1975-1983
AAU Indoor National Championships 1976-1979
S. Olympic Track and Field Trials 1976, 1980, 1984
National Power Lifting Championships 1986
National Masters Hammer Champion 1996, 1997, held American Record 1998
Nike World Masters Hammer Champion 1998
Assistant Track Coach, Seattle Pacific 80-81, Montana State 81-86 WSU 86-95
Coached 4 All Americans and 2 National Champions in discus at WSU
Coached 13 National Qualifiers at & two All Americans at Eastern Washington
In 25th season as Head Women's Track and Cross Country Coach Eastern Washington University
Chris Minaker
Edmonds-Woodway High School, Class of 2002 
Multi-sport athlete participating in Tennis and Baseball
3-year Varsity Letterman in Tennis & Baseball
1st Team All-Wesco Baseball 2000, 2001, 2002
1st Team All-Area Baseball 2002
W. District 4A Baseball Playoffs 2000, 2001
Helped lead team to State Baseball Regionals 4A 2002
1st Team All-State Baseball 4A – 2002
Everett Herald All Area Baseball Player of the Year 2002
Set school records in batting average (.509), hits (54), stolen bases (19) and doubles (15) in his 2002 senior season
1st team All-Wesco Tennis 2001
Wesco South Tennis 4A Champs, 2001
District One Tennis Participant 1999, 2000
State Tennis Tournament Participant 2002
Earned full baseball scholarship to Stanford University
Played for Stanford University Baseball Team 2002-2006
Started 155 consecutive games (playing all innings)
Stanford Career Batting average of .310
Helped lead Stanford to College World Series appearance 2003
Pac-10 Champions 2003, 2004, 2005
1st Team Pac-10 All-Academic honors 2004, 2005, 2006
1st Team All-Pac-10 2006
Pac-10 Player of the Week & Stanford MVP 2006
Selected as an All American at Stanford 2006
Drafted in 10th Round of 2006 MLB Draft by Seattle Mariners
Jill Petersen
Woodway High School/ Edmonds-Woodway High School, Class of 1993
Multi- Sport Athlete in Soccer, Basketball and Softball
Earned 11 Varsity Letters (4-soccer, 4-basketball, 3-softball)
1st Team All-Wesco Soccer 1991, 1992, 1993
1st Team All-Wesco Basketball 1991, 1992, 1993
1st Team All-Wesco Softball 1990, 1991, 1992
1st Team All-Area Soccer 1991, 1992
1st Team All-Area Basketball 1991, 1992, 1993
Everett Herald Female Athlete of the Year 1991
WESCO Soccer Champions 1990, 1992
WESCO Basketball Champions 1991, 1992
WESCO Co-Champs Softball 1990, 1991
WES-KING District Champions 1993
Led Basketball Team to a 7th in State finish 1990, 3rd in State 1991, 6th in State 1993
Led Softball Team to 2nd in State finish, 1991
Washington State Basketball High School Varsity Girls All-Star Junior selection
Selected to All-State Tournament Basketball Team 1992
Earned Basketball scholarship to University of Portland 1993-1997
Four-year letter-winner, three-year starter and two-year team captain at U of P
Two-time WCC Conference Championships and WCC Tournament Champions
Four consecutive Division I NCAA Tournament Appearances
Marc Requa
Edmonds High School, Class of 1990
Multi-sport athlete participating in Wrestling and Track
4-year varsity letter-winner Wrestling
3-year varsity letter-winner Track
Helped lead team to Wesco Wrestling Championship 1988
Placed 2nd at Wesco Tournament 1988
Placed 4th in Regionals 1988
Placed 4th in State 101lbs 1988
Placed 1st at Wesco Tournament 1989
Regional Champion 101 lbs, 1989
State Champion 101 lbs, 1989
Helped lead team to Wesco Wrestling Championship 1990
Wesco Champion 108 lbs, 1990
Regional Champion 108 lbs, 1990
Placed 3rd in State 108 lbs, 1990
Named EHS Male Athlete of the Year, 1990
Set Edmonds District and School Pole Vault Record – 14'-4 5/8" 1990
District Pole Vault Champion 1990
Jr National All American (98 lbs) in Freestyle-3rd place and Greco Roman-8th Place, 1989
Jr National All American at 105.5 lbs in Greco Roman-5th Place, 1990
US Open All American at 105.5 lbs in Freestyle-7th Place, 1993
USA Wrestling Official, 1987-current
SCWOA Referee, 2012-current
Youth Wrestling Coach-Rhinos 1996-2000, Bad Draw/Team Scorpion 2011-current.
Drex Zimmerman
Edmonds High School, Class of 1982
Multi- Sport Athlete earning varsity letters in Football, Basketball, Baseball and Track
3-year Varsity Letter winner in Football & Basketball
1st Team All-Wesco Basketball 1982
Wesco Basketball Championship 1981
2nd Team All-Wesco Football Defensive Back 1982
Captain of Football and Basketball Team 1981-82 season
Member of the 1982 EHS State Track Championship Team
Placed 3rd in State Long Jump 1982
Placed 3rd in State Triple Jump 1982
Placed 2nd in State 4X100 Relay 1982
Named EHS Male Athlete of the Year 1982
Played Football at Pacific Lutheran University 1982-86)
4-year Letterman in football at PLU
Two-time Captain of the PLU football team 1985, 1986
1st Team All-Columbia League, 1st Team All-Northwest 1985
1st Team All-Columbia League, 1st Team All-Northwest 1986
2nd Team NAIA All American 1986
Participated in two National Championship games at PLU 1983, 1985
Edmonds High School 1966 Baseball Team 
Team: Jerry Capretta, Dick Lopez, Randy Parks, Steve Moore, Mark Quigley, Ron Kallock, Brad Meyring, Jim Walker, Dave Hamilton, Tim Ossinger, Dan Hodges
Head Coach: Rich Rowe
Won Western Conference Title: 14 – 0
Went undefeated entire season, final record of 20 – 0
Season highlight: Dick Lopez hit a come from behind walk off Grand Slam to defeat Everett 8-5 and maintain undefeated season.
Standout Dave Hamilton threw a no-hitter against Blanchet
Hamilton was drafted in 5th round by the Oakland A's and played on 3 consecutive World Series Championship Teams. 72, 73. 74.
Brad Meyring was drafted and played AAA ball with the Pirates, Royals and A's 
1966 Season Record:
12-0 Bellevue
3-0 Bothell
5-1 Newport
7-0 Redmond
7-3 Mercer Island
5-0 Mountlake Terrace
3-2 Blanchett
8-0 Meadowdale
3-0 Cascade
5-3 Everett
3-0 Blanchet
4-3 Meadowdale
5-0 Cascade
4-1 Mountlake Terrace
7-3 Seattle Prep
8-5 Everett
3-2 Bellingham
1988 Woodway High School Boys Basketball Team  
Team: Brian Bump, Eric Bird, Mike Bryant, Jason Crider, Chad Elfstrom, Aaron Glenn, Kyle Lawson, Matriotti, Chad McGuire, Mark Nelson Dean Wiley, BJ Riseland 
25-2 overall record
Wesco Title
District One Title, defeated Bellingham 80-74
3rd in State, defeated Chief Sealth 76-73 on a last second 3 pointer by Dean Wiley
Highest boys basketball finish for an EHS/WHS/EWHS Boys Basketball Team
Average margin of victory for season: 26 points
First team All-Wesco players: Andy Matriotti, BJ Riseland
First Team All-Area Mark Nelson
Head Coach: Daun Brown
Assistant Coaches: Keith Lindaas, Tom Moseley, Tom Roys
Manager: Vince Mendenhall
1988 Regular Season record:
57-54 Mark Morris
71-45 Everett
63-27 Kings
73-46 Edmonds
60-44 Monroe
86-51 Juneau-Douglas
87-56 North Pole (Fairbanks)
77-43 Seattle Prep
86-50 Bainbridge
101-45 Lake Stevens
64-40 Lynnwood
76-44 Meadowdale
53-55 Mountlake Terrace
73-50 Edmonds
75-45 Monroe
76-59 Bainbridge
69-63 Lake Stevens (OT)
69-51 Lynnwood
76-52 Meadowdale
60-38 Mountlake Terrace
1988 District Tournament:
78-59 Stanwood
75-44 Mount Vernon
80-74 Bellingham
1988 State Tournament:
68-52 Cheney
76-63 Mark Morris
58-65 Sequim
76-73 Chief Sealth
Angie McGuire ended the event by congratulating all the honorees and thanking the attendees for their support.
— Story and photos by Larry Vogel