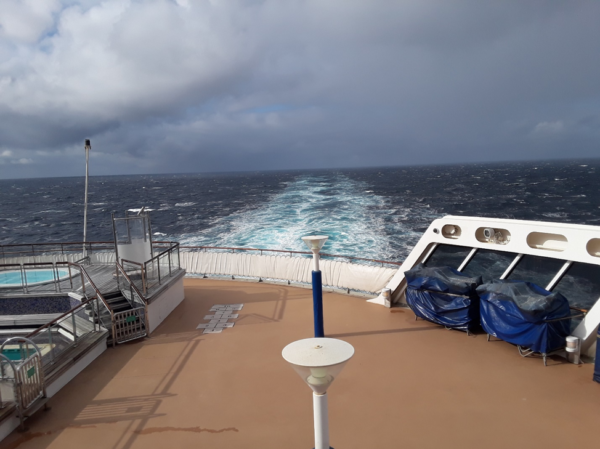 Part 1
Travel is fatal to prejudice, bigotry, and narrow-mindedness, and many of our people need it sorely on these accounts. Broad, wholesome, charitable views of men and things cannot be acquired by vegetating in one little corner of the earth all one's lifetime. – Mark Twain.
I am sitting in my stateroom on Queen Mary 2, having just done my daily dozen – in this case, three laps around the promenade on deck 7. The ship has a bit of a roll, although there are no whitecaps. There's a storm somewhere sending long ocean rollers our way, and the outside railings are coated in salt  – the ship has been in some hard weather on her way down to New York from the St Laurence.  I'm on the boat with Ann and Karl Watkins, old friends and old sailors. We are close to the Grand Banks, and all is grey seas and slate skies. We seem to be headed into rain but it is warm out, and it is exhilarating to see the broad circle of the horizon – and have no "have to do's" beyond a bit of exercise and a great deal of reading. As usual, I seem to be reading four books at once. One goal for the seven-day voyage: Whittle myself down to one book.
I came East with Amtrak on the Empire Builder, along with another old friend, David Steindl. We took a bedroom for the two-night leg to Chicago; crowded, but manageable, though the en suite shower/toilet made the restroom on an airplane seem luxurious. We arrived late, having been stuck for some time in the endless wilds of Montana behind a broken-down freight train. We stayed at the Knickerbocker Hotel as my favorite, the Palmer House, was full. We were able to contain our enthusiasm about the Knickerbocker: old towels taken but not replaced, one coffee cartridge (for a double room!), a breakfast service for which the word "slow" only begins to describe (glacial?  tectonic?)…etc. Back to the wonderful old Palmer House next time.
I have noticed it before, but after the piles of discarded mattresses and abandoned shopping carts that line the tracks of Montana and North Dakota — and there is a LOT of Montana and North Dakota — Minnesota and Wisconsin are a delight of neat towns and villages. And Chicago itself puts Seattle into deep shame and disgrace with its clean streets and lack of tents and homeless encampments and needles and general garbage. Chicago seems to have done something effective and constructive, as opposed to wringing hands and pouring out money. Chicago is an astonishingly clean city, at least the parts we saw,
Note to Amtrak: Your magazine on things to do in Chicago is great (if you can find one), but Rogers and Hammerstein did not write My Fair Lady. And please — some maps?
David and I had fun in Chicago! On our full day we visited the Museum of Science and History and did the coal mine tour and the tour of U505 — the World War II German U-boat captured by USN Pillsbury on June 9, 1944. At that point of the war German sinkings of allied shipping were threatening to strangle England and the anti-submarine war was at its bitter height.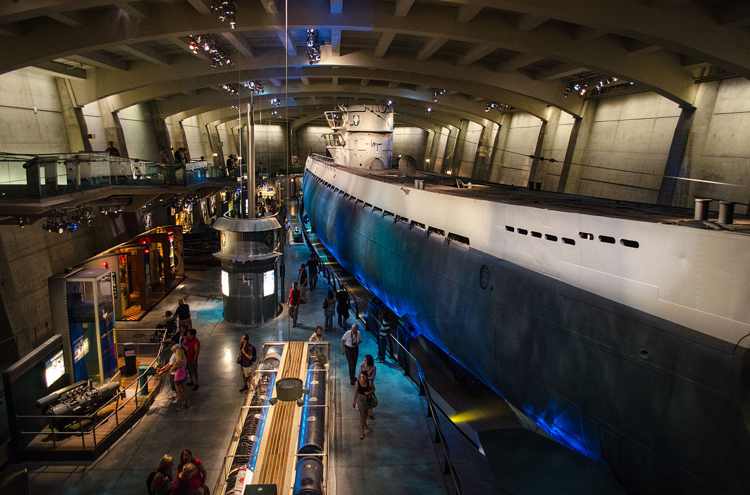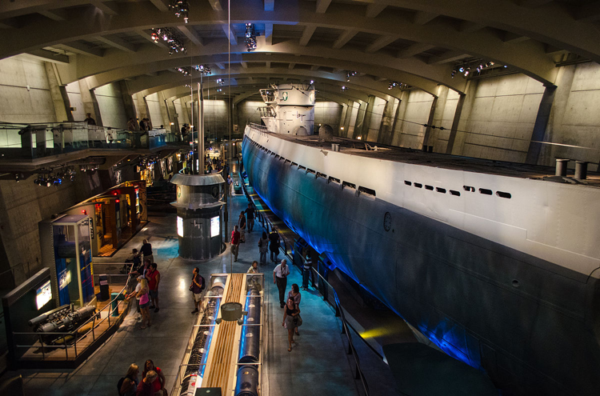 U505 has been moved inside a special section of the museum after years out in the open — the rather eroded steel plates on her outer hull show the effect of decades of Chicago weather — but now she has been meticulously restored, and an entire new section of the museum has been dedicated to her and her story. It's the story of the brave American sailors who boarded her as she was sinking, and closed the seacocks that were letting in the water. German submariners were under orders to scuttle their boats rather than allow them to be captured.
The section that has been created to house U505 is brilliant: The lighting is perfect, everywhere are photos and information, and you have access to all exterior levels of the boat, from keep to deck.
U505 had been forced to the surface by depth charging and then intense gunfire on surfacing. When her crew was seen to begin abandoning submarine, the captain of the Pillsbury gave an order that had not been given by an American captain since the War of 1812: "Away boarding party." When the Americans boarded the sub she was sinking. With all her lights out, the Americans entered her pitch-black pressure hull with flashlights, and managed to locate the seacock that was letting in the water, and close it. Reaching the steering compartment in the stern, they found that the hatch was closed and the door dogged (clamped down). There was serious danger that the door or the compartment might be booby trapped for scuttling the boat.
Lt. Albert David ordered all the men of the boarding party off the boat, and opened the door himself — and act of extraordinary leadership and devotion to duty. The German crew had been in such haste to abandon ship that they had not armed the charges in the compartment, and the American sailors were able to access the manual rudder controls (jammed by the bombardment from the destroyer) and free the rudder. U505 was taken in tow to Bermuda for examination, and in due course was brought to Chicago — and here she is today, an exhibit beyond value, and a monument to the bravery and leadership of American sailors. Don't miss!
(NOTE: Our tour guide said that the person who opened the door to the steering compartment was the captain of the Pillsbury. Given the very urgent situation, where a scuttling charge might go off at any moment, given the captain's responsibilities to his own ship, and given that Lt. David was on the spot – I am inclined to believe that it was he who opened the door. If any reader knows better and can correct me, I'd be grateful.)
That evening, with my legs about done, we ordered delivery of two deep-dish Chicago-style pizzas, which Jon Stewart rightly calls "a casserole in a bread bowl."  David ordered the vegetarian pizza, I had one full of spicy sausage. They tasted exactly the same: like tomato sauce.  St Augustine wrote that "The world is a book and those who do not travel read only one page." The world is perhaps also a menu, and having sampled Chicago-style pizza, I believe I can content myself to have read that particular page, and move on!
On our second day (the Lake Shore Limited departs at 9:30 in the evening) we took a taxi to the station and checked our baggage on through to New York, freeing ourselves up to continue our explorations. We took the 75-minute architectural tour of the Chicago river. As I saw last year, despite the -32°F temperature, the great buildings of Chicago richly reward a visit; I want to go back and see much more. But the boat trip was a delightful quick survey of the buildings along the river.  Just as we were going back out into the lake to return to our dock, the heavens — which had been threatening –opened like an MGM Biblical deluge, and with no cover, we very quickly got cold and wet. But it was well worth it.
After the architectural tour, wet but happy — a beer or two helped — we collected our hand baggage from the locker room at the station and gorged ourselves with the peanuts and miniature pretzels provided in the sleeping car waiting room (there is no evening food service on the Lake Shore Limited). At 9:30 we somehow squeezed into a roomette about half the size of our room on the Empire Builder and then performed the even more precarious feat of "sleeping" on the extremely narrow beds. I will pass over the number of things that pelted me all night falling from the upper bunk; it would be uncharitable to embarrass David too much.
The trip down to New York is uneventful until you reach the Hudson, and shortly before NYC you get a short view of Bannerman's Castle (or Armory, or Arsenal, depending on who is writing about it) in the middle of the river — and of West Point, over on the far side. Bannerman bought mountains of war surplus after the Civil War, made a fortune on it, and built his castle/armory/arsenal on the island. The castle/armory/arsenal is a Gothic ruin these days, walls fallen and ivy masking the remaining bits, but oh! the memories of poring over the Bannerman Catalog in the early 50s, when you could still buy a saber, or a McClellan saddle, or a cannon, if you had need of one. My mother and father couldn't see my 10-year old need for a cannon, but the catalog was a Aladdin's Cave of delights for a young boy. You can still find copies on eBay.
In NYC we stayed in the Roosevelt Hotel, and were joined by the Watkins, and unanimously voted one star, or less, for the hotel for a multitude of hotel sins, large and small. The Algonquin Hotel, a short walk away, is my favorite port of call in New York, by a light year or two. The latter is in the firm control of  Hamlet — eighth of that name — the Official Algonquin Cat, who will twitch the last inch of his tail at you if you measure up to his standards.
After two nights sampling the delights of the Roosevelt, we gave thanks for our deliverance, and took a taxi to the Queen Mary 2, docked at the Brooklyn Cruise Terminal, and David prepared to fly back to Seattle.
Now it's the fourth day at sea.  As I've written about the Queen Mary 2 before, I'll try not to go on and on about this wonderful experience that calls itself a ship.  We're having Force 7 winds, which gives us a very slight roll, and the sea is all whitecaps. Today I saw a rainbow such as I have never seen before: a perfect, full arch, which appeared to be about 50 feet off the side, almost as if you could reach out and touch it. Everyone, including crew, was taking photos. Mine is inadequate, but for what it's worth:
As before, only more so, the ship is a delightful melting pot. We do have the usual high percentage of folks "of a certain age," but I have seen a few more young people, there is a sprinkling of races and nations, and we hear German everywhere. In fact, I tuned into the German language TV channel last night (TV is in English, Japanese, Spanish, German, and French) just in time to hear Gary Oldman deliver Churchill's "We will fight them on the beaches" speech dubbed into German – which felt, well, odd, even weird!
It's also odd to have been on a German U Boat three days ago, and to be on Queen Mary 2 now; the hunters are no longer hunting, and the troops have gone. In 1942 my Aunt Nancy crossed to Britain on the Queen Mary, one of a handful of Red Cross nurses, along with an entire division of American soldiers. The Queen Mary was so fast that she sailed alone, and no U Boat could keep up with her long enough to launch a torpedo.
When I think of World War II, it seems worth noting and remembering, as I have just read in Timothy Egan's Pilgrimage to Eternity, that there have been now 74 years of peace in Europe — the longest such period in many centuries. Napoleon had a vision of a United Europe. After the war it came true, in a better fashion, with the help of one of America's greatest gestures: the Marshall Plan. Now the EU seems to be eroding for reasons too complicated to go into here, and even America is slumping into ever greater and greater polarity. Where all this can end leaves me fearful, but along with climate change, re-Balkanization and sectarian distrust and hatred could well be plunging us into another war-tossed abyss of religious and social upheaval. We desperately need to stop, think and reach out to each other. There is not much time, nor does there seem to be the will, to do so. Changing things takes courage, hard work, honesty, and perhaps above all, humility, and these seem not only in short supply these days.  At 70, sometimes I am glad I will not be around long enough to see a world where we will have allowed so much to perish.
I cling to one idea that points a finger toward a tenuous individual route to a happier future: Comte-Sponville wrote of politeness, admitting that it's scarcely even a virtue. But he says, 'There is more to life than good manners; politeness is not morality. Yet it is not nothing. Politeness paves the way for great things.'  Aristotle pondered the same question, "… we know that courage and manliness do not belong to the wildest but rather to the more gentle… "
In a happier mood:
It's a bright, sunny day out, the gray-blue sea is flecked with whitecaps. Having given up trying to connect to the ship's wi-fi, I'm about to head out for my daily three laps, and if all goes well — four laps.  It doesn't sound like much — just over a mile — but I'm working my way back to mobility after a mysterious problem with my left leg. As they say, old age is not for the faint-hearted. Tonight, Ann and Karl and I will dine in the Veranda, the only place of the ship where food costs a bit more — but is superb.
It remains a mystery why, on a ship bristling with every up-to-date everything, which prides itself in state-of-the-artness, which does everything so well  –connecting to the internet is not only outrageously expensive, but also both complex and hit-and-miss.  So far I've been able to smash through the thickets of "no connection" to an eventual log-in, but today nothing seems to work. Though in rational terms, being cut off from the news industry is not a bad thing, nor is letting email go for a few days a recipe for any disaster, I'm dismayed to find how addicted I am to the internet.  So no more till we're in London, when I really do need access to pay bills on line — one of the positives of connectivity and relentless immediacy.
Tomorrow we dock in Southampton and take a connecting bus to London.   Baggage must be packed and out in the hallway for collection between 6 and 12, and we are to vacate our cabins by 8:30. My formal clothes are packed, and the rest will take only a few minutes after an early, informal dinner in the Carinthia Lounge with Alisa and Mark, Canadian friends we have made on the voyage, and then an early bed.  Up by 7, to begin a new phase of the trip. If all goes as planned, this will mean London – Bristol – Newcastle – London – Paris – Fez (Morocco), various points in Spain, and home via London.  I can only hope the leg and I hold up!
— By Nathaniel Brown
Edmonds resident Nathaniel Brown taught and coached cross-country running and skiing for 16 years before joining the US Biathlon Team as wax technician, switching to the U.S. Cross-Country team in 1989. He coached at three Olympics and 14 World Championships, edited Nordic Update for nine years and Cross-Country Skier for two. He has written three books on skiing and training. He owned and operated Nordic UltraTune, an international freelance ski tuning service, until retirement seven years ago.