The Gothard Sisters. From left: Greta, Solana and Willow. (All photos courtesy Gothard Sisters)
(My Edmonds News welcomes our new arts and entertainment columnist Rachel Gardner. Learn more about Rachel in her bio below.)
I had a very special opportunity to catch up with Greta from the Gothard Sisters, before their upcoming performance at the ECA on Dec. 5. Excited about the chance to connect with Greta, I readied myself by listening to their original album "Midnight Sun," which can be heard on Spotify, Google, Apple Music, Pandora, and more. Their mix of Celtic, folk, world and Northwest influences blend into a bright and cheery sound that can be enjoyed by everyone. I couldn't stop my toes from tapping while listening and wished I knew enough steps to break into dance myself.  Just like their music, the three sisters – Greta, Solana and Willow — are bright, cheery and full of smiles. Read on to see what Greta had to say about their recent accomplishments and what lies ahead. She even gives a few very valuable tips to the next generation of Edmonds musicians. My favorite piece of advice: "Keep laughing."
Q: You have had some great highlights over the last two years with your album reaching number 6 on the Billboard World Music Charts and your recent tour to Japan. What have you been most excited about?
A: The last few years have been exciting and full of new experiences for the band. After 10 years of playing covers and traditional Celtic music and dabbling in writing our own songs, our original tunes and melodies were getting such a wonderful reaction from listeners that we decided to challenge ourselves and write a completely all-original new album. This was our 2018 release, "Midnight Sun." The fans were so excited about it that they helped it chart on Billboard at no. 6 on the world music charts, which is rare for an independent group like ours. More recently, in October 2019 we had the opportunity to perform a five-week long concert tour of Japan. The tour was massive and we played concerts in 22 cities for thousands of people all over the country. It was magical playing our music for the audiences there — although we don't speak the same language, music truly connects people across countries and cultures. Solana learned several songs to sing in Japanese while we were there, and having so many people singing with us every night was something we will remember forever. It was a delightful experience, and we introduced Celtic music to a lot of people who had never heard of it before!
Q: How does it feel performing back in Edmonds after your recent tour in Japan?
A: Edmonds is where all three of us grew up and we look forward to the show at Edmonds Center for the Arts every year with great anticipation. The audience is always warm and appreciative. Edmonds is such an artistic community and has been very supportive of my sisters and me and our musical career. It was such a gift to grow up in a beautiful place where people love music, art and culture… and good food! We can't wait to bring our Celtic Christmas show to the people of Edmonds and give them our gift of music to make way for the holiday season.
Q: Do you have any advice for the next generation of sibling performers?
A: I would say to grow naturally. Find out what you like to play and play it. Find out what audiences like to hear and try that as well. Develop your own style and aim to create something beautiful. Listen to advice from older musicians, but also don't be afraid to try something no one else is doing. Listen to your siblings' input. All bands have disagreements, siblings or not. Learn how to disagree with each other, how to compromise, and how to build each other up rather than being overly critical. Never take yourselves too seriously. Keep laughing!
Q: Anything else you would like to share?
A: This year we are celebrating 10 years as a band. Time does fly! We just want to thank everyone in Edmonds who has been so lovely over the years. When we first started, we played at the Edmonds Farmer's Market, then the Taste of Edmonds, Waterfront Festival, Concert in the Park and now at the Center for the Arts. We love Edmonds
The Gothard Sisters Celtic Christmas Show 
Edmonds Center for the Arts
410 4th Ave. N.
Thursday, Dec. 5
Tickets: $10-$26  www.ec4arts.org
~ ~ ~
Art Beat calendar
What to hear:
With so much going on around town as we get ready to celebrate the holiday season, it's hard to choose just one musical event. Therefore, I recommend not limiting yourself: Enjoy the holidays with all the amazing options Edmonds has to offer.
Christmas Concert at St. Alban's Episcopal Church
St. Alban's Episcopal Church will be holding its annual Christmas Concert this Sunday, Dec. 1 at 6 p.m. Donations from the concert are being collected for Chase Lake Elementary School. The four global performers — Felicia Dale, William Pint, Tania Opland and Mike Freeman — play a diverse range of instruments, bringing a seasonal- themed acoustic concert to St. Albans Episcopal Church. For more details visit www.stalbansedmonds.org. More information about the concert can be found at www.wintersreturn.com.
St. Alban's
21405 82nd Pl. W.
Edmonds
Sunday, Dec. 1
6 p.m.
Donation of cash or food items
At ECA – Cascade Symphony Orchestra's Holiday Pops
Sunday and Monday, Dec. 8 and 9, there are two opportunities to see the Cascade Symphony Orchestra's Holiday Pops. Acclaimed pianist Wayne Weng is the featured soloist performing Gershwin's iconic Rhapsody in Blue. The concert's other offerings include music from Home Alone by American composer John Williams, selections from My Fair Lady by Austrian-American composer Frederick Loewe; Symphonic Dance from Fiddler on the Roof" by American composer Jerry Bock; and Brazilian Sleigh Bells by American composer Percy Faith. There is an extra-special treat for the second half of the Dec. 8 concert: Seven outstanding music students from three of our Edmonds-area high schools will perform side-by-side with members of the Cascade Symphony Orchestra. Learn more at www.cascadesymphony.org. Tickets can be purchased at www.ec4arts.org.
Edmonds Center for the Arts
410 4th Ave. N.
Sunday and Monday, Dec. 8 and 9
6:30 p.m. pre-lecture, 7:30 p.m. concert
Tickets $10-$27
At ECA – Cece Winans
Here's your opportunity to see the celebrated and honored female gospel artist Cece Winans, on Wednesday, Dec. 11 at the Edmonds Center for Arts.
Winans is one of the most accomplished women solo artists in modern music history. She has topped the Gospel charts repeatedly and has sold over 5 million albums in the US. You might know her from her duet with Whitney Houston on the Waiting to Exhale soundtrack or seen her featured performances at venues ranging from The Oprah Show to the White House. Tickets at www.ec4arts.org.
Edmonds Center for the Arts
410 4th Ave. N.
Wednesday, Dec. 11
7:30 p.m.
Tickets $39-$74
At EWHS — Edmonds-Woodway graduate Lauren Paris in concert
2007 Edmonds-Woodway High School graduate Lauren Paris has returned from Chicago and will be doing a benefit concert at the EWHS Little Theatre Dec.13 at 8 p.m. She will be performing show tunes, great classic standards and a selection of pop numbers. Tickets are $25 and all proceeds go to the high school's drama department. You can look her up at www.laurenparis.net/upcoming.html. Tickets are available at brownpapertickets.com.
7600 212th St. S.W.
Edmonds
Friday, Dec.13
8 p.m.
Tickets $25
At ECA — Sno-King Chorale Rockin' Around
The Sno-King Community Chorale will be performing its annual Holiday Magic concert on Saturday, Dec.14 at both 3 p.m. and 7 p.m. This is a festive, family-friendly event including favorites like White Christmas, Carol of the Bells, Feliz Navidad and some fun and recognizable songs like You're a Mean One, Mister Grinch, and Halleluja. Tickets can be purchased at www.ec4arts.org.
Edmonds Center for the Arts
410 4th Ave. N.
Saturday, Dec.14
3 p.m. and 7 p.m.
Tickets $15-$25
What to see:
Before the holidays get too hectic, try a trip to the theater or one of our many local galleries. It's a great way to get away from the crowds and enjoy a little solace in the arts. 
At ECA — Matinee: White Christmas Sing-Along
This coming Saturday's ECA matinee: White Christmas Sing-Along is a fun and festive activity for all ages. Dress up, if you feel inclined, and sing along to your favorite tunes from the classic holiday movie.www.ec4arts.org
Edmonds Center for the Arts
410 4th Ave. N.
Saturday, Nov. 30
Noon – 2 p.m.
Tickets: $10
Cascadia Art Museum Members' Sip & Shop Sale
Tuesday, Dec. 3 from 4-7 p.m. will be a special evening event for Cascadia Art Museum members. Shop at the museum store and get a special 20% off and complimentary sparkling wine. You can also become a member at this event with a special 10% off membership and immediate access to the Sip & Shop Sale.
Cascadia Art Museum
190 Sunset Ave. S. #E
Edmonds
Tuesday, Dec. 3
4 – 7 p.m.
Free holiday movie
Cline Jewelers is sponsoring a free holiday movie at the Edmonds Theater on Friday Dec. 13 from 4 to 8 p.m. Classic Christmas cartoons start at 4 p.m. and the movie A Christmas Story starts at 5:30 p.m. Learn more at www.edmondsholidays.com/holidaycalendar/christmas-movies.
Edmonds Theater
415 Main St.
Friday, Dec. 13
4 – 7:30 p.m.
FREE
Seaview Weaving and Fiber Arts Guild Exhibits Works
From now until Sunday, Dec. 15, stop into the Frances Anderson Center to see the beautiful works of textile art created by the Seaview Weaving and Fiber Arts Guild. The artists have created a variety of pieces, using techniques like spinning, dyeing, weaving, sewing, quilting, knitting, crochet, felting, paper crafts collage and beading. The gallery is presented by the Edmonds Art Festival Foundation.https://seaviewweavers.wordpress.com.
Frances Anderson Center
Until Dec. 15
Monday-Friday 9 a.m. – 7 p.m.
Saturday 10 a.m. – 1 p.m.
FREE
What to do:
Here some great activities for the whole family, sure to delight all ages. And as a special Holiday treat, all the events on this week's list are FREE:
3rd Annual Caroling Contest at the Red Twig Bakery & Cafe
"Jingle those Bells" Caroling Contest is set for Dec. 5 from 6 to 7 p.m. at the Red Twig Bakery. Sign up ahead of time to participate or come and enjoy the music and vote for your favorites. It's a great way to enjoy Christmas caroling right in town. www.edmondsholidays.com/holidaycalendar/2018/12/6/caroling
Red Twig Bakery
117 5th Ave. S.
Edmonds
Thursday, Dec. 5
6 – 7 p.m.
FREE
Holiday cards with Mona Fairbanks
Start your holiday card-making early with a family-friendly day at Cascadia Art Museum. On Saturday, Dec. 7, jump on the Edmonds Holiday Trolley and head down to the museum to learn holiday card printmaking with local artist Mona Fairbanks from 11 a.m. to 1 p.m. Mona will teach a process that you can do on your own at home and can be used one time — or can be reproduced to make all your holiday cards. www.cascadiaartmuseum.org
Cascadia Art Museum
190 Sunset Ave. S. #E
Edmonds
Saturday, Dec. 7
11 a.m. – 1 p.m.
FREE
 Argosy Cruises Christmas Ship Festival at Port of Edmonds
Dress in all your layers for an evening of holiday lights on the water. Argosy will be starting the evening's boat parade at the Port of Edmonds with a choir performance broadcast from their main boat from 7:20-7:40 p.m. Find a spot on the dock and listen to the festive tunes while enjoying a breathtaking view. You might even get to see some squid fishing happening on the dock at the same time! Great event for the whole family — just make sure to bring some hand warmers, as it can get chilly out there.www.argosycruises.com/christmas-ship-festival-schedule.
Port of Edmonds
Wednesday, Dec. 11
7:20 -7:40 p.m. (time is subject to change)
FREE to view from the dock
Meet Sound Styles Santa!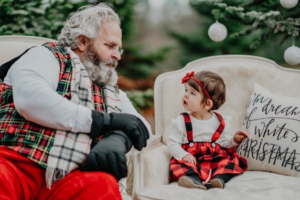 Plan ahead and get this one on your calendar. On Dec. 14 you can meet Santa, get a cookie and take pictures in the live window display at 5th and Main. This very special Santa event will bring back memories of beautiful window dressings of years past. Make a day of it by riding the Edmonds downtown Holiday Trolley and exploring all the wonderful shopping opportunities in town.
Sound Styles
5th and Main
Edmonds
Saturday, Dec. 14
11 a.m.- 3 p.m.
FREE
— By Rachel Gardner
Rachel Gardner has a heartfelt appreciation for art in all forms and believes everyone is an artist, some just don't know it yet. A dedicated and involved Edmonds resident, she can often be spotted onstage cracking jokes between sets or in the audience enjoying local live performances. She enjoys being playful with her art and finding unique ways of expression, like forming a boho-grunge-folk ukulele trio with local Edmonds moms. Next time you see her around town, say "hi," give a high five or lift your coffee cup in cheer.