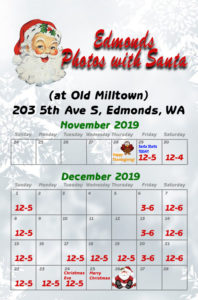 It took more than one try to get our first picture with Santa, now 13 years ago. I used the trick where you hand the kiddo to Santa while keeping eye contact and smiling while the photographer jingles the bell for further distraction. Santa is picture perfect and my son is mostly smiling. Over the years we have had varied success with a two kid Santa picture. Turns out, the younger one didn't fall for any of the tricks after his initial Santa showing which was all smiles and matching sweaters. What has remained a roaring success is Santa with his suspenders, varied shirt selection, and options of smiles or surprised face. We go to the Alderwood Mall to visit Santa each year, and while "our" Santa only does the second shift, starting at 3 p.m., these days (I called to confirm again this year.) There is still a Santa there all day, though we make sure to go when ours is on the clock.
If you are looking to get Santa pics at the mall, I fully suggest a reservation. Two years ago we tried to go in early December ahead of a trip home to see our family and we waited well over an hour. Last year, with a reservation in hand, we didn't wait more than 10 minutes. To make your reservation you can go to AlderwoodMall.com
Like we talked about last week, there are a few photo-ops on the night of the Edmonds Holiday Tree Lighting, Nov. 30 — Emily the Elf at 2 p.m. at the Edmonds Historical Museum and Santa at the Edmonds Masonic Lodge once he's made his appearance at the Tree Lighting. After that, there are a lot of different ways for you to see Santa in and around this season!
Throughout the season, you can find Edmonds Downtown Santa in Old Milltown hosted by Canarino Gelato. Starting the day after Thanksgiving, you can find Santa in Edmonds Friday, Saturday, and Sunday, with some weekdays added starting on Dec. 17. Per reviews on EdmondsSanta.com, which forwards to their Facebook page, this is an easy and affordable way to see Santa. They also posted that in addition to the photo packages, you are allowed to take your own "behind the scenes" photos too.
On Dec. 7, Coldwell Banker Bain is offering FREE Santa Photos at their Edmonds office on 5th Avenue. While the photos are free, space is limited and you must register for a spot between 11 a.m. and 2 p.m.. As of today, there are still a handful of spots available, which you can find HERE. While the photos are free, they are accepting donations for the Boys and Girls Club. For more information you can visit their Facebook events page HERE.
You can have breakfast with Santa in Mountlake Terrace on Sunday, Dec. 8, from 9 a.m. to noon. The American Legion Auxiliary Annual Santa Breakfast will be at at the American Legion Hall at 22909 56th Avenue West. There will be sausage, eggs, and pancakes, a holiday raffle, plus you can donate to Holly House and send holiday cards to service personnel. Tickets for the events vary from $4 to $6 and kids 3 and under are free — proceeds go to "Children and Youth programs that we support in our community."
In the afternoon on Dec. 8, you can head to the Holiday Open House & Cookies with Santa from 1 to 4 p.m. at the Alderwood Manor Heritage Museum in Lynnwood, 19903 Poplar Way. This event, which is FREE and open to the public, allows you to meet Santa at the Heritage Cottage while enjoying coffee, hot cider, cookies and pictures. For more information on this event, you can visit Alderwood.org.
On Saturday, Dec. 14, you can catch the Edmonds Holiday Trolley to have Cookies with Santa at Sound Styles. Between 11 a.m. and 2 p.m, kids can visit Santa, plus you can "snap your own picture, and receive a boxed cookie" addressed to them from Santa. I found this event on EdmondsHolidays.com, which lists all the Downtown Edmonds options to celebrate the holiday, including the Holiday Trolley, Holiday Tree Lighting, and live holiday performances around the city.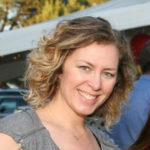 — By Jennifer Marx
Jen Marx, an Edmonds mom of two boys, is always looking for a fun place to take the kids that makes them tired enough to go to bed on time.