More than 75 attendees packed the Edmonds Historical Museum main lobby on Monday evening to recognize and congratulate this year's winners of annual Edmonds Scarecrow Festival.
"We've been doing this for seven years now, and it just keeps getting better," said Scarecrow Festival coordinator Dave Buelow.  "This year we had a record 103 scarecrows entered, 30 of which were done by first-time builders.  Over the seven years of the festival, we've had 583 scarecrows built."
First event was the drawing for the Scarecrow Hunt, where participants filled out entry forms identifying the five downtown scarecrows sporting the special Scarecrow Hunt medallion.  The five winners were Jeanette Grouters, Margo Garrity, Dustin Goss, Amy Sheppard and Micah Johnson, who respectively received a $50 gift certificate from Cline Jewelers, a hat from Rogue, three face painting kits from Art Spot, a bag of travel essentials from the Savvy Traveler, and a growler of hand-crafted beer from Salish Sea Brewing.
First-place winners in each Scarecrow Festival category received a certificate, a family or business membership to the museum, and the honor that comes with contributing to the fun of living in Edmonds.
This year's winning scarecrows are as follows:
Residential Category:
First Place – Marjie Bowker/Greg Strzempka for "Rick Franken Steves"
Second Place – Wendy Clark for "Like Father, Like Son"
Third Place – James Jacoby for "Pumpkin Reaper"
Service Category:
First Place – Lice Spies for "You Can't Boil Your Kids"
Second Place – Tie between Ten Gun Design for "Sugar Skull Queen," and Edmonds-Westgate Veterinary for "Troll-O-Ween Hospital"
Third Place – The Makota Company for "Zombie Crow"
Artists/Galleries/School/Government/Civic Category:
First Place – Barclay Sheldon Dance Centre for "Rhonda Rufflebum"
Second Place – Holy Rosary School for "The Wizard of Oz"
Third Place – The Edmonds Library for "Scary Poppins"
Financial/Insurance/Real Estate Category:
First Place – Windermere Real Estate for "Hidden at Windermere"
Second Place – Coldwell Banker Bain for "Strange Sightings"
Third Place – Tie between Coastal Bank for "Miss Willow Branch" and Edmonds Realty for "Morticia, Cousin It and Thing"
Retail Category:
First Place – Sound Styles for "The It Girl"
Second Place – The Curious Nest for "Madame Corbeau"
Third Place – Rogue for "Scoops Ahoy"
Food/Beverage Category:
First Place – Walnut Street Coffee for  "Aragog"
Second Place – The Very Taki Tiki Bar for "Tiki Party of Four"
Third Place – Waterfront Coffee for "Scarecrow Slenderman"
Best First-time Scarecrow Builders:
Residential – Team Sprague for "Freddie"
Non-residential – Adoption Services of Western Washington for "Protect Our Marsh"
Best Depiction of Edmonds History: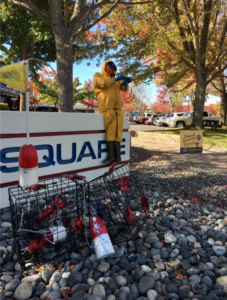 Tie between The Edmonds Historical Museum for "Adelaide Crowette" and Port of Edmonds for "Gone Fishin.'"
And finally, this year's honor for top vote-getter overall goes to Wilcox Construction for "To Edmonds and Beyond"
These results are posted online  along with photos of all the winners in each category.
Helping draw attention to the scarecrow entries were the big yellow signs place by each one identifying it as part of the Edmonds Scarecrow Festival. "These signs were a big hit," Buelow said, "and we really want to recycle them to use again next year. So if you still have your sign, please return it to the museum.
"And don't forget that we're always looking for ways to make the Scarecrow Festival even better in the future," Buelow added.  "We welcome and encourage any and all ideas and suggestions from the public to make this fun annual event even more special.  And a heartfelt thanks to all the scarecrow builders, and to everyone who voted or just walked past and enjoyed being part of this fun annual autumn event in Edmonds."
Learn more at the Scarecrow Festival webpage.
The Edmonds Museum is located in Edmonds' historic 1910 Carnegie Library at 118 5th Ave. N. It is open year-round between 1 and 4 p.m. Wednesday through Sunday, but opens early on market days.  Suggested donation in lieu of an admission fee is $5 for adults, and $2 for students. Learn more at www.historicedmonds.org.