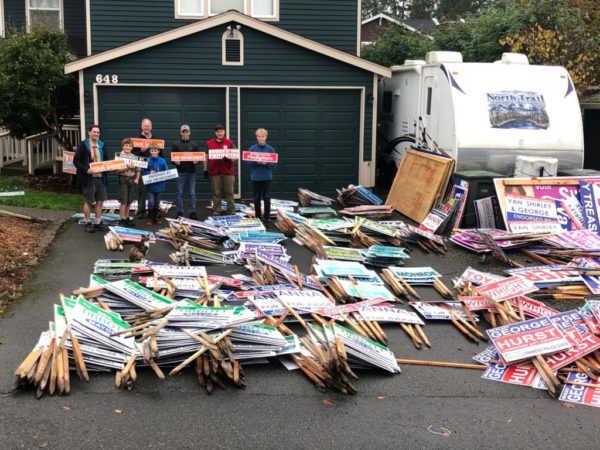 Members of local BSA Scout Troop 300 have been busy during the past several days with a unique fundraiser: collecting the campaign signs of local political candidates.
According to Josh Johnson, Troop 300 Scoutmaster, scouts and their adult leaders started picking up signs in the cities of Edmonds and Lynnwood after election night Tuesday, Nov. 5, then had them available for candidates to pick up on Sunday, Nov. 10.
The troop reached out via email to local candidates, offering them a "win-win-win solution": Supervised by adult leaders, the scouts would gather the candidates' campaign signs on public rights of way and from private properties that are within 10 feet of the curb and safely accessible. In return, candidates would donate $1 per sign to the scouts.
"We will collect, stack and wrap your signs, and have them ready for pick-up," Johnson wrote. "While collecting the signs, scouts will wear their uniforms, obey all traffic and pedestrian laws, and adhere to the Scout Law: 'A Scout is courteous and kind.'"
As to how the scouts will use the proceeds, Johnson noted that the troop usually does popcorn sales, but this year they have a trip planned to Philmont Scout Ranch in New Mexico, which requires additional fundraising efforts.