What to See:
Musicals, comedies, free movies and art displays, oh my! Take your pick and enjoy a family outing, a special date, or a solo treat.
Edmonds Driftwood Players Presents: A Christmas Story – The Musical
If you are looking for a night of laughs and great theater, head over to see the Edmonds Driftwood Players perform A Christmas Story – The Musical. Based on the movie, this production brings the iconic characters and themes from A Christmas Story to life in a festive musical format. Great for all ages.
Wade. James Theater
950 Main St.
Edmonds
Thursdays, Fridays and Saturdays until Dec. 22
8 p.m.
Saturdays, Dec. 7 and 21, Sundays
2 p.m.
Tickets: $25-$28
The Phoenix Theater Presents: Inspecting Carol
Needing some comic relief? This production will be sure to bring in the laughs. Inspecting Carol is a comical take of a struggling theatre's clumsy production of A Christmas Carol. Be prepared for witty jokes and a great time.
Phoenix Theatre
9673 Firdale Ave.
Edmonds
Fridays and Saturdays until Dec. 22
7:30 p.m.
Sundays
2 p.m.
Tickets: $20-$25
Free Holiday Movies at the Edmonds Theater
Cline Jewelers is sponsoring this year's free holiday movies at the Edmonds Theater. On Friday's Dec. 6 and Dec. 13, the whole family is invited to enjoy a free holiday movie. Each week the classic Christmas cartoons start at 4 p.m. and the featured movie will begin at 5:30 p.m. Friday Dec. 6 will showcase Elf and Friday Dec.13 will show A Christmas Story. 
Edmonds Theater
415 Main St.
Friday, Dec. 6 & 13
4 – 7:30 p.m.
FREE
Seaview Weaving and Fiber Arts Guild Exhibits Works
From now until Sunday, Dec. 15, stop into the Frances Anderson Center to see the beautiful works of textile art created by the Seaview Weaving and Fiber Arts Guild. The artists have created a variety of pieces, using techniques like spinning, dyeing, weaving, sewing, quilting, knitting, crochet, felting, paper crafts collage and beading. The gallery is presented by the Edmonds Art Festival Foundation. More at seaviewweavers.wordpress.com.
Frances Anderson Center
Until Dec. 15
Monday-Friday 9 a.m. – 7 p.m.
Saturday 10 a.m. – 1 p.m.
FREE
Santa on Ice in Mountlake Terrace
In nearby Mountlake Terrace, the Seattle Skating Club will be putting on a unique ice experience. This is a great opportunity for aspiring skaters to see a local production. Hosted at OlympicView Arena; make sure to wear layers and grab a hot cocoa to keep you warm.
22202 70th Ave. W.
Mountlake Terrace
Saturday, Dec. 14
2 p.m. and 6 p.m.
Tickets: $10-$15
What to Hear:
The countdown to the holidays is on: Get your calendar out and make time for a night or two of musical magic. From classical to gospel to pop, there is something for every ear.
At ECA – Christmas with the Gothard Sisters
This Thursday, Dec. 5, is a can't-miss event with the Gothard Sisters. Concerts by these Edmonds natives are a mesmerizing blend of Celtic, folk, classical and Northwest influences. If you haven't seen them live, now is the time. Their special Christmas performance is a wonderful evening of music, step dancing and surprise guests that viewers of all ages will enjoy. www.ec4arts.org
Edmonds Center for the Arts
410 4th Ave. N.
Thursday, Dec. 5
7:30 – 10:30 p.m.
Tickets: $10-$26
Christmas Tidings at Edmonds United Methodist Church
The Northwest Chorale will be performing a variety of carols and pieces to include Bach, Forrest, Whitacre, and more. There will be several featured pieces by local composer Robert Kechley. Admission is free and donations are welcome and will be taken to benefit Northwest Harvest.
Edmonds United Methodist Church
828 Caspers St.
Edmonds
Saturday, Dec. 7
7:30 p.m.- 9:30 p.m.
FREE
At ECA – Cascade Symphony Orchestra's Holiday Pops
Sunday and Monday, Dec. 8 and 9, there are two opportunities to see the Cascade Symphony Orchestra's Holiday Pops. Acclaimed pianist Wayne Weng is the featured soloist performing Gershwin's iconic Rhapsody in Blue. The concert's other offerings include music from Home Alone by American composer John Williams, selections from My Fair Lady by Austrian-American composer Frederick Loewe; Symphonic Dance from Fiddler on the Roof" by American composer Jerry Bock; and Brazilian Sleigh Bells by American composer Percy Faith. There is an extra-special treat for the second half of the Dec. 8 concert: Seven outstanding music students from three of our Edmonds-area high schools will perform side-by-side with members of the Cascade Symphony Orchestra. Learn more at www.cascadesymphony.org. Tickets can be purchased at www.ec4arts.org
Edmonds Center for the Arts
410 4th Ave. N.
Sunday and Monday, Dec. 8 and 9
6:30 p.m. pre-lecture, 7:30 p.m. concert
Tickets $10-$27
At ECA – Cece Winans
Here's your chance to see the celebrated and honored female gospel artist Cece Winans, on Wednesday, Dec. 11 at the Edmonds Center for Arts.
Winans is one of the most accomplished women solo artists in modern music history. She has topped the Gospel charts repeatedly and has sold over 5 million albums in the US. You might know her from her duet with Whitney Houston on the Waiting to Exhale soundtrack or seen her featured performances at venues ranging from The Oprah Show to the White House. Tickets at www.ec4arts.org
Edmonds Center for the Arts
410 4th Ave. N.
Wednesday, Dec. 11
7:30 p.m.
Tickets $39-$74
At EWHS — Edmonds-Woodway graduate Lauren Paris in concert
2007 Edmonds-Woodway High School graduate Lauren Paris has returned from Chicago and will be doing a benefit concert at the EWHS Little Theatre Dec.13 at 8 p.m. She will be performing show tunes, great classic standards and a selection of pop numbers. Tickets are $25 and all proceeds go to the high school's drama department. You can look her up at www.laurenparis.net/upcoming.html. Tickets are available at brownpapertickets.com.
EWHS
7600 212th St. S.W.
Edmonds
Friday, Dec.13
8 p.m.
Tickets $25
At ECA — Sno-King Chorale Rockin' Around
The Sno-King Community Chorale will be performing its annual Holiday Magic concert on Saturday, Dec.14 at both 3 p.m. and 7 p.m. This is a festive, family-friendly event including favorites like White Christmas, Carol of the Bells, Feliz Navidad and some fun and recognizable songs like You're a Mean One, Mister Grinch, and Hallelujah. Tickets can be purchased at www.ec4arts.org.
410 4th Ave. N.
Saturday, Dec.14
3 p.m. and 7 p.m.
Tickets $15-$25
What to Do:
Caroling, crafting or cookies, how do you choose just one? Thankfully you don't have to, you can try them all! Special bonus, all of the events listed below are FREE to attend.
3rd Annual Caroling Contest at the Red Twig Bakery & Cafe
"Jingle those Bells" Caroling Contest is set for Dec. 5 from 6 to 7 p.m. at the Red Twig Bakery. Sign up ahead of time to participate or come and enjoy the music and vote for your favorites. It's a great way to enjoy Christmas caroling right in town. www.edmondsholidays.com/holidaycalendar/2018/12/6/caroling
Red Twig Patio
117 5th Ave. S.
Edmonds
Thursday, Dec. 5
6 – 7 p.m.
FREE
Holiday Cards with Mona Fairbanks
Start your holiday card-making early with a family-friendly day at Cascadia Art Museum. On Saturday, Dec. 7, jump on the Edmonds Holiday Trolley and head down to the museum to learn holiday card printmaking with local artist Mona Fairbanks from 11 a.m. to 1 p.m. Mona will teach a process that you can do on your own at home and can be used one time — or can be reproduced to make all your holiday cards. www.cascadiaartmuseum.org
Cascadia Art Museum
190 Sunset Ave. S. #E
Edmonds
Saturday, Dec. 7
11 a.m. – 1 p.m.
FREE
Argosy Cruises Christmas Ship Festival at Port of Edmonds
Dress in all your layers for an evening of holiday lights on the water. Argosy will be starting the evening's boat parade at the Port of Edmonds with a choir performance broadcast from their main boat from 7:20-7:40 p.m. Find a spot on the dock and listen to the festive tunes while enjoying a breathtaking view. You might even get to see some squid fishing happening on the dock at the same time! Great event for the whole family — just make sure to bring some hand warmers, as it can get chilly out there.www.argosycruises.com/christmas-ship-festival-schedule/
Port of Edmonds
Wednesday, Dec. 11
7:20 -7:40 p.m. (time is subject to change)
FREE to view from the dock
Meet Sound Styles Santa!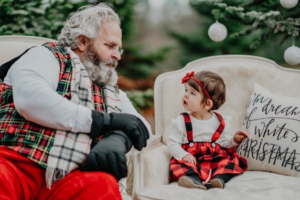 Plan ahead and get this one on your calendar. On Dec. 14 you can meet Santa, get a cookie and take pictures in the live window display at 5th and Main. This very special Santa event will bring back memories of beautiful window dressings of years past. Make a day of it by riding the Edmonds downtown holiday trolley and exploring all the wonderful shopping opportunities in town.
Sound Styles
5th and Main
Edmonds
Saturday, Dec. 14
11 a.m.- 3 p.m.
FREE
South Edmonds Winter Celebration
Hamburger Harrys, Gravity Bar & Lounge, and Barkada have come together to raise money and collect blankets, food, and toiletries for the homeless. There will be a "Block Party" of holiday fun starting at 10 a.m. and going until 10 p.m. Kids can make holiday crafts and decorate cookies and there will be live music all day. Adults can partake in wine tasting, shopping and more.
610 5th Ave. S.
Edmonds
Saturday, Dec. 14
10 a.m.- 10 p.m.
FREE – donations appreciated
~ ~ ~ ~
— By Rachel Gardner
Rachel Gardner has a heartfelt appreciation for art in all forms and believes everyone is an artist, some just don't know it yet. A dedicated and involved Edmonds resident, she can often be spotted onstage cracking jokes between sets or in the audience enjoying local live performances. She enjoys being playful with her art and finding unique ways of expression, like forming a boho-grunge-folk ukulele trio with local Edmonds moms.