It's always fun to participate in the rush to try out a new restaurant in town — the enthusiasm and anticipation is almost palpable. In the case of the newly opened Santa Fe Mexican Grill and Cantina on the corner of 5th and Main in downtown Edmonds, you can see it on the faces of diners patiently waiting in line for the next available table.
The enthusiasm is also visible on the faces of the owners and wait staff who, after months of anticipation, were finally able to throw open the doors and welcome guests.
There's something magical about the first few weeks of a new opening — working out the kinks of the operation, finding out what works and what doesn't, getting systems in place and — at least in Santa Fe's case — realizing with relief that your big gamble is going to pay off, that things are actually going to work out.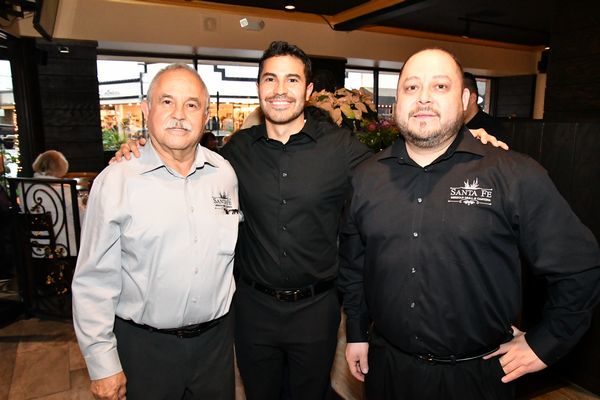 It probably shouldn't come as any surprise. Owners Javier Bobadilla and Hector Olguín have decades of restaurant experience. The Edmonds location represents their fourth Santa Fe, joining establishments in Richmond Beach, Renton and Bellevue.
They seem to have this figured out. If you factor in their experience and the good fortune of acquiring the catbird's seat — arguably the most desirable location in downtown Edmonds — predictions of their likely success don't seem too far fetched.
About a week ago, three weeks into their opening, we dropped in for dinner. It's not really fair to judge a restaurant by its performance in the first couple of weeks. It only seemed fair to wait a while.
Edmonds' response has been overwhelming. "We knew we were going to be busy, but not THAT busy," quipped Olguín. "We found ourselves having to close from 3 to 5 just to catch up. We've even had to hire more staff. I want people to know that we appreciate everyone's enthusiasm and understanding as we get everything ironed out."
A few impressions: First off, you would not recognize the place. To the left, there's a full bar with 11 stools and five 4-tops. To the right, an expansive dining room that features numerous booths. "Everyone seems to want a booth, we may build some more of them," said Olguín.
They receive high marks for having six high chairs, and changing tables in both of the newly renovated restrooms.
I especially liked the Joel Garcia wrought-iron pieces, and the large centerpiece portrait of an adorable young farm boy in a Tequila, Jalisco agave field.
Javier's son Ricky was doing his best to get everyone seated promptly. We were fortunate and only waited for a matter of minutes.
We noticed the thin and lightly salted fresh tortilla chips and salsa were especially good. We ordered a little pico de gallo and guacamole to go with, then sat back and waited for dinner.
A discussion ensued about how "chunky salsa" or "salsa fresca" used to be sufficient to describe what has come to be known as pico de gallo, which literally means "beak of the rooster." Whatever you want to call it, I could have shoveled it onto their tortilla chips all night.
I'm glad I didn't, though. If I had, I would have missed sampling their chile rellenos — fresh roasted poblano chili peppers stuffed with queso blanco and baked in whipped eggs. With a little hot sauce, I found them to be delicious. Sure, the eggs weren't soufflé fluffy, but since the kitchen was producing at least a couple of hundred plates that night, and since I wasn't paying for a five-star meal, I was perfectly happy. Also receiving high marks, the carne asada — thin slices of skirt steak cooked over charcoal, giving it a unique, smoky flavor.
As I pointed out in June when word first reached us about Santa Fe's imminent arrival in Edmonds, I'm already a big fan of their chimichangas, tostadas and enchiladas.
What surprised me was how much we enjoyed the fried ice cream dessert. The ice cream is lowered into the fryer briefly, giving it a nice crispy outer shell. Ours was served with a strawberry sauce and was ample for our party of four to polish off.
My overall impression?
It's family-friendly, with an attentive staff — a winning combination of nice folks serving up quality Mexican American cuisine at reasonable prices. Santa Fe is here to stay. Why not give them a visit now that things have calmed down a little? I think you'll enjoy it.
— By James Spangler
The furthest thing from a finicky eater, James Spangler insisted on trying everything on the table from the earliest age. At 13, he prepared Baked Alaska for an entire classroom and has had an insatiable appetite for good food ever since. He'd rather be in the kitchen cooking for the people he loves than doing just about anything.