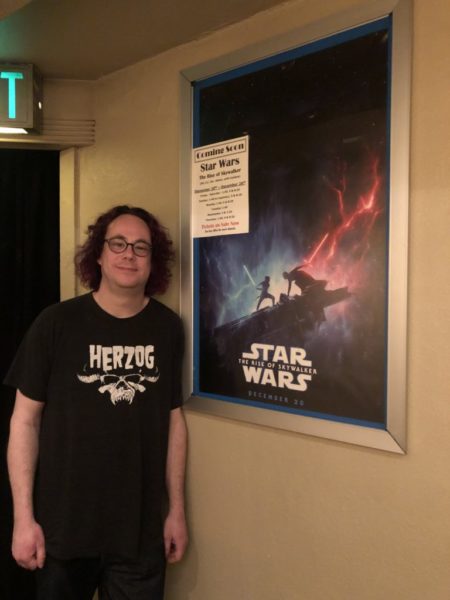 My introduction to the Star Wars universe came in 1980 at a now-shuttered downtown Seattle theater. After a loooonnnggg wait in line, my parents guided my 5-year-old legs to a seat and I anxiously awaited the famous opening crawl for the Empire Strikes Back. Then a few minutes into it, the Wampa – a giant snow monster – unexpectedly roared onto the screen and I begged my parents to take me home. They declined.
I'm glad they did.
What unfolded drew me into George Lucas' galaxy far far away and I've been there – at least in fandom form – ever since. I'm obviously not alone. No other movie saga has created as rabid a fan base as Star Wars has since the first film debuted 42 years ago.
Which is why so many of us are emotional about seeing the Skywalker storyline come to an end when Episode IX: The Rise of Skywalker, debuts this week, including two early showings Thursday, Dec. 19, at the Edmonds Theater.
"We get some pretty enthusiastic crowds, but Star Wars crowds, that's when we see fans dress up, show up early, it's really a party," Edmonds Theater manager Chris Mayes said. "I'm excited to see the crowd reaction during the opening credits and just see how they react. That's what's fun for me."
The Skywalker saga encompasses nine films, starting with the original trilogy that introduced us to Luke, Leia, Han, Darth and the rest of the unforgettable Star Wars characters and creatures  from 1977-83. The second trilogy – the story of how Anakin Skywalker became Darth Vader – spanned from 1999-2005. Now the final movie in the final trilogy – which debuted in 2015 – will tell us how it all ends.
And it has us fans wondering, including my 12-year-old son Satchel.
"I'm incredibly anxious," he said. "I'm definitely sad and excited. I know there will be more movies after this, and I'm looking forward to seeing how the new story line plays out. But for this, it's a lot of feelings mixed together."
Mayes said what makes the movies so appealing is that while the story is pretty basic – good vs. evil – the details that surround it create a depth to the universe, and that's what draws people in.
"The original trilogy had the right mix of light, dark, humor, action, everything," Mayes said. "That set the stage for the rest of the movies. While some of it has changed as different people became involved in making the movies, they've all had unique surrounding elements people can connect to. Everyone I know has a favorite character they love, and it appeals to people of any age."
It's not every movie story that has this much staying power after 40-plus years, but the movies seem to be as popular with people in my demographic as with those in my kid's, and even younger. That was clear walking around Edmonds' downtown Halloween trick or treat, where there were no shortage of Jedis and other characters.
One of the interesting aspects of the movie is how it has connected parents with their kids. Perhaps that's no surprise, as one of the core stories is the complicated relationship between Luke Skywalker and Darth Vader who – spoiler alert – is his father. And it's certainly something that I've come to appreciate about Star Wars as Satchel has grown older. Our relationship has changed through the years,  and has sometimes been challenging, but Star Was has always been a connection for us, even as the specifics of that bond change and grow. Those connections, whether between parent and child, spouses or friends, provide a definite shared experience as we had into the finale, making it much more than an individual experience.
So, what's going to happen? How will the story come to an end? Will Disney – which now owns the rights to Star Wars – provide an ending that satisfies fans?
"You're never going to make everyone happy," Mayes said. "Everything I've heard is good and I think most people will be happy with it. Disney has tried to make the end memorable but also allow people to move on to the next chapters."
"I don't know what's going to happen but I think they'll find a way to end the series in a satisfying way," Satchel added. "I'm excited to find out."
As are we all.
— By Mike Allende
Mike Allende lives in Edmonds.