Edmonds resident Michael W. Hall continues his trip on the rails for the holidays. Hall left the Edmonds Amtrak station Christmas Eve, and is headed east by train to "The Big Apple" for New Year's Eve.
12/26/2019
2:25pm CST-
Milwaukee, Wisconsin
3:35pm CST-
Arrived at Chicago's Union Station, checked into the Amtrak's Passenger Lounge, got something to snack on and drink. Walked around and checked out the amazing 50-foot, decorated Christmas tree in the lobby and all the wonderful holiday decorations.  Massive illuminated wreaths and a complete "Polar Express" locomotive and gift shop. I purchased a souvenir "Polar Express" Conductor's Pocket Watch to remind me of this epic trip.  
"The Polar Express!" 
12/27/2019
7:30am EST- 
Coffee and a blueberry muffin in the Amtrak Club Car, just out of Buffalo-Depew, NY, where I was joined by the young and delightful New York comedienne, Morgan Carroll, who was coming back to "The City" from visiting her family for the holidays.  Blonde and perky, with a husky, sexy voice, she hosts her own internet Tele-Series called "Obviously Not LinkedIn," where she interviews interesting people in and around The Big Apple who have memorable professions.  She just finished taping a fascinating interview with pop star Joe Jonas, who recently tried his hand at her profession of stand-up comedy. Morgan generously agreed to be his opening act at the famous Manhattan "Comedy Club," in order to teach him the ropes. Joe was grateful for her guidance and encouragement. Another star's career is born….! 
12/27/2019
1:09pm EST- 
Utica, New York. 
1:48pm EST- 
Schenectady, New York
4:15pm EST- 
Rhinecliff, New York 
4:50pm EST-
4:52pm EST- 
5:30pm EST-
6:10pm EST- 
Penn Station, downtown New York City….! 
7:15pm EST- 
"New York Pizza Suprema!"  
A friendly, family-run 'Pizza By The Slice' joint (or a Whole Pie), with plenty of Christmas music, loud conversation and neighborhood character, lovingly presided over by a larger-than-life framed photo of Chef Anthony Bordain, right across 38th Street from Penn Station.  "Fold & Eat….!"
8:00pm EST- 
Street Food is awesome; hotdogs and soft pretzels with mustard….!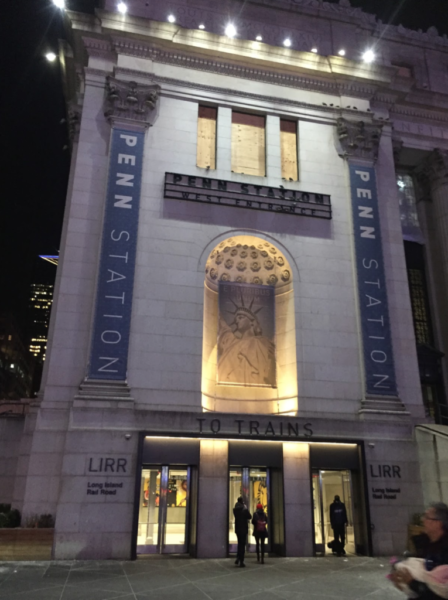 Penn Station, New York City.  (Another entrance….) 
8:15pm EST- 
38th Street. 
8:30pm EST- 
Dinner on the street; everywhere….!
To be continued…
— By Michael W. Hall
Michael W. Hall, a 1971 graduate of Edmonds High School, is a local attorney who enjoys fly fishing, writing and "all things Fortean."