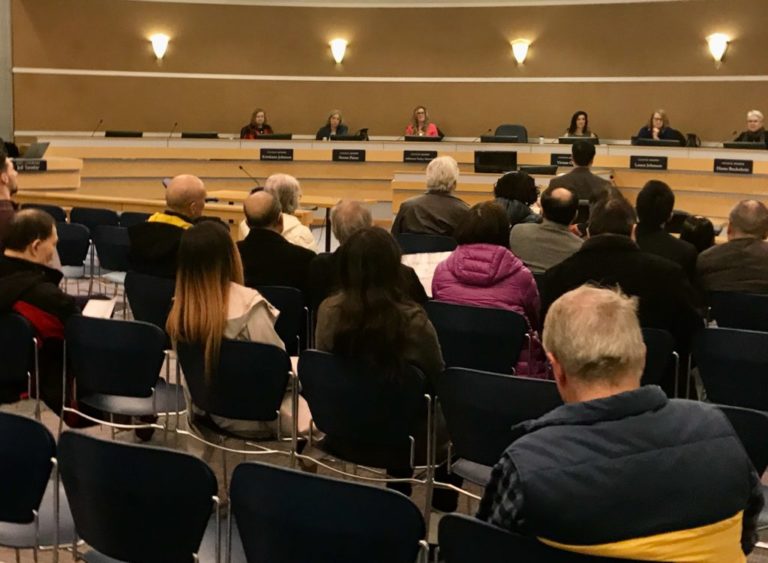 The Edmonds City Council Thursday night heard from the final six candidates out of 12 vying for appointment to the council's vacant Position 2 seat. The meeting was a follow-up to the council's Tuesday, Jan. 21 meeting, which was devoted to interviewing the other six applicants.
City Attorney Jeff Taraday said he will be preparing a packet of information for council review that will include a draft process for determining the rules for the process to nominate and vote for the appointee, which will begin next Tuesday, Jan. 28.  The council has the right under state law to deliberate and evaluate the qualifications of the applicants either in open session or executive session. Prior councils in Edmonds have done both, he said.
During past deliberations, some councils have also chosen to go into executive session after being in open session "to be able to speak a little more frankly about the qualifications of a candidate," Taraday said.
In addition, prior to voting councilmembers will set the ground rules governing at which point they can declare that the process is deadlocked — defined as when an equal number of councilmembers vote a certain number of times in a row for two different candidates. When a deadlock is determined, then councilmembers can nominate other candidates to see if it will change the votes. "There have been instances where the ultimate appointee was not someone that was even nominated in the first round," Taraday explained. "it can take a while to get to four (votes). So just prepare yourselves for a process that may take a while," he said.
As an extreme example, in March 2014 Tom Mesaros was appointed to the City Council on the 59th ballot after the council was deadlocked during two previous council meetings.
The first nominee to receive a four-vote majority will be appointed to the seat. The practice has been to use paper ballots, with the city clerk then counting and reporting the results until a majority is reached for one candidate.
Edmonds Mayor Mike Nelson said in an email to My Edmonds News Thursday night that he would not step in to break a tie. "I fully support our council selecting their next colleague," Nelson said. "My only role in this appointment process will be watching with our citizens from the sidelines."
Here is a summary of Thursday night's interviews with the six candidates, in order of their appearance. The city said that the full council video of all 12 interviews will be available for viewing on Friday.
Matt Cheung, an attorney who has lived in Edmonds for seven years, told the council he is running for appointment to the Position 2 seat because he is passionate about the city. He said that's also why he applied to be on the Edmonds Planning Board, where he has served for five years.
During his interview, Cheung spoke about the value that local tourism brings to Edmonds. "We have a really unique city (in) that we have a lot to offer," he said, including great restaurants and summer festivals. "It's good for our economy," Cheung said. "It's a sense of pride and it's not just a place that you live, it's a place that you identify with."
But it's not just the restaurants and shops that attract people to Edmonds, he said. Visitors also come for the city's parks and green spaces and the waterfront.
Asked what he could bring to the council, Cheung said said he sees himself as "an outsider on some issues," which means he would be more likely to approach topics from "an unbiased perspective."
Council President Adrienne Fraley-Monillas asked Cheung for his thoughts, as a person of color in Edmonds, on the impact past incidents of racism have had on the city's tourism and reputation. Cheung said that while these incidents are concerning, they aren't unique to Edmonds and probably aren't on the radar of people living outside of the city.
Fraley-Monillas also asked Cheung if he had the time for the estimated 25 hours a week for council business. "I'm on board to make the time and to commit to the job," he said.
~~~
Will Chen, a certified public accountant who has lived in Edmonds for 10 years and has an office just off Highway 99, said he would bring "calm, logical critical thinking to the council, and most importantly I have a humble heart."
About a dozen supporters gathered in the council chambers to hear Chen's interview. Chen said the group's participation was an example of how he could engage Edmonds' Asian population — especially those living and working in the area of Highway 99 — in city government. It's a group that is currently underrepresented in government for a range of reasons — from language barriers to the fact that many work long hours, he said, adding: "I am in a good position to bridge that gap."
Chen, who was born and raised in China but came to the U.S. for college and graduate school, is fluent in Cantonese and Mandarin.
He said his top three priorities as a councilmember would be "responsible growth on Highway 99, embracing our housing strategy to meet different needs and restoring the Edmonds Marsh."
Asked about his vision for Highway 99, Chen said he would like to take the lead in making Highway 99 as charming as the city's downtown. With the council's support, he would be "a bridge connecting to the international, multicultural charm" of Highway 99 and the International District, bringing family-friendly events like a Chinese New Year celebration to the area. These efforts would "not only beautify area but also increase tax revenues for the city and also enrich our cultural heritage," Chen said.
He also said that if he wasn't appointed, he would run for a council seat in two years.
~ ~ ~
Deborah Binder said that she is committed to "bringing positive and informed change to a community that I love and have chosen as my home."
An Edmonds resident for more than 18 years, Binder is an independent management consultant who has an extensive background in fundraising and development. She said she would like to see the city focus on promoting and supporting businesses outside the downtown core, something that "will bring greater strength" to Edmonds as whole.
She added she looks forward to seeing the planned redevelopment of Edmonds' Highway 99 area to resemble what's been done in Shoreline, where the roadway "feels more like a boulevard than a highway." Binder also says she loves in the Five Corners neighborhood, where she lives, and appreciates the transformation that is happening there, including the roundabout.
She talked about serving on the Edmonds Historical Preservation Commission from 2004-07, including outreach to encourage citizens to place their homes on the historic registry.
While Binder has strong arts background — she earned a bachelor's degree in American studies and art history from Yale and a master's in art history and architectural history from Boston University — she also has a passion for the outdoors and appreciates the city's commitment to environmental sustainability. "We're known as an arts community but I think we could be as well known as (being) an environmental and progressive community," she said.
Regarding how the city council should respond to incidents of overt racism, Binder said racism "is something that should not be tolerated. I feel ike a councilmember needs to be open and forthright about not tolerating any form of racism, calling it out when they see it," she said.
Asked what she could bring to the council, Binder suggested it would be "a fresh perspective," since she has not before served in an elected capacity. She also pointed to what she described as "one of my strengths: If I don't know something I'm not afraid to ask questions, I'm not afraid to research and I really want to understand an issue before I come to any kind of vote or decision," she said.
~ ~ ~
Luke Distelhorst moved to Edmonds with his family almost six years ago and "every year I've felt more invested in our city and more dedicated to the well-being and the future of its citizens," he said. Distelhorst added that he also dove into local volunteer work, serving for three years as president of Friends of the Edmonds Library and now as a member of the Sno-Isle Libraries Foundation Board.
He pointed to his "strong track record of thriving in challenging and complex situations," adding he would bring a similar approach to the council if appointed.
Distelhorst recently started a new job as a public outreach specialist for Community Transit, and he received a few questions from councilmembers on transportation issues. Asked how he feels about current transportation options in Edmonds, Distelhorst replied that "there's always room for improvement. There isn't enough." The city's diverse population requires a range of transportation services, from paratransit to bike and pedestrian . access, he said.
He defined housing affordability as "creating that full suite of options in terms of size, purchase price point, rental price point, density, location. The council needs to take recommendations now being developed by the citizens housing commission and ensure that work connects to goals and targets in the city's comprehensive plan, he added.
Asked to describe the biggest issue in Edmonds during next five years, Distelhorst pointed to rapid growth and its impacts, and "ensuring we really remain a livable community for everyone — not just the select few."
Responding to a question regarding how he would address the challenges for those living paycheck to paycheck or on a fixed income, he grew visibly emotional. "I can't speak for those people because I don't have the same experiences that they are having," he said. "I'm fortunate." The city needs to do a better job of reaching out to residents in those situations, "and understanding what they need," he added. "If we can do a better job engaging those communities that are here in Edmonds and need that support, I think that would go a long way."
If he isn't appointed, Distelhorst said he would consider running for a council seat in either two or four years, but added he would to continue to be active in the community regardless.
~ ~ ~
Robert Doug Peterson, a 41-year Edmonds resident, has served the Edmonds Tree Board since 2016, filling the role of both vice chair and chair, and is also a master gardener with the WSU Extension Service. He described himself as an analytical and critical thinker who reviews things carefully,  but also doesn't take himself too seriously.
Peterson said he spent his entire working life in the private sector, so serving on both the Citizens Tree Board and Mayor's Climate Protection Committee has given him "a lot clearer idea of how city government actually works" — a skill he could bring to the council
Asked about how to help those living paycheck to paycheck and on a fixed income, he said he would "try to get better-paying work in the city," along with more low-income and affordable housing.
He said he would be most excited to work on city environmental issues, including the Edmonds Marsh. along with housing, livability and maintenance of the city's infrastructure such as sidewalks and streets.
Peterson shared that he spent his working life in three industries: finance, hospitality and information technology. But he was most proud of the time he spent working with his mother on her Idaho farm, helping to run an 120-acre apple orchard and cattle operation after his father died.
If appointed, Peterson said he would not campaign for election, "but I will work very hard for the two years afforded me to advance the values and principles for every citizen of the city of Edmonds."
~ ~ ~
Nathan Monroe was born and raised in Edmonds and now works as a civil engineer, currently serving as a construction manager for Sound Transit, where he oversees a budget of $120 million. He lost to opponent Laura Johnson in the November election, and said he is proud of the positive campaigns that both he and Johnson ran. "I got the most votes of all the losing candidates, which is something I take to heart," he added with a smile.
As a councilmember, Monroe said he would be focused on infrastructure and fiscal responsibility. "Maintaining the infrastructure we have for the next generation of Edmonds citizens is a passion I have," he said.
He also noted that he could serve a role that the current council needs — someone with an engineering background. "I would be happy to fill that for you and help you guys work with staff," he said. Much of the city's budget is devoted to public works projects and "it's a language I speak," Monroe said. "I'm happy to push back and forth with those guys and help them give us what we want."
Monroe said that as part of his job, he is used to having "very frank conversations with lots of stakeholders. I've been successful through my career by being calm, collected, understanding the facts and not taking it personal."
Asked about the issue of housing affordability, Monroe said the city has "a responsibility to the folks that live here now," and that includes ensuring that people can age in place and be able to downsize into smaller homes if they desire. He favors allowing detached accessory dwelling units (ADUs) in the city — assuming appropriate setbacks and parking are in place — to address both the issue of housing affordability and increase the city's supply of low-income rental housing.
"The most organic way to do that is the detached ADU approach," Monroe said, describing for example a 700-foot cottage next to a home on a large lot. "That allows folks to integrate into our community and we're not creating 'two Edmonds' — which is a fear that I have."
Asked how he would address the challenges of people living from paycheck to paycheck, Monroe said the rising cost of living and associated increases in fees and taxes is a concern. "Every time we spend a dollar in the city, that dollar comes from our citizens and we need to be stewards of that dollar and really be careful of how we spend it — and make sure they (citizens) are getting the benefit out of it," he said.
In other business Thursday night, the following ouncilmembers were appointed to council committees and outside boards and commissions:
Council committees
Public Safety and Personnel Committee: Kristiana Johnson and Laura Johnson
Parks, Planning, and Public Works Committee: Susan Paine and Diane Buckshnis
Finance Committee: Vivian Olson and new councilmember TBD
Outside boards/commissions/advisory
Affordable Housing Alliance: New councilmember TBD
Alternate: Adrienne Fraley-Monillas
Snohomish County Health District Board: Adrienne Fraley-Monillas
Community Transit Alternate: Laura Johnson
Edmonds Disability Board: Susan Paine and Vivian Olson
Edmonds Diversity Commission: Adrienne Fraley-Monillas
Edmonds Economic Development Committee: Vivian Olson
Edmonds Historic Preservation Advisory Commission: Kristiana Johnson
Housing Commission: Vivian Olson
Alternate: New Councilmember TBD
Lake Ballinger Work Group: Diane Buckshnis
Edmonds Lodging Tax Advisory Committee: Kristiana Johnson
Mayor's Climate Protection Committee: Laura Johnson
Public Facilities District Oversight Committee: Adrienne Fraley-Monillas
Port of Edmonds: Susan Paine
SeaShore Transportation Forum: Diane Buckshnis
SNOCOM 911: Kristiana Johnson
Snohomish County Tomorrow Alternate: New councilmember TBD
Salmon Recovery – WRIA 8: Diane Buckshnis
Alternate: Susan Paine
Edmonds Tree Board Liaison: Diane Buckshnis
Edmonds Youth Commission: Laura Johnson
And the following were appointed to the Edmonds Citizens Tree Board:
William (Bill) Phipps
Barbara Chase
Suzanne Juergensen
Donna Murphy
Ross Dimmick, Alternate
— Story and photos by Teresa Wippel