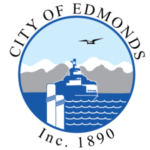 Among the items to be discussed in Edmonds City Council committee meetings this Tuesday, Feb. 11 are authorizations for calls to artists for two public art projects: at the 6th Avenue North entry point to Civic Park and outside of the Edmonds Library, where the backdrop has been located.
According to the council agenda, the goal of the Civic Park public art project is "to create a welcoming feature at the primary entry point to the park off of 6th Avenue." Up to five artists will be selected for interviews at a public meeting and one will be recommended. The selected artist will works with the design team and community to develop a proposal presented at a public meeting. The budget is $90,000 for the artwork with an additional $2,500 budgeted for reimbursable travel expenses for finalists traveling from over 50 miles — for a total of $92,500.
The Edmonds Library Project will be located in the front of the library, an area that is being re-landscaped after the unused book drop is removed."  The budget for this project is $110,000 for the artwork with an additional $1,100 design fee to each of the three artists developing site-specific proposals and $2,000 budgeted for reimbursable travel expenses for finalists traveling from over 50 miles. The total budget is $115,300.
Here are the full agenda for each of the committee meetings, which meet simultaneously in three separate locations in the Public Safety Complex:
Parks and Public Works Committee (Council Chamber)
– Authorization to advertise call to artists
– Presentation of professional services agreements with The Blueline Group for the Phase 11 Waterline Replacement Project and with Murraysmith for the Phase 8 Sewerline Replacement Project.
– Discussion of a franchise ordinance with Level 3 Communications LLC (a subsidiary of CenturyLink) to conduct work in the city right of way. The firm wants to provide Virginia Mason Medical Center with new fiber into its building for additional bandwidth.
Finance Committee (Jury Meeting Room)
– Finance Committee Orientation
– Preliminary December 2019 quarterly financial report
– 2020 Carryforward budget amendment ordinance
Planning, Public Safety, and Personnel Committee (Police Training Room)
– Interlocal cooperative agreement between Edmonds School District and City of Edmonds for police coverage at school district events
– Edmonds School District security camera interlocal agreement
– Discussion of field arborist job description and executive assistant to council contract
Prior to the 7 p.m. committee meetings, the council will meet at 6:30 p.m. in executive session to discuss pending or potential litigation.
You can see the  details of committee meeting agendas here. The Public Safety Complex is located at 250 5th Ave. N., Edmonds.