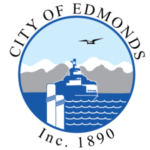 Among the items on a full Edmonds City Council agenda Tuesday, Feb. 18 include a presentation from a search firm that Edmond Mayor Mike Nelson has retained for the "anticipated recruiting process" for a permanent police chief.
The police chief position is currently held by Jim Lawless, a long-time Edmonds PD assistant chief who was promoted to acting chief following the retirement of Chief Al Compaan in late 2019.
Nelson issued a news release Jan. 17 stating his intentions to hire "a reputable recruitment firm" to lead a search process for a new police chief. In the release, Nelson said he would seek budget authorization from the city council to hire the firm. The cost for the search was not included in the agenda memo posted on the city's website, but the firm was identified as Public Sector Search & Consulting, Inc.
According to the company's website, the firm specializes in executive searches for chiefs of police and other public safety professionals.
Company founder Gary Peterson "has developed strong relationships with hundreds of police leaders throughout the nation," the website says, and the firm "is sensitive to contemporary community expectations for chief of police searches. We address issues of inclusion, transparency, and community trust-building in our process. The firm is committed to a search and selection process that produces 21st-century police leaders who can manage and lead change."
The council agenda also includes two public hearings — one on an ordinance amending the city's development code regarding the unit lot subdivision application procedure, and the other on an ordinance amending the code to add "Hotel" as a permitted use in the commercial waterfront zone.
Other items on the agenda include:
– A proclamation for Joe Dwyer's 100th birthday.
– Administration of oath of office for newly-promoted police Sgt. Ken Crystal.
– Annual reports from the city hearing examiner and prosecutor's office.
– A proposal to include during each council meeting at least one "study item" topic, meant for discussion purposes and not for deliberation or voting.
The business meeting will begin at 7 p.m. in the Public Safety Complex, 250 5th Ave. N., Edmonds. Prior to that meeting, the council will meet in executive session at 6 p.m. to discuss collective bargaining strategy.
You can see the complete business meeting agenda here.