With four new councilmembers and a new mayor, it's clear that changes are coming to Edmonds city government. As a first step in determining governance priorities for the next four years, elected officials and city staff met for a daylong retreat Feb. 7. Among the main themes that came out of the day: the importance of developing a common vision and putting citizens at the center of decision-making.
Facilitating much of the discussion was consultant Phyllis Schulman, principal at Civic Alchemy. "The purpose for today is really to strengthen the foundation for constructive relationships for governing, to enhance cohesion and shared understanding," Schulman said to begin the day's work in City Hall's 3rd floor Brackett Room.
Council President Adrienne Fraley-Monillas, one of the three veteran councilmembers, said in introductory remarks that the retreat was designed "to build a relationship, a working relationship, between the council and the staff moving forward that's kind of been a little bit lacking the last couple of years.
"We're hoping to move forward in a more productive way," she added.
"I think this a wonderful opportunity and I'm sort of filled with hope for the possibilities to moving forward," added Mayor Mike Nelson, who was elected in November to lead the city after spending nearly five years as a councilmember. "I think there's a lot of excitement and energy in us collectively."
Schulman, herself a former Seattle City Council legislative aide, added the day was structured so that elected officials and staff could "build and strengthen your relationships with each other and what it means to govern effectively." One of the main priorities, she said, was to identify "some of the attributes of well-functioning groups, particularly in political settings."
The first exercise was aimed at helping those in the room get to know each other better, by answering a series of written questions about themselves, sharing those answers with a partner, and then having the partners introduce each other. Next, the group moved on to what Schulman titled "Sharing wisdom: The art and carpentry of governing." Having new elected officials and staff means it's a good time to think about how things have been working and "new ways of thinking," she explained. She also invited all participants to share their "tricks of the trade" that may assist others when making governance decisions.
The group started by brainstorming ideas and posing questions. Newly-elected Councilmember Vivian Olson asked about the function of so-called "silos" in city government, where conversations and decisions are limited to specific city departments or committees and not shared with others. "Is it systematically entrenched or something we can change?" she asked.
How to break down those silos became part of larger conversation about communication. Many of those in the room talked about the importance of developing a common vision and building a strategy for achieving it. And they also mentioned that involving citizens in this effort was key, by ensuring the city is committed to two-way communication that involves citizens citywide.
"There's good communications and there's engagement," said Councilmember Susan Paine, also newly elected last November. "Communications is the tool, but I think one of the drivers is engagement." This effort "has to be inclusive to all communities," she added, because the city is becoming more diverse.
Paine pointed to two major initiatives — the Edmonds Housing Strategy (which was shelved in favor of recommendations being developed by a Citizens Housing Commission) and the Waterfront Connector project (which was stopped after citizen outcry) — as "examples of where we missed on the communication and the community lost trust.
"So it's trust and it's engagement and making sure it's a two-way conversation," she added.
City Economic Development and Community Services Director Patrick Doherty agreed that the city needs to implement non-traditional ways of communicating beyond what has become routine, such as public hearings and meetings. "People obviously consume their information in different ways than we've been used to providing," he said.
This change in communication is partly due to the advent of social media, but can also be attributed to the fact the makeup of the city is changing, Doherty said.
"I think it was easier 20 years ago to say 'Edmonds wants this' because you had 85% of the people (who were) middle-class white folks and lived here a long time, but now we have a changing demographic," he said. "How do we mediate, how do we address what has really become probably different goals for our city rather than one single goal?"
Olson added that it isn't just the quantity or type of communication that's important, but the timing. As an example, she cited  the "prior administration's (practice of) putting staff on projects without getting input and direction from the community first and then coming out with a first draft that ended up being a big miss from what the community would have ever come up with on their own."
She also brought up the failed waterfront connector project, a concrete overpass that had been proposed to provide emergency waterfront access over the railroad tracks. "We're a seaside community," she said. "If you would have asked a significantly-sized group of citizens, they would have said it should have looked like a boardwalk, and instead it looked like a landing strip for a UFO."
Veteran Councilmember Diane Buckshnis said it's hard to model good communication when there is ongoing chaos both at the federal government level and in society as a whole. Still, she added, it will be important for Edmonds city government "to renegotiate the relationship with residents."
Development Services Director Shane Hope said all stakeholders in city government need to recognize "the connectedness of things, wether we are talking about land use and transportation, public health, public safety — all of these things go together. They are not separate from each other."
Based on the dominant themes of developing a common vision and building better communication, Schulman asked retreat attendees to further explore next steps for putting those ideas into practice. Several participants talked about the importance of developing a mission statement and communicating that both internally to staff and externally to citizens.
City Human Resources Director Jessica Neill Hoyson noted the the city has "240 potential ambassadors of our work who are out there to speak about what we are doing." The city needs to do a better job of helping employees "understand how their individual work drives to that higher objective," she added.
Acting Police Chief Jim Lawless agreed that it was important to use employees as ambassadors, adding it's key for staff to be familiar with city's mission and vision. "Until we can really hone in on some of the internal communication, we can't be very good ambassadors to send (employees) out with a message in a unified front to the community," Lawless said. He also pointed to police department's efforts seven years ago to redeveloped its mission, vision and values statement using a group of commissioned and civilian police employees. "It becomes part of the culture," he said.
Also speaking to the value of two-way communication, Finance Director Scott James said that the quarterly town hall meetings organized by former Mayor Dave Earling were created to be a "one-way dialogue" with the mayor and department directors sharing project updates with the community. "There wasn't the opportunity for citizens' feedback and dialogue."
Doherty noted that Mayor Nelson has talked about having "micro communications" in neighborhoods that could involve homeowners or business associations. "I think that what happens a lot of times…is we tend to get a certain demographic that fills our council chambers that represent one slice of our demographic," Doherty said. "We don't get a full representation of all the demographics of Edmonds, in all the regular channels of communications."
It could help with decision making if councilmembers are "informed by a broader set of demographics," Doherty said. "There may be a packed house of a similar demographic saying 'don't do that,' yet you already hear through surveys and small meetings in different parts of the city, 'yes, please do that.'" Getting broader input is "really hard to do when we are stuck in our existing engagement processes," he said.
Doherty added that he believes the city's entire governance structure should be viewed through a diversity, equity inclusion, and social and environmental justice lens. "I think that's how we ensure that we are addressing the widest scope of our residents, employees and visitors," he said.
To assist with improving communications efforts, Doherty said that the city is in the process of filling a new position — approved by the council during the 2020 budget process — for a half-time public information officer. "We want that person to be engaged with all of the departments related to their projects and initiatives and be a strategic advisor related to communications and engagement from the get-go," he said.
As another way of facilitating two-way communications, Edmonds Municipal Court Administrator Uneek Maylor suggested that the city have a booth at Edmonds events, where employees could be available to answer questions and obtain feedback about city projects.
While City Clerk Scott Passey agreed that it was important to create a mission statement and communicate it, he cautioned that officials and staff be realistic about how much engagement is possible. "So many people are just so busy working just to keep their heads above water, families, paying taxes." Passey said. "They just don't have time to engage. Obviously we have to do our best to try to reach out but there's going to be a large portion of people that we'll probably not capture. There's probably a silent majority out there. We really don't know what they think."
City Attorney Jeff Taraday advised those in the room to "try to remember that we are servants of the public and that we keep that humility with us at all times. It's not about us." It's also important, he said, "to retain a spirit of inquiry when something initially comes up that we might have a negative reaction to." One way to reduce conflict among councilmembers is to approach new ideas "from the perspective of 'let's find out more about that,'" he added.
Olson said that she believes "consensus isn't a pipe dream. It's something when everybody comes to the table with an open mind and weighs in together on the pros and cons of different things we're looking at. Even though each solution is going to have its drawbacks, you end up being able to — because you've talked through and vetted the ideas — you get to a point where you can see where there is winner, even though the winner is going to have drawbacks."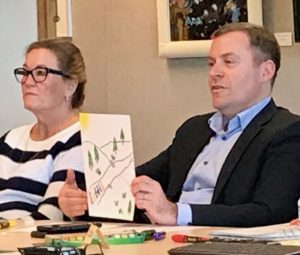 Nelson stressed the important of "humility, being humble. I'm the first to admit I don't have all the answers but I know a lot of people in this room do, so it's about being open to different ideas, different ways of looking at things, different perspectives."
Schulman then went over the attributes of a well-functioning city. Among them:
Good governing depends on good relationships. The ability to maintain relationships is especially difficult when you have different personalities and different interests and different positions.
It's important to establish a shared code of conduct.
Treat everyone with dignity. "When people think their dignity is challenged or taken away, it's really hard to move from that point. How do you maintain dignity both for yourself and also in your interactions with others?" she asked, adding it's key to "see people as human."
Maintain the ability "to see things from someone else's shoes. Can I suspend myself for a moment and consider what it would be from a different perspective?"
Don't assume you know why someone's acting they way they are. Ask questions to get more understanding.
Don't hold a grudge. "I've personally witnessed pretty serious grudges, particular with elected officials between each other that really didn't serve either of them in the long run," Schulman said. "The grudge gets in the way of being able to work together and consider a decision because now, it's personal."
Try to keep communications respectful. "Communications is really key because when comunications go awry sometimes the ripple effects of that last years," she said.
Because email can be misinterpreted, it's ideal to communicate in person or by phone, Schulman advised.
Councilmembers should "minimize surprises by vetting any amendments" to legislation prior to introducing them at a meeting.
Officials should try to work out their differences "so you're not shaming each other," she said, adding to also be mindful of body language and side comments. She also addressed the practice of "using a public forum to shame others," which could include a Facebook group, she said. "It's the basic principle — it could be Facebook, could be council meeting, it's really like not using that public way —  if you have issues with each other, take it private, direct as possible," she said.
Toward the end of Schulman's session, participants each received a piece of white paper and crayons to draw — in five minutes — their vision of "positive, effective and constructive governing over the next four years."
Many illustrated some form of community outreach and two-way communication.
Deputy Parks, Recreation and Cultural Services Director Shannon Burley sketched a two-way road of engagement in which "all the arrows are intentionally going in both directions. There's a lot of listening. Before we build, we're talking, we're listening. Before we take action we're talking, we're listening."
Veteran Councilmember Kristiana Johnson drew a citizen at the council podium, noting "they are talking talking talking and it goes out into the vapor. I think we are doing a disservice when we do not take their email address and respond to them and say thank you for coming," she said. "People come and we sit and we listen and we can't respond. It's a good first step in increasing communication with citizens. Why don't we use that as an opportunity to talk back to them?"
Councilmember Luke Distelhorst, who was appointed last month to fill the council seat vacated when Mike Nelson became mayor, created a word cloud that represented in four years how he would want people to describe their local government. Among the words: "transparency, engagement, honesty, results, positive change and empowerment."
Mayor Nelson drew people in different colors on a road together, which he said represents "not only all of us as well as different ideas but trying to get us all on one path. We want to have a common vision as part of that journey, and we're trying to have that journey together. And the first step I think is really us here right now," Nelson concluded.
— Story and photos by Teresa Wippel