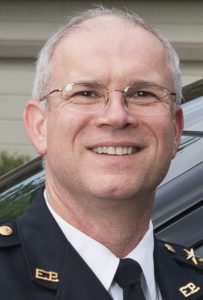 Updated at 9:10 p.m. Thursday with information from a Facebok video posted by Edmonds Mayor Mike Nelson.
Acting Edmonds Police Chief Jim Lawless said he won't be applying again for the job of permanent chief, stating that it's time for the community "to begin to heal."
"The time has come for us all to look towards what is next for the Edmonds Police Department and move forward," Lawless said in a statement to the community Thursday. "The mayor will be conducting a national search for the next Chief of Police for the Edmonds Police Department. It is my belief that the smoothest transition possible is what is needed for the department and the community to begin to heal."
A longtime assistant police chief, Lawless has been serving as acting chief for the past year, following the retirement of veteran Chief Al Compaan Jan. 1, 2020. During that 12-month time span, Edmonds Mayor Mike Nelson started one national search, then — after that search was cut short due to the COVID-19 pandemic — stated that he intended to hire Lawless without a search. But the Edmonds City Council rejected that idea, so Nelson conducted a second search that produced two finalists: Lawless and Sauk-Suiattle Tribal Police Chief Sherman Pruitt. Nelson offered Pruitt the job, but that job offer was rescinded after application discrepancies came to light, and the mayor in December said he would conduct yet another search.
Nelson has not conducted media interviews on the police chief topic. But the mayor did release a six-minute video on the Edmonds City Government Facebook page Thursday afternoon — prior to Lawless issuing his statement — announcing that the city has selected a search firm — the International Association of Chiefs of Police — "the world's largest and most influential association for police leaders," Nelson said.
Nelson began the video by stating he wanted to address "the dangerous divisiveness and polarization sweeping our nation." He then compared to it to what is going on with the police chief selection process in Edmonds, adding "we've seen how far some will go when they don't get their way."
"At the local level we are seeing targeted and coordinated attacks of hate, bullying to undermine our democratic principals and our rule of law," the mayor said. "A small group of local people spreading fear and lies, trying to tear our city apart. In the end no one wins. We all lose. Because we all rise and fall together. It is time we move forward.
"I was elected by the majority of you to make positive change, not maintain the status quo," Nelson said. While "we can all agree we want a safe community to live in, there are community members — people who are Black, people of color and others who do not feel safe in our city, who at times do not feel safe from the police," he added. Choosing the next police chief is one way to "create a community that is safe for everyone," Nelson said.
Nelson also spent time talking about how he plans to involve the community in the police chief selection process, along with a detailed candidate screening and evaluation process, all of which he estimated will take several months.
You can watch the mayor's entire message via the city's Facebook page. There was no written statement accompanying it for us to include here.
Meanwhile, as the latest chief search goes on, it's unclear what will happen to Lawless' acting chief assignment, which expires on Jan. 22.
Here's the full statement issued by Acting Chief Lawless:
To the Edmonds Community,

The time has come for us all to look towards what is next for the Edmonds Police Department and move forward. The Mayor will be conducting a national search for the next Chief of Police for the Edmonds Police Department. It is my belief that the smoothest transition possible is what is needed for the department and the community to begin to heal. I will forever be grateful that for the past year plus, I have had the honor and privilege to lead the amazing women and men of this regionally respected law enforcement agency. However, I will not again apply to be the permanent Chief of Police and I accept that it was not meant to be.

As I have already stated, it has been my honor and privilege to provide direction and leadership for our staff and this wonderful community that is Edmonds. I have been incredibly impressed (but in no way surprised) by the continued professionalism and sacrifice of the women and men of your police department during this time of uncertainty and transition. The most diverse department in our city has continued to do their job at an exceptionally high level this past year, no matter what has been put in front of them. As women and men of color, diverse ethnicities and religions, and members of the LGBTQ community, our staff is representative of those we so proudly serve, our community.

So, I ask that we all move beyond the recent events and focus on what is to come. No matter where you have stood on this issue, your police department needs a nationwide pool of qualified law enforcement leaders from which to choose your next Chief of Police.  Those who apply will see that your police department is a trusted and professional organization that is ready to continue moving forward with a fantastic new generation of officers, supervisors and leadership. Let's join together to attract the most qualified, sought after candidates a city could ask for. Your Edmonds Police Department is ready to move forward. I ask that you please join us on this journey.

Jim Lawless
Acting Chief of Police