The month of May thus far has been nice and dry, with very little in the way of rain. So far, we've only seen 0.24 inches of rainfall compared to the average of 0.88 inches by this time of the month. This doesn't seem like a huge difference, but if you look beyond the month, you can see that we are running drier than normal for this time of the year. Take a look at the image below.
If you look closely at the image, you can see that most of Snohomish County has received between 50 and 70 percent of the normal precipitation during the span of March 14 through May 12. Zeroing in on Paine Field during that same time frame, we've seen about 54% of the normal precipitation. As a result, the U.S. Drought monitor labels most of Western Washington under the "abnormally dry" category on the drought scale. Notice how nearly 95% of the western United States is under some sort of drought condition, whether it's minor or severe.
As summer fast approaches, data like this poses a question: What does this mean about the upcoming fire season? If we're already dry, does that mean it'll be a bad year? Well, not necessarily.
There's still plenty of time between now and the traditional fire season. Consequently, there's time for some of the precipitation deficit to minimize. Around here, the month of June sometimes gets nicknamed "June-uary" due to our tendency to see wetter weather that is typically found in January. This is partially where the tagline "Summer starts on July 5 in Seattle" comes from. Any bit of rain can help to moisten up the fuels that are of most concern for catching fire.
However, at this time, the Climate Prediction Center shows a between 40-50% chance of seeing below average precipitation for the months of June, July, and August. This is a probabilistic forecast, so there's still a lot of uncertainty. Still, these products can serve a useful purpose in what conditions we could see months down the line. The CPC is also showing a 40-50% chance of warmer-than-average temperatures during the summer months.
Depending on whether "June-uary" comes to fruition, we could see an earlier start to the fire season. With the current outlook of the summer looking potentially warmer and drier than normal, it's possible that we could see an above-average fire season. This prediction is also substantiated by the fact that six years of the last 10 have ranked in the top 10 in terms of highest acreage burned (in both Washington and Oregon) in a fire season, suggesting that these higher-than-average fire seasons are becoming more common.
These predictions are meant to be a guide, not absolute gospel. In addition, dry and warm weather are not the only indicators of fire weather. As the Labor Day smoke event last year proved, sometimes all it takes is one wind event to spark (no pun intended) a major event (and in this case, a late season event).
Weather and climate are different; we can use climate to predict what could happen weeks and months in advance, but ultimately what weather actually happens will dictate the outcome. Like I said, if we see more rain in the coming weeks, this could potentially help minimize the severity of the upcoming fire season. As we approach summer and fire season, the best thing you can do is pay attention to the forecasts and warnings from meteorologists about potential fire/smoke events and plan accordingly.
In terms of the weather for this weekend, we're expecting to be sunny and dry through Monday. A weak ridge of high pressure will be in place for most of the weekend, leading to these nice conditions. Temperatures are also expected to be warm, with highs in the upper-60s to low-70s. Sunday is looking to be the warmest day of the bunch. Looking ahead to next week, the chance for rain returns by Tuesday as an upper-level trough makes its way over the area.
Enjoy the beautiful weather over the weekend!
— By Kelsie Knowles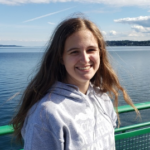 Kelsie Knowles is a meteorologist and recent University of Washington graduate who lives in north Lynnwood. After writing weather blogs as a KOMO News intern, she discovered a passion for writing about weather. You can learn more in her blog www.wxnoggin.com and you can also follow her on Twitter at @kels_wx3.