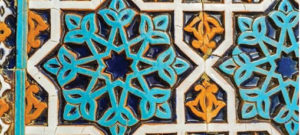 Sno-Isle Libraries is presenting a hands-on art workshop for teens and tweens: Islamic Pattern Making from 2-4 p.m. Saturday, July 17. Gather your art supplies to re-create this intricate tile design during this online art workshop.
Materials you need include a pencil, ruler, tracing paper or parchment paper, tape and a print-out of the design template provided on the sign-up page.
Optional materials include a compass, watercolor paper, paints, brushes, markers, pastels, colored pencils, or any medium of your choice.
Register to receive the Zoom link and the template handout before the event.