Two Edmonds residents are now "on the ground" along the Polish-Ukrainian border following their first day helping rescue animals from the Russia-Ukraine war.
Dan Fine and Tana Axtelle have just arrived in Przemyśl, Poland, where they will spend the next month working with Polish veterinarians to rescue and treat pets as well as farm animals caught in the fighting. They are working with doctors and staff in a clinic that is part of a national Polish Veterinary alliance, the ADA Foundation. Volunteer teams at the clinic they are volunteering for have rescued more than 350 lost or abandoned animals.
CNN reported on the Przemysl clinic that Fine and Axtelle are working with, in a special story on "The Dogs of War: the Conflict in Ukraine."
Dan just sent My Edmonds News an email on their first day in Przemyśl.
 "It was a busy day. We left Krakow by train this morning. We showed up today in Przemyśl and reported to two different organizations. The situation is a mess, but everyone is working hard and doing their best to help. At one shelter, they had to call an ambulance because a woman passed out from exhaustion after returning from Ukraine with pets and delivering food.
"We are also networking with the volunteers and getting everyone's story," Fine continued. "Today, we visited some dogs that came back from Ukraine. One was shot and will not walk again, but the team has a wheelchair for him. Tomorrow, we are going back and we will give the dogs some exercise. One cat batted at me because I dared to stop scratching her head, so I did some more scratching. When I finally stopped, she gave me a dirty look."
Dan continues: "We are also going to support a camp right on the border where vets are helping the refugees coming across on foot and bringing their pets. Poland is changing the rules about pet entry, so it's a bit of a touchy subject around here."
Polish volunteers unload supplies.
Fine is a semi-retired Internet entrepreneur with strong ties to Ukraine. His company, 'Fine Solutions,' worked with Microsoft to field-test a program in Ukraine 14 years ago. When that project finished, a number of the young Ukrainian engineers opened their own companies and Fine set up an office in Kyiv to help them. He kept the office for 10 years; his one-time office manager has now fled the war and her husband, Fine said, has stayed behind to fight. In his spare time, Fine has also worked with therapy dogs for the Royal Canadian Mounted Police.
Axtelle works with K-9 Companions in Santa Rosa, California. K-9 Companions, founded in 1975, provides service dogs to adults, children, and veterans with disabilities as well as dogs to those in health care and the police in Washington and seven other Northwest states. She gets puppies at eight weeks old and trains them for two years before they go on to those who are physically challenged have emotional or PTSD needs or are hearing impaired. Her dog, Strummer, had worked as a K-9 companion.
 Fine and Axtelle took supplies with them; South Snohomish County vets contributed non-prescription medication, food supplements, oxygen rescue masks and bandages.
The clinic, said Fine, does not need pet food; local veterinarians in Poland are helping to supply that. Fine and Axtelle are also not asking for any monetary donations; Fine hopes to set up a secure fundraising site at some point.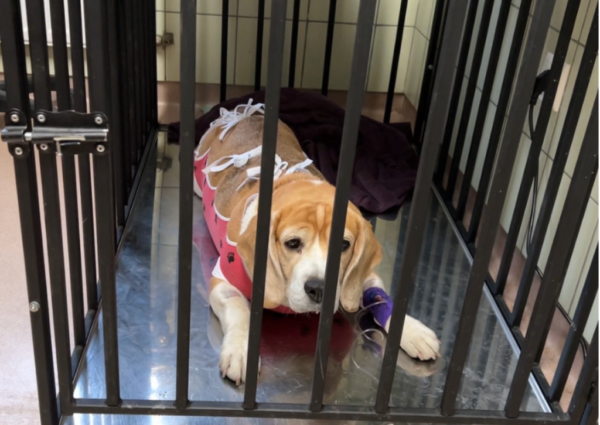 Fine and Axtelle will file additional reports from Poland for My Edmonds News. We will update their progress throughout the coming month.
— By Bob Throndsen