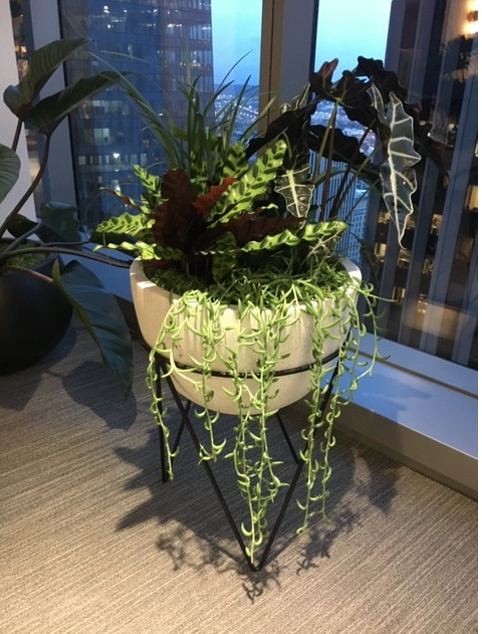 Planting Edmonds is a monthly column written by members of Edmonds Floretum Garden Club. 
Hello, fellow plant peeps. I am here to talk about my favorite subject: Plants! I have been into plants my whole life, but I found my calling, passion and niche about 27 years ago in an industry called Interior Plantscaping.
My company. Seattle Plant Company, mainly designs and styles indoor plantings for commercial spaces. However, I don't leave my work at the office. I love plants. I love having them around me in my home, as well. I love to shop for them in my spare time, too.
In the last few years, research has shown that plants actually do make you happy (duh, I knew this), but scientists have discovered that working and living around plants is our innate nature. This is called biophilia. Biophilia is the instinctive bond between human beings and other living organisms and living systems.
Did You Know?
Workers in office environments with natural elements, such as greenery and sunlight, report a 15% higher level of well-being, are 6% more productive, and are 15% more creative. Plants are also proven to reduce stress and anxiety.
My industry's purpose is to communicate the aesthetic, well-being and economic benefits of nature in the built environment. We are people with plants; making life better and connecting other people with plants is our goal.
This time of year, when we are indoors more, missing our gardens and outdoor patio plants, I recommend bringing your focus inside. Go purchase a few new varieties and planters that can add freshness to your home. Consider getting larger planters so you can mix a few varieties together. Or maybe find a corner where you can mix 2 or 3 complementary planters and plants together to create the outdoor feel.
I will show a few examples of ways we decorate with plants. Let your creativity flow.
The comment I hear most from people is that they don't have a "green thumb." I believe we can all have green thumbs, especially now with new technology. You can order small grow lights online and set reminders on your phone to water your plants, or you can follow millions of plant bloggers online.
The pandemic created a plant frenzy when we were all isolated indoors at home. We needed a connection with other living things. Plants are more popular now than ever before, even in the '70s. Oh, and I hope you didn't throw out those macrame planters from the '70s, because they're back!
House plants have been rising in popularity for the last decade among consumers of all ages. Some people buy house plants not only for aesthetics but also for their air-purifying effects or as mood enhancements.

Succulents are always popular. Just remember that these will need to be rotated periodically. Because our Pacific Northwest weather is too cool, dark and wet for long-term survival of the great succulents we see at garden centers, I suggest using them as rotating plants in arrangements.
Preserved moss walls are another popular trend, requiring no maintenance but providing biophilic benefits.
One of the most requested plants is the ficus lyrata or fig tree. This plant is so popular but can be tricky to keep alive if not given the proper placement and care. Also, buying plants from a reputable nursery or grower has a lot to do with your success in growing old with this beautiful specimen. These green girls love a bright window!
Of course you will ask, "how much water do I give it?" This is a difficult question for me to answer, because there are so many factors that play a part in your plant care. It's not just the water that keeps them thriving. What time of year is it? How hot or cold is your home? What direction is the window facing? My plants are only drinking every seven to 12 days right now. In the summertime, I might have to water every four to six days. I always start with feeling the soil a good way down and then water it until it comes out the bottom (yes, always provide proper drainage). That way you know your plant received a thorough drink.
More details:
– Fertilizing. This is not the time to be fertilizing our lovelys. They need a little break from growth mode. I typically recommend light fertilizing April through October.
– Pruning. Don't be scared to prune your plants. We all enjoy a haircut from time to time. Best time to prune is in the growing season.
– Cleaning. Dust and wipe leaves regularly
– Pest control: Check your plants regularly for pests and diseases.
– Rotate your plants so they are full all around.
Finally, it is OK to add plants to your compost when it's time. There is a life expectancy for all living things, so don't feel bad. I always tell myself that they are going to plant heaven to make more plants.
Happy Planting!
— By Michelle Ritter
Michelle Ritter owns Seattle Plant Company. Her passion for indoor landscaping comes from 25 years in the horticulture industry, creating award-winning interior plant and living-wall design. She is a firm believer in the power of plants and how they affect our lives. Her company is a full-service horticultural resource providing interior platescapes, patioscapes, holiday décor, floral and living walls. It is federally and state certified as a woman-owned business and is an active member of Green Plants for Green Buildings.