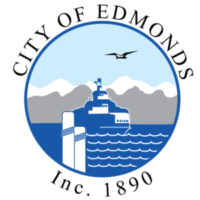 Updates on Edmonds Library renovations, Dayton Street flooding and the city's carbon recovery project are among the agenda items when Edmonds city councilmembers meet in committees Tuesday, Jan. 1o.
The library update will come during the council's public safety-planning-human services-personnel committee, which meets at 4:30 p.m., and the others will be included during the parks and public works committee meeting at 7:30 p.m. The finance committee meeting, usually held at 6 p.m., is canceled.
Here are the agendas for each meeting:
Public Safety-Planning-Human Services-Personnel Committee 4:30 p.m.
1. Snohomish County agreement to relinquish real property interest in the Rucker Building, which was sold by the Snohomish Health District.
2. Code updates to change meeting location of Edmonds Planning Board, Historic Preservation Board, Tree Board, and Architectural Design Board.
3. Library emergency repair and renovation
4. Engineering division senior permit coordinator job description
5. Employment agreement – executive assistant to city council
Parks and Public Works Committee 7:30 p.m.
1. On-call stormwater review services on private development projects
2. Public works updates
You can access the meeting via Zoom at https://zoom.us/j/95798484261. Or join by dial-up phone: US: +1 253 215 8782 Webinar ID: 957 9848 4261. Staff and councilmembers attend committee meetings virtually, and members of the public are encouraged to attend the same way. Those who can't access the virtual committee meetings with their personal devices can watch via a monitor provided on city council committee nights from 4:30-9:30 p.m. at the city council conference room at 121 5th Ave. N., Edmonds.