Veteran journalist Bob Throndsen died unexpectedly at his Edmonds home Saturday, Feb. 4. He was 75 years old.
I met Bob for the first time in late February 2020, just before the COVID pandemic took hold. He expressed an interest in writing for My Edmonds News and I was thrilled to welcome such an experienced journalist to our team.
A winner of multiple Emmy awards, Bob spent 34 years working at KOMO TV News, where he served as managing editor, and KOMO News Radio as a news director, retiring in 2012. During his tenure at KOMO News Radio, the station won Edward R. Murrow awards for Best Newscast and Overall Excellence. Prior to his time at KOMO, he worked in Portland, Oregon and in Philadelphia
In a story that KOMO wrote in 2012 about Bob's retirement, the station noted that "Throndsen is a news man, but he is also a humble teacher. He's been a mentor to many people at KOMO over the years."
Bob told KOMO: "I've often said to reporters through the years, that if we take the right audio, and the right words, and the right video, we make magic. And nobody else can touch us. And that magic comes into your life, and my life, and maybe some of what we do makes a difference."
Those of us who had the pleasure of working with Bob at My Edmonds News and our sister publications, MLTnews and Lynnwood Today, felt the same way. So did journalists throughout the area.
"Bob was both a friend and mentor to me and countless other broadcast journalists in our region," said Edmonds resident Carolyn Douglas, WGU senior communications manager and former KING 5 News anchor and reporter.  "I was fortunate to also collaborate with him on several community efforts in Edmonds. He was tremendously generous with his time and leadership. I will miss his wit, his wisdom, his joyfulness — and his contagious laugh."
In the short three years that Bob wrote for the My Neighborhood News Network, he made a major impact on our reporting. He had no fear of asking tough questions and was eager to get to the bottom of any story he covered. But first and foremost, he was a storyteller. His background in broadcasting pushed him to be succinct in his writing, and his career in television meant that he emphasized the visual elements of every story he did.
Bob's first assignment for My Edmonds News, Feb. 29, 2020, was covering a memorial service for Edmonds 7-11 clerk Nagendiram Kandasamy, who was fatally shot Feb. 21 while working at the convenience store. Bob continued to follow developments in the case as Edmonds police searched for Kandasamy's killer, who is still at large.
As a member of the now-disbanded Edmonds Citizens Housing Commission, Bob was particularly interested in issues related to housing and homelessness, and wrote frequently about the topic. He was particularly proud of this four-part series focused on the human side of the housing debate. He also wrote compassionately about those who found themselves homeless, including this 2021 story: "What can we do for people like Charlie?"
Another of Bob's favorite projects was providing ongoing coverage of Edmonds resident Dan Fine's work to try to save injured and abandoned animals in war-torn Ukraine.
Many in Edmonds remember Bob's reporting on the city's controversial 2020 hiring of Sherman Pruitt to be the city's next police chief and the aftermath of that decision. But Bob also found joy in writing about the lighter side of life, including the time that Comstock Jewelers owner Erin Comstock called on Edmonds police officers to help rescue five kittens trapped underneath her house. Or the time Bob spotted what he thought might be a dreaded giant Asian hornet in his front yard (it turned out to be a harmless Great Golden Digger Wasp).
Bob Throndsen was born May 2, 1947 in Fort Wayne, Indiana and grew up in Eastchester, New York. He graduted from Dartmouth College with a degree in U.S. history. In a "Contributor close-up" profile he wrote for our publications in 2021, Bob noted: "I started in Portland just out of college, with a degree in history and three years of college radio under my belt and the naïve idea that the world was ready for me. It wasn't. And I wasn't ready for it. But, my managers and colleagues in Portland radio and then TV news were kind and patient, and I started to figure out that I didn't know what I didn't know. I was learning — to listen, to really hear peoples' stories, learning how to tell those stories, learning how to write so others could 'hear' them too."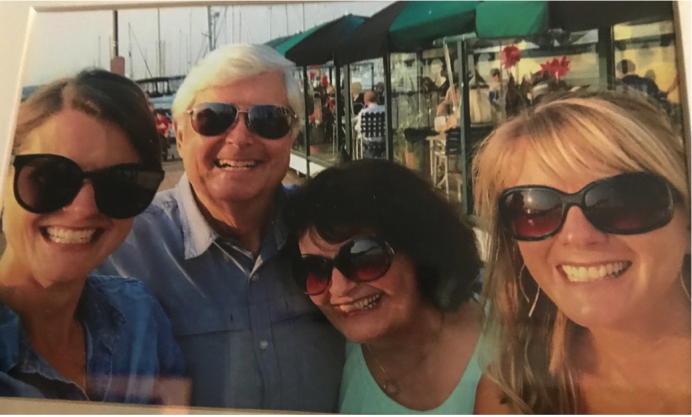 Bob and his wife Sonja would have celebrated their 50th wedding anniversary this August. In his profile for us, he noted that "I've been lucky — in life, in love and in my work. News assignments have taken me to what was the Soviet Union, on the first sister-city trip from Seattle to Tashkent, in Uzbekistan; to Cape Canaveral for the first shuttle launch after the Challenger disaster; to Dutch Harbor, Alaska, to report on Seattle's crab fishing crews; to Mount St. Helens just before its first eruption and for years after. Bob wrote in 2020 about his memories of Mount St. Helens, to mark the 40th anniversary of the mountain's eruption.
Bob adored his wife and family and noted that the big passion he and Sonja shared "is the miracle of our grandchildren. Being grandparents in the best job ever!" The couple raised their two daughters, Erika and Kiersten, in Edmonds. Erika Spellman and husband Cory now live in Twisp with their three children — Morgan, MacKenzie and Montana. Kiersten Christensen and her husband Sean live in Edmonds with daughters Hadley and Reagan.
Among Bob's other leisure-time activities: salmon fishing, trout fishing and crabbing, along with golf, gardening and HO scale trains.
Bob told KOMO in his 2012 retirement story: "I've had a chance to go toe-to-toe with people, I've had a chance to laugh with them, to cry with them — and that's what I take away, is telling their story. And knowing I think I did a pretty damn good job."
He reiterated those words in 2021, in his contributor close-up:
"The people I've met, the stories they have shared, the joy and the heartache of their lives, the wonders and the crises of our world… have all shaped my life," he said.
We will share details about services for Bob Throndsen when they become available.
— By Teresa Wippel