For more than a decade, a special energy spilled into the streets at 5th and Main. It filled the fountain plaza with magic, whimsy, color, texture, surprise and an intangible something that kept us coming back for more. The source: the ever-changing tableau of the Sound Styles display windows, the product of the fertile mind and imagination of window dresser Shelly Hampton Simmons.
But that was then. With the recent closure of Sound Styles, the windows today are bare, the magic they brought is memory and the corner just seems a bit colder and less vibrant.
It began 13 years ago, when artist, dancer, actor, choreographer, visual merchandiser, costume and set designer – the list goes on and on – Shelly Hampton Simmons walked into Sound Styles and asked owner Jenny Murphy if she needed someone to do window displays.
"She asked me a couple of questions, and then told me to go in the back room and do a display," explained Simmons. "I did, she liked it and that was the beginning of what would be 13 years of creating displays at the corner of 5th and Main."
But ask anyone who regularly walked past that corner and they'll tell you that these were much more than store window displays.
Simmons never failed to catch the moment — the mood of the season, current trends in literature, pop culture, music, history, the events that shaped our lives — and interpret these through her art in ways that captured the imagination and were accessible to all. No high-brow stuff for her — this was art for the people.
She reflected pop culture when the movie of horror author Stephen King's novel It was making the cinema circuit (including the Edmonds Theater) by creating a window she named The It Girl, featuring her own interpretation of the story's sinister villain. She regularly created windows as entries in the Edmonds Historical Museum's annual Scarecrow Contest, including "Miss Plaid Hatter," and "Desperate Housewife of Deadmonds," capturing the classic Alice in Wonderland story and the hit TV show respectively. Most recently, her 2022 entry "Miss Measure" — a mummy wrapped in tailors' tapes — took first place in the Scarecrow Contest retail category.
In all three of these windows and several others, Simmons took her art to the next level, donning costume and makeup to become a live part of the window display and shocking passersby when they saw what appeared to be a mannequin move its hands, smile and actively engage with them.
Holidays were always a reason for special creations, and Simmons' Easter, Halloween, Thanksgiving and especially December holiday displays became the stuff of local legend. For the past few years these have included a live Santa – Edmonds' own Earl Bricker in full Santa regalia seated in his sumptuous patterned chair – waving to children young and old passing by on the sidewalk.
"People ask where I get the ideas for my displays," Simmons explained."Often it's just a random thought, something I see or read, maybe a mask or a t-shirt that provides the spark to get my imagination flowing, and it just goes on its own and builds from there. Even after the window is up, my brain is working all the time on ways to modify it, add something, change something – it's a constant creative thing. That's part of what made doing the Sound Styles windows so special – I was always there and I could change it every day. I always try to do things that no one else has done, and I try not to do anything twice."
It was at Sound Styles that Simmons first came up with the idea of becoming a live part of her displays.
"I just fell in love with the Miss Plaid Hatter character when I put it up for the Scarecrow contest. I even dreamed about her," she admitted. "I wanted to dress like her, look like her, and yes, be her. So I got a face painter to do my makeup and designed an outfit right down to a plaid teapot and cup. I went into the window live on Halloween night, and was amazed at how the crowds gathered as I mimed pouring and drinking tea. It was my first time doing a live window – amazing, unforgettable. I'm really very shy and standoffish, but get me on stage and it's like I become a new outgoing, engaging personality. When I get in the window, I act – I'm on stage, I'm theatrical, I'm a different girl."
Like most artists, Simmons didn't start out knowing her creative direction, and becoming an artist was the furthest thing from her mind while growing up in a little town in the tumbleweed country of eastern New Mexico.
Her story is as varied and nuanced as her art and is best told in her own words.
"As a youngster I never thought of myself as an artist, but I guess I always was — I just didn't realize it at the time," she began with a laugh.  "After high school I left New Mexico to attend school in Texas for dance and choreography. After that I came to the Pacific Northwest to study visual merchandising at the Art Institute of Seattle.
"I got my degree and was hired right away at the Nordstrom downtown Seattle flagship store as part of the window team. I eventually became a visual manager at the Tacoma Nordstrom, but moved away to get married," she continued. "Next stop was Las Vegas, where I worked a series of jobs, first at Neiman Marcus as a window dresser and cosmetic department visual manager, and then as a window dresser for Burberry and Hermes.
"Finally, we moved to Edmonds, drawn by the quality of life and the good schools for our kids, and shortly after I began working downtown as a window dresser for Sound Styles," she concluded. "This is where the community stepped in to help my windows grow into stories. Every day I could not wait to do the windows, add something new in them, tweak the display slightly, always connecting with the passerby."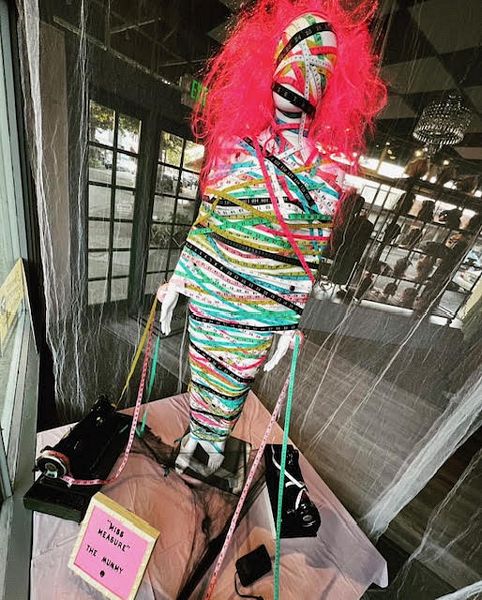 But with the closing of Sound Styles, the 48-year-old Simmons now finds herself energetically looking at new directions.
"I really love Edmonds," she said. "I live here, raised my kids here and I feel like part of the fabric of the community. I've never had this kind of community connection before, where people would come into Sound Styles and ask for me so they could comment on my windows. Many of these comments were great ideas that I incorporated into my designs — and the creative process became a two-way dynamic between me and the community. That just doesn't happen in bigger retail stores. It's magic, it's special and I love it."
While Simmons makes no secret that she'd love her own retail space in downtown Edmonds, she's realistic about the prospects.
"There's a long wait for a vacancy to come up, and space is expensive," she explained. "In the meantime I'm available for consultation on everything from party planning to holiday decorating, to coordinating social media. And if you need a fearless brainstormer to pioneer new ideas for you or your business, I have a proven track record and would love to work for you." Those interested can email her at shellyhampton@yahoo.com.
"My goal is to stay in Edmonds," she concluded. "I want to keep doing work here, being creative and engaging with the community. But while I love the community, I need to remain open to whatever opportunities the universe may drop in my lap."
Learn more about Shelly Hampton Simmons on her Facebook Page, her Instagram feed, or by following this QR code.
— By Larry Vogel