It's an Edmonds institution, a community meeting place, a place where generations have shopped for everything from christening attire to wedding apparel to somber funeral wear.
"This is absolutely the coolest thing I could have ever done for 38 years," said Sound Styles owner Jenny Murphy. "This isn't a high-profit-margin business — I don't do this for the money — it's a labor love. I regret not one moment of it."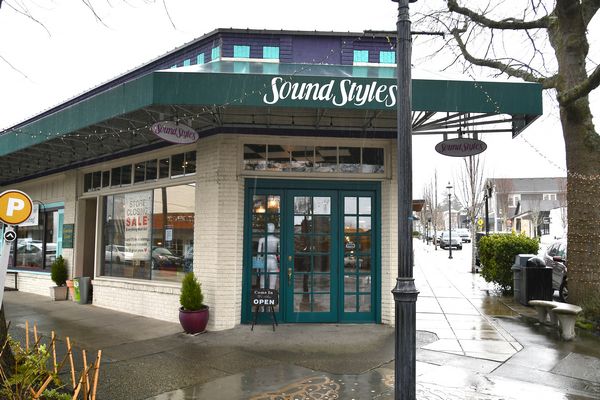 The story began two storefronts down from Sound Styles' current location at 5th and Main, when Jenny's mom and dad joined forces with another couple to purchase what was then the Lady Haberdasher — the space is now occupied by Pelindaba Lavender.
"The parents managed the business end of it, and I and the other couple's 16-year-old daughter did the day-to-day running of the shop," explained Murphy.
But her role soon expanded when the other couple found it wasn't working for them and sold out to Jenny's family.
"Mom stepped in to take care of the books, and I was pretty much doing everything else from displays and choosing stock to hiring and firing," she laughed. "Mom basically did everything you didn't see, I did everything you did see. Over the years, Mom was not just my business partner, she was my best friend. We were a tight team."
This mother-daughter partnership persisted through moving to the current Sound Styles space at the corner of 5th and Main and years of watching the downtown business area evolve.
"Five years ago, Mom turned 88 and decided it was time to give up her active role in the business," Murphy explained  "Sadly she passed just a few weeks ago, on Jan. 19."
And while this loss contributed to Murphy's decision that it was time to close her store, there were other larger factors in play that really tipped the balance for her.
"As I got closer to retirement age, I've thought more and more about selling the business. But it was easy to say, 'oh well, I'll just hang on another year,'" she explained. "There's so much I want to do in retirement — writing, music, travel — and I didn't want to put it off too long.
"Then a year ago I learned that my rent would be increasing by almost 50%, and that was the straw that put me over the wall."
Once the decision to close the store was made, Murphy started selling off her stock, shelving, display tables and more. While there are a few items left, the store is now an empty shell, and she hopes to be completely out by this Friday.
But one thing that's not going is her beloved Steinway baby grand piano, a popular fixture at Sound Styles and a harbinger of what's next for Murphy.
An accomplished musician, Murphy has been writing music for years and hopes to ramp up this effort in retirement and maybe sell some of her tunes. Her genre is country and western, but not so much the twangy stuff — more in the Emmylou Harris vein. "I just love it," she adds!
She also needs more time to finish up a major writing project, turning her dad's World War II memoirs into a publishable book.
"I love the World War II era," she confessed. "It's one of my favorite periods and literary genres."
She's also working on writing screenplays for what she hopes will become a detective TV series.  "Screenwriting is new for me, so I want to educate myself about it and take my time," she said.
And travel is also in her future, with three trips already planned and more on the way.
But after all these years, Murphy's community roots go deep, so don't fret — Edmonds has definitely not heard the last of her.
"I have no plans to move from my home in downtown," she added. "My place is here. For years, my store has been a community gathering place, and I'm always on the lookout for more ways to give back to this place that I love. It may be the end of an era for Sound Styles, but stay tuned — Edmonds is in me, and I'm in it. I'll be around."
— Story and photos by Larry Vogel