A year filled with reasons to celebrate — a pair of six-game winning streaks, 19 wins overall, a road victory over the state's top-ranked 3A team at the time, a berth in the 3A girls state tournament and a trip to the Tacoma Dome — came to a heartbreaking end for the Meadowdale Mavericks Friday as the Mavs were stunned late by the Lincoln Abes 66-65 in a WIAA 3A Girls State Basketball Tournament loser-out game at the dome.
With one minute to go in the game, Meadowdale let a four-point advantage slip away, the final blow being a rebound putback by Lincoln's Carmayla Jackson with 4.3 seconds remaining to steal the victory.
After the Mavericks took a 65-61 lead on a Jordan Leith lay-in, the Abes went on to score the final five points on the contest, starting with a Jaleigha Robinson 3-pointer. Then after Meadowdale missed the front end of a one-and-one opportunity from the foul line with 22.8 seconds to go, Lincoln was able to capitalize on their final possession with the Jackson game-winner.
The Mavs had one last chance for a 4.3-second miracle: Coach Kevin Thompson drew up a plan to get the ball inbounded and quickly up court, call a timeout and set up a final shot for the win. 
"We were just going to run it, execute it and see if it worked out," said Leith. " He called (for) a timeout when we crossed midcourt but unfortunately the refs didn't hear it."
Seeing the clock tick toward 0.0, senior Ava Powell flung up a long-range 3-point attempt at the buzzer that was well off-the-mark, and the Mavs had to settle for the tournament-ending — and season-ending — loss.
The disappointment of Friday's defeat was compounded by the fact the No. 8-seeded Mavericks led the No. 5-seeded Abes by as many as 14 points in the first half. A tenacious Mavs' defense pressured Lincoln into committing eight turnovers in the first 16 minutes; Meadowdale was also able to snatch eight steals before halftime.
But the Abes played better ball after the break, committing just one turnover and getting the ball stolen just one other time. Lincoln eventually took its first lead of the second half at 46-45 with 2:24 to go in the third quarter. 
Meadowdale regained the lead at 61-59 with 2:11 to go in the game on an Audrey Lucas putback. Lincoln tied it at 61-61 on a Jackson bucket, but a pair of free throws by Natalie Durbin and the Leith layin put the Mavs' up 65-61, setting up the final last-minute Lincoln comeback.
Jackson scored just eight points for the Abes, but half of them were in the game's final 1:52 and turned out to be catastrophic for the Mavericks.
Robinson, a 6-foot-3 freshman, led Lincoln in scoring with 25 points; Edwards scored 14 points while Malani Warren added 10 points for the Abes.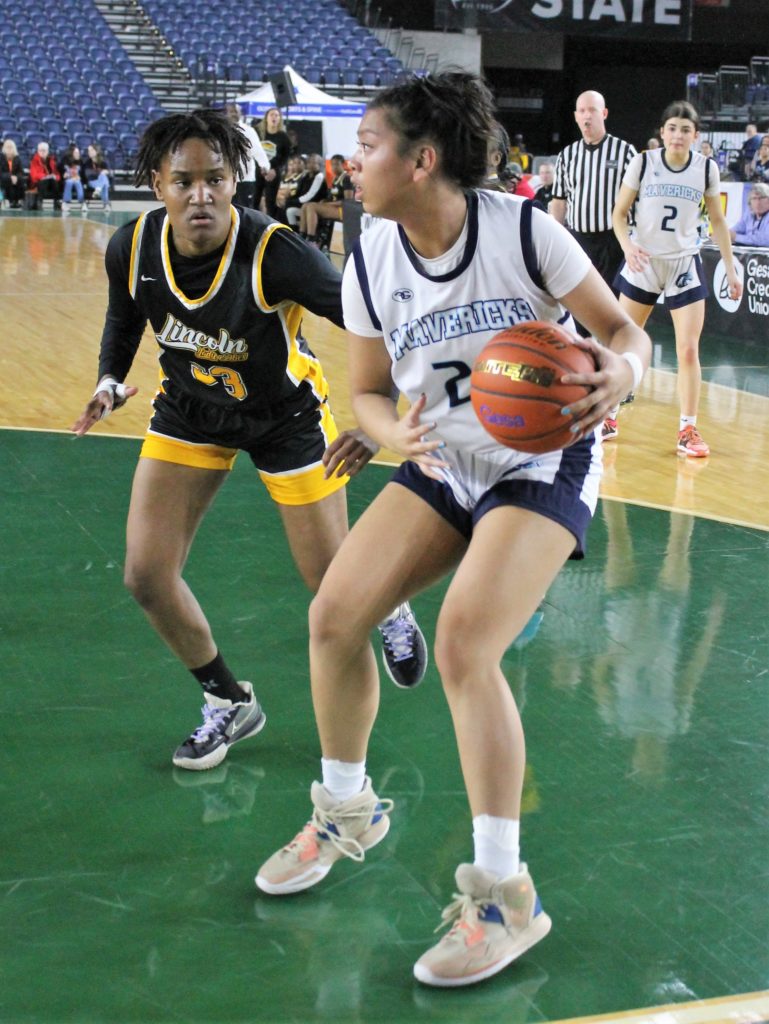 Gia Powell scored a game-high 32 points for Meadowdale; Durbin contributed 15 points in the defeat.
With the season-ending loss, three Meadowdale seniors also saw their prep basketball careers come to a close: Leith, Ava Powell and Mackenzie Tindall. Each said being a part of this year's Mavericks' squad was special for their own personal reasons.
"Playing with these girls has been so amazing because they are all just so talented," said Leith. "And they're just such great people that you want to be around them, you want to go to practice everyday and train with them. Everyone tries to make each other better; so we're all pushing each other. And it's great; it's a great environment."
Due to a left knee injury while just a freshman, Tindall served as Meadowdale's manager for three seasons before being able to suit up and play this year. "It was always just a goal of mine, to prove it to myself but then also to prove it to other people that (a significant injury) doesn't have to totally end your season or your dreams," she said.
For Ava Powell, this year was the final one to play alongside younger sister Gia.
"We knew that was our last time we were playing with each other," Ava said. "So we both tried to give it our all and help each other make the season the best it could be. I'm just going to remember the good stuff and the bad stuff; all the good wins like over Lake Washington (the No.1-ranked 3A team in the state last December). And being with the girls — I'm going to miss that the most."
Even Thompson, who made it a practice not to talk to the press this season, had to break that vow to add a short statement about this year's Meadowdale squad.
"The girls are amazing," he simply said.
To view the entire WIAA 3A Girls State Basketball Tournament bracket, click www.wpanetwork.com/m2/tourn.php?act=vt&tid=3796. 
Prep Girls Basketball: Lincoln vs. Meadowdale, March 3 (WIAA 3A Girls State Basketball Tournament consolation loser-out game)
Lincoln 10 20 20 16 – 66
Meadowdale 13 23 11 18 – 65
Meadowdale individual scoring: Gia Powell 32, Natalie Durbin 15, Payton Fleishman 6, Jordan Leith 4, Audrey Lucas 4, Kaiya Dotter 4, Ava Powell, Samantha Medina, Mia Brockmeyer, Mackenzie Tindall
Lincoln individual scoring: Jaleigha Robinson 25, Oliviyah Edwards 14, Malani Warren 10, Carmayla Jackson 8, Simani Thomas 5, DeAndrea Woods Singleton 4, Savannah So, Gianna White, Jaida White, DaJanae Walker, DonAysia Hankins
Records: Meadowdale 19-9 overall, Lincoln 21-5 overall
Meadowdale next game: 2022-2023 season completed
— Story and photos by Doug Petrowski