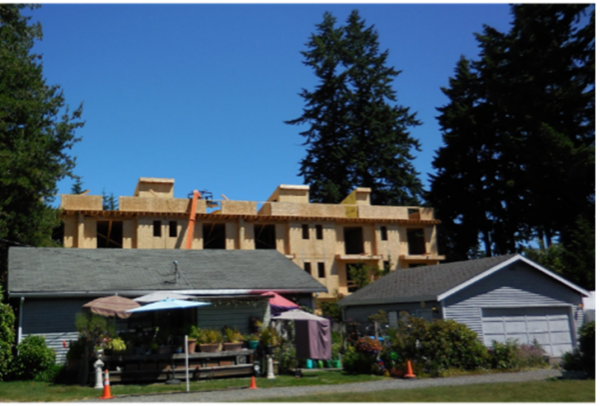 A major housing bill along with the others are moving through the process in Olympia, targeting single-family neighborhoods in Edmonds and across the state. HB 1110 passed the House only so far and is now open for public hearing input on the Senate side, so please take action today. It can still be defeated or at a minimum, have better amendments come out of the Senate.
The amended E2SHB 1110 will subject all single-family lots, no matter where located in the state of Washington, to an exponential increase in growth and building density. It has been voted out of the House and will be heard at a public hearing in the Senate Committee on Housing at 10:30 a.m. on Friday, March 17.
Please take a few moments to show your opposition to E2SHB 1110 by signing in "con" by 9:30 a.m. on Friday, March 17.
– E2SHB 1110 is a developer-friendly bill that will allow random, uncontrolled, and virtually unlimited building in traditional single-family neighborhoods.
– E2SHB 1110 will allow up to four housing units in place of one on a lot in Edmonds, depending upon location and other factors.
– E2SHB 1110 limits required off-street parking to between zero and two spaces per housing unit, depending on lot size and location. This will force possibly half of vehicles in residential areas off private lots and into the streets.
– E2SHB 1110 ignores local planning and conditions. Blanket, state-coerced upzoning is not a reasonable solution to housing affordability nor to sustainable density.
– E2SHB 1110 ignores lot sizes.
– E2SHB 1110 will cause significant loss of tree canopy, especially in larger, dense  cities, given existing small legal lot sizes allowed in some jurisdictions.
– E2SHB 1110 will cause displacement, especially affecting BIPOC, low-income, fixed-income and elderly people, due to increases in tax assessment because assessed valuations are based on the development potential of a lot, not actual use.
– E2SHB 1110 fails to exempt all national and state residential historical districts, which will be irretrievably eroded and lost under its provisions.
– E2SHB 1110 preempts planning at county and city levels expected to be done in accordance with the Growth Management Act and their Comprehensive Plans.
This bill will supersede, preempt and invalidate any conflicting local development regulations. Read the 13-page bill report here.
Each of the five housing bills stack upon the others, so all require you and everyone you know in Edmonds and other Washington cities to seize these opportunities to participate and comment.
Select "Housing" for Committee
Select "3/17/23  10:30 AM" for Meeting
Click on E2SHB 1110 Middle Housing
Enter information to complete sign in:
Select your type of testimony [Note to simply register con, click on "I would like my position noted…"]
Enter your position on E2SHB 1110: con
Fill in your information and testimony if you doing written testimony
Check "I'm not a robot" and click "Submit Registration"
Forward this to as many people as you know to comment oppose to this far-reaching bill attempting to supercede local planning control of our single-family zoning. Please act now.
Thank you for advocating on behalf of our cities to keep local control of land use decisions and for preserving our single-family neighborhoods!
— By Dr. Michelle Dotsch
Michelle Dotsch is president of the Alliance of Citizens for Edmonds (ACE).