We are officially in the month of April. If that doesn't shock you a bit, how about I put it another way: We're a quarter of the way through 2023 — and that's no joke!
April is the time of year when the weather can have a hard time picking a season. Sometimes it can't make up its mind on whether it wants to be sunny and warm (at least for April standards) or have a thunderstorm and freezing precipitation. It can feature quite a mixed bag of weather phenomena.
The next few days will be a prime example, as we're expecting to see some unsettled weather for the first weekend of April.
A relatively potent springtime storm began to impact us Friday, bringing rain and breezy conditions to our area. The mountains, however, have been experiencing significant snowfall — at least for April. In fact, a Winter Storm Warning has been issued for the majority (if not all) of the Cascades (valid through 5 a.m. Sunday), with 10 to 21 inches of new snow expected.
If you have any plans to travel over the passes over the weekend, make sure you are prepared for snowy conditions. WSDOT is a great resource if you want to check the travel conditions of different mountain passes. You can view their website here.
Looking back toward our neck of the woods, the widespread rain transitions to more showery conditions. An unsettled atmosphere (which tends to occur after a frontal passage) gives way to the potential for some areas of heavier precipitation—including thunderstorms.
Over the course of Saturday and Sunday, highs are expected to be in the mid-to-upper 40s, with lows in the 30s. With moisture in the area and temperatures close to freezing during the overnight/early morning hours, we can't rule out the possibility of some rain/snow mix—especially in areas with heavier precipitation (where cooler air can be dragged towards the surface). Little or no accumulation is expected.
While much of Western Washington has the possibility of seeing a thunderstorm or two for both Saturday and Sunday, the chance is a bit higher in our area due to falling within the typical Puget Sound Convergence Zone. If we see any thunderstorm activity, we could see periods of heavy rainfall, hail, and/or gusty winds.
As we head into the new week, high temperatures creep back into the low 50s. The chance of showers can't be completely ruled out over the course of the week, but mid-week ridging may give us a brief respite from wet weather. By the end of next week, however, the chance of rain returns.
It seems like the first half of the adage "April showers bring May flowers" is ringing true, at least during the first week. We'll see if the second half will come to fruition, as well.
Have a great weekend!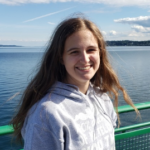 — By Kelsie Nelson
Kelsie Nelson is a meteorologist and recent University of Washington graduate who grew up in Lynnwood and now lives in Kenmore. After writing weather blogs as a KOMO News intern, she discovered a passion for writing about weather. You can learn more in her blog www.wxnoggin.com and you can also follow her on Twitter at @kels_wx3. Questions can be directed to Kelsie at kelsie@myedmondsnews.com.