All those heavy laden and weary from winter — rejoice! The burden has been lifted: spring is here!
Winter is now in the books, so let's take a look at the precipitation totals for the astronomical season, which is what most people think of when they hear the word "season" (when compared to meteorological seasons).
This graph is dated from Dec. 21 through March 20. We were above the average of 10.60 inches, with 11.76 inches of accumulated precipitation. Some of this precipitation fell as snow, which would then equate to the total water from melted snow.
We had about 64% of days with measurable rainfall during this time frame, which is pretty typical for the winter season when looking at previous years. It may have felt like a lot of rain fell but given the previous two statistics, at least at Paine Field, nothing was too out of the ordinary.
We had a couple days this past week that definitely felt a lot like spring, but the rain made a comeback as we wrapped up the workweek.
The rain will continue at times on Saturday and Sunday, with temperatures not expected to top 50 degrees. Saturday is expected to be damper than Sunday.
With this cooler air mass in place and nighttime temperatures expected to drop into the low-to-mid 30s in most locations, some mixed snow and rain are not out of the question for those at higher elevations. If any flakes fall, little or no impact is expected — but know that this is a possibility, even as we wrap up the month of March.
As we start the new week, models suggest that we dry out. In the ensemble plume of total precipitation below, notice how most models "flatline" for much of next week, including the average:
Pairing ever so nicely with this drier weather is partly-to-mostly sunny skies, which help to bring temperatures into the 50s. This is right around normal for this time of year, and will feel a bit more spring-like.
The chance of rain returns by the end of next week, so if you can, get out an enjoy the dry weather! I know I will likely be taking a few lunchtime walks.
Many of you may be sick of the rain by now, but climatologically, we are starting the decline of total monthly precipitation as we inch closer to summer (see above). While the dry weather is nice at this point of the year, try to enjoy the rain, as well — in a few months, you may be begging for it again.
Have a great weekend!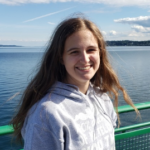 — By Kelsie Nelson
Kelsie Nelson is a meteorologist and recent University of Washington graduate who grew up in Lynnwood and now lives in Kenmore. After writing weather blogs as a KOMO News intern, she discovered a passion for writing about weather. You can learn more in her blog www.wxnoggin.com and you can also follow her on Twitter at @kels_wx3. Questions can be directed to Kelsie at kelsie@myedmondsnews.com.