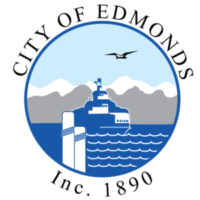 Among the items being considered during the Tuesday, April 18 Edmonds City Council meeting is a proposal by the city's public works and utilities department to double the vehicle license fee — from $20 to $40 annually — that the city charges Edmonds residents.
Washington state law gives cities the authority to establish transportation benefit districts (TBDs) to impose a car tab fee, with the money designated for transportation improvements. The City of Edmonds formed its own district in 2008, with the Edmonds City Council acting as the district's independent governing board. In 2009, the Edmonds TBD board authorized an annual $20 fee on vehicle license renewals within the City of Edmonds.
The agenda memo accompanying Tuesday's draft resolution says that the additional money generated by the fee increase would be used to cover the city's rising street maintenance and operating costs. "The number of traffic control devices has increased along with a deteriorating infrastructure due to less than recommended investment in the pavement preservation program," the memo states. "Investment at the right time is critical to maximize the effectiveness of limited funds. When timely investments are made, infrastructure conditions stabilize and costs to maintain and preserve remain low. "
The memo also cites "a higher demand to increase pedestrian and bicycle safety, noting that in the last five years, two traffic lights and pedestrian signal improvements in 30 locations have been added. These systems require maintenance, repair and replacement in future years."
Also on the council agenda for Tuesday night:
– Discussion of a memorandum of understanding between the Washington State Department of Transportation and the City of Edmonds aimed at guiding acquisition of the Unocal property next to the Edmonds Marsh,
– A proposed contract for $67,793 with KPG Psomas for design work on the 4th Avenue Cultural Corridor Project.
– An April 2023 budget amendment ordinance
– The results of a comparator cities survey performed by the council's City Attorney Assessment Subcommittee. The survey is part of the council's work to determine what  type of city attorney services Edmonds should have beyond 2023.
The meeting will begin at 7 p.m. in the council chambers, Public Safety Complex, 250 5th Ave. N. in downtown Edmonds. You can also view it virtual and offer public comment via this Zoom meeting link:
https://zoom.us/j/95798484261
Or comment by phone: US: +1 253 215 8782 Webinar ID: 957 9848 4261
Regular council meetings beginning at 7 p.m. are streamed live on the Council Meeting webpage (where you can also view the full agenda), Comcast channel 21, and Ziply channel 39.
Prior to the 7 p.m. meeting, the council will meet at 6:25 p.m. to interview a candidate for the Suster City Commission, followed by an executive session to discuss pending or potential litigation.