Lots of signs of spring and summer are popping up, which are always fun to share, but we gotta talk a bit about school first. On Tuesday, April 18 there is a School Board Special Meeting at the Edmonds School District office scheduled for 6:30 to 9 p.m. Per the Edmonds Education Association, "At this meeting, the school doard will hear the first reading of the "reduced education plan" for next year. In an open letter on their Facebook page, the association shares their concerns about the budget regarding special education and staffing, saying "the level of proposed cuts does not correspond with the decrease in enrollment…"
The way I came to hear about the proposed cuts were via my son's high school music program. It was explained to us that under this budget, band classes would be reduced, and that choir and drama options were being canceled as well. If you are choosing to write in or attend the meeting on the 18th, you can find more information, including Superintendent Rebecca Miner and Director of Business and Finance, Lydia Sellie, discussing the district budget in a community webinar, at edmonds.wednet.edu. While there, you can also find contact information for each director or comment virtually with a link provided on the agenda. There will be an option to sign up to speak at the meeting on Tuesday available 30 minutes before it begins.
This week, My Edmonds News posted pictures of Emma Schumacher, interpretive specialist for the City of Edmonds Parks and Recreation Discovery Programs, filling buckets with seawater for the city's Marine Touch Tank. This feature has been a sure sign of summer for us. Absent for the last three years due to COVID, the touch tank filled with marine life from our shores will be available on weekends from Memorial Day to Labor Day at the Olympic Beach Visitor Station. For more information on the visitor station you can visit EdmondsWA.gov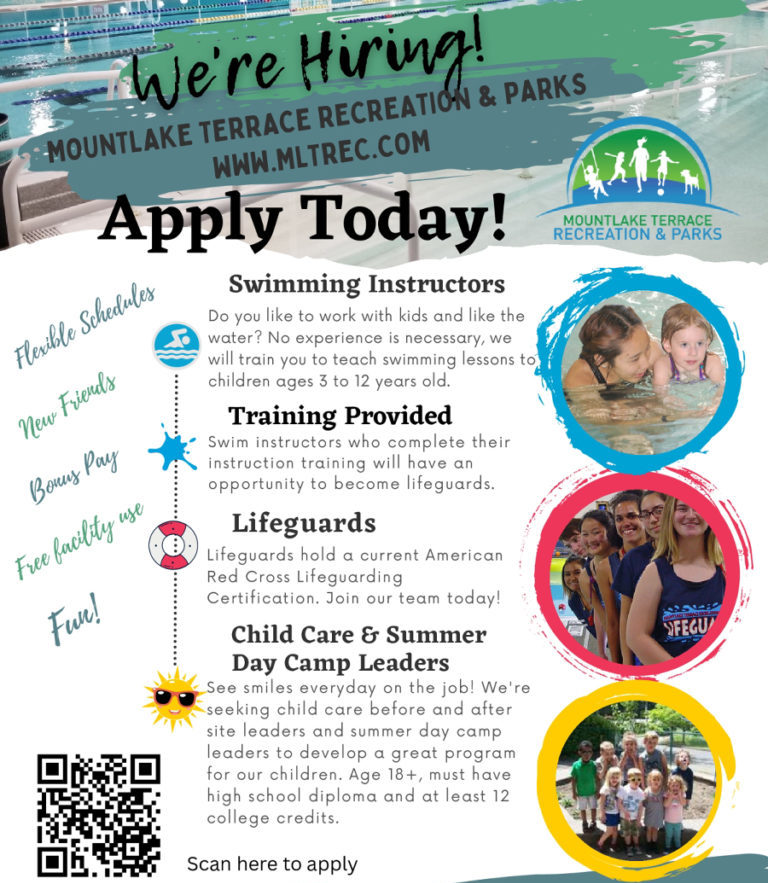 Another sign of summer on the way is local cities hiring for summer camps. Mountlake Terrace Recreation & Parks is hiring swim instructors, lifeguards and child care and day camp employees. Their flier says applicants must be 18 or over with a minimum of 12 college credits. I know that my kids have had a lot of home-from-college camp counselors and this is a nice way to sock away some money for school. More information can be found at MLTRec.com. Edmonds is also hiring employees for summer starting at $16-plus  for gymnastics and day camp assistants with a starting rate of $17.55. Applications for the Edmonds options can be found HERE. These seem like great options to be outside, make friends and save money during the summer and both options are nearby and available by bus.
While we're talking about local parks and recs, I saw some updates from Lynnwood and Edmonds this week. We recently talked about class options in Lynnwood and I just got an email saying that while classes have started, there is still some space in a few youth classes. You can get prorated registration if you sign up for Preschool Music, Hip Hop Dance Class for those 9 to 12, and all ages Guitar Level 1. To join these classes you can visit PlayLynnwood.com or call 425-670-5732.
In Edmonds, they are offering a Parents Night Out on Friday, April 21 from 5 to 8 pm. Kids ages 6 to 12 can join the city's gymnastics instructors for a "fun evening of games, crafts, gymnastics, fort building and more to keep the little ones busy while the parents can enjoy a few hours enjoying Edmonds!" The fee is $30 per child –which is a steal compared to when I was paying babysitters — and of course it is walking distance from lots of dinner and shopping options. You can find more information and registration at bit.ly/EdmondsParentsNightOut.
— By Jennifer Marx
Jen Marx, an Edmonds mom of two boys, is always looking for a fun place to take the kids that makes them tired enough to go to bed on time.