Summer Music School (SMS) is on for summer 2023! I am always excited to talk about SMS. It is such an incredible program at a lower- than-average cost and an incredible local resource (though you don't need to be an Edmonds School District student to attend.) From June 28 through July 14, campers will attend SMS each day from 8 a.m. to noon. Per the district, "This exciting program offers a diverse mix of music performance and exploratory opportunities for students entering 6th through 12th grade. (For students whose primary instrument is not voice, one year of instrumental music experience is required.)"
Each camper will participate in the choir, two electives of their choosing and then break out into band, orchestra or select choir. Electives cover a wide range of options including steel drums, musical theater, vocal jazz or the chance to try a new band or orchestra instrument. If your student is feeling a little old to be a camper, they can talk to their band/orchestra teacher about an opportunity to participate as one of the camp's student volunteers, and they will also have the chance to play with the groups.
There are two new "changes" this year from last year, which are really more like changes back to pre-COVID times. This summer, SMS will be held at Mountlake Terrace High School again and campers will march in the Edmonds Kind of 4th parade. Camp culminates in a big evening concert and a last-day-of-camp elective concert. ESD students can register via InTouch Receipting or via mail with this form and a check. For more information, you can visit Edmonds.Wednet.edu.
We still have more local arts to cover! Edmonds Arts Festival has an open call for student art submissions. Edmonds School District students, and students who live in the boundaries but don't attend an ESD school, may enter a piece of artwork for jurying through the Open Class Select process. If you are a K-6 student, you may enter if you have not had an art piece submitted via your ESD school and all older students may enter if they have not had two pieces submitted.
My kids and I volunteered one year, and our assignment was right next to the student art section and it was so fun to see little ones looking for their work and showing their adults. Previously, I had only really experienced the festival in one way — walking through the booths and looking at and buying a thing or two. This was our first experience seeing just how much of a community event it was. Getting to learn about and then share the information about the art pieces with those who entered our room was so, so rewarding. The minimum age for volunteering is 16, I was in charge of my kids while we volunteered, and there are lots of different ways to participate. You can help with crafts, sell merch, assist with setup or breakdown among a long list of other options. The options and sign-ups can be found HERE.
Open Class Select entries are due by May 5 and online registration is available for those with ESD or gmail addresses. For additional registration or questions you contact Barb Childs at 425-431-7117 or visit EdmondsArtsFestival.com.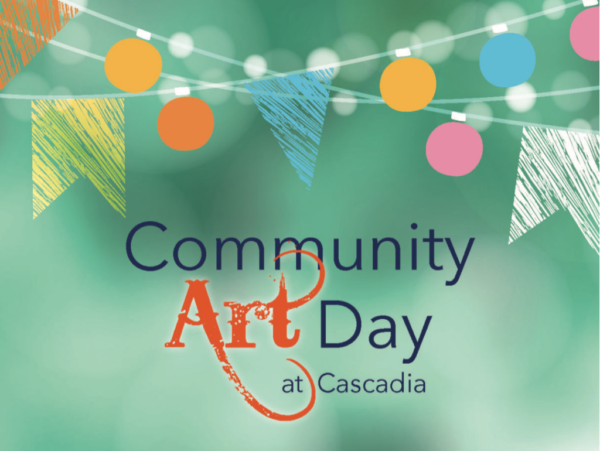 Cascadia Art Museum Community Art Day will be Sunday, May 7 from 10 a.m. to 5 p.m. Admission to the museum is FREE and includes access to all kinds of activities. While there are options that may lean toward the adults on Community Art Day — ambassador-led tours all day, a violinist at 3 p.m. and a Sketching Walk and Talk with Gabriel Campanario from Sketcher Fest — there are all-day options for the kids too! During this event, there will be hands-on art-making activities and a scavenger hunt, and at 11:30 a.m. there will be a Storytime with Sno-Isle Libraries.  From 12:30 to 2:30 p.m., there will be Accessible Art Making Activities with Mary Peterson, teaching artist and co-founder of Art For All. For more information on Cascadia Art Museum or Community Art Day, you can visit CascadiaArtMusuem.org.
— By Jennifer Marx
Jen Marx, an Edmonds mom of two boys, is always looking for a fun place to take the kids that makes them tired enough to go to bed on time.