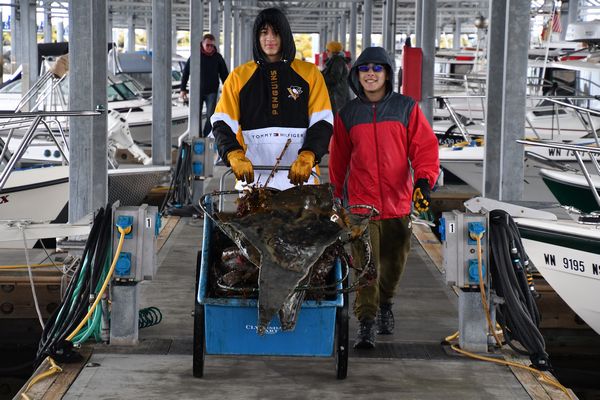 Sunday morning began early for a group of 60 eager volunteer divers and shore supporters as they donned scuba gear and dove in at the south end of the Edmonds Marina.
But this was no pleasure dive. It was a continuation of the semiannual marina underwater cleanup events led by "Ocean Annie" Crawley as part of her ongoing efforts to raise awareness of the importance of the ocean to our planet and our responsibility to protect and cherish it. And it strives make a dent in the years of accumulated debris that fell, dropped or was tossed into the waters of the marina.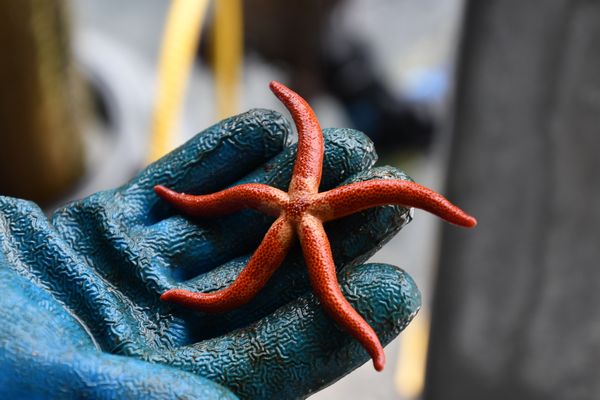 Crawley is an internationally known ocean advocate, underwater photographer, educator, youth organizer and tireless advocate for the oceans' environmental health. She and her crew of volunteers see this as much more than just a cleanup, but a part of their larger shared mission to raise awareness of marine environmental issues.
"One of the big reasons we're here today is to make people more aware of what is going into the ocean," Crawley explained. "And with Earth Day coming up next week and World Ocean Day on June 8, the timing is particularly good.
"We're hoping that bringing all this garbage to the surface will help people think about the larger issues of what flows into our oceans and how we can stop this – it's a visual representation of what's happening below the sea," she continued. "I think of what we're doing today as lifting the surface of the ocean to show what's hiding beneath the surface. It's easy to think that when something that falls into the water it just sinks and goes away. But there is no "away." The ocean is so important to our lives – the ocean would be fine without us, but people won't be fine without a healthy ocean."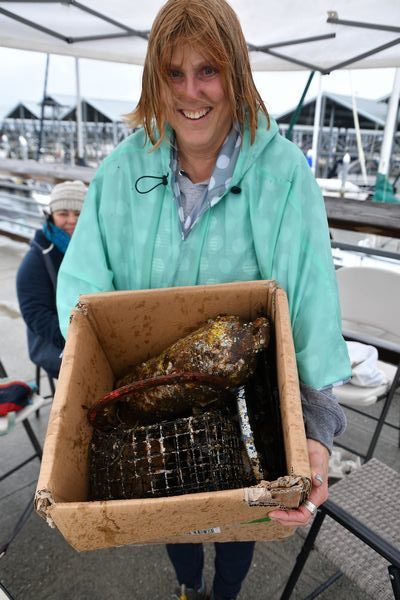 Beyond these goals, Crawley and her dive team's underwater cleanups reflect the strong environmental stance of the Port of Edmonds, which five years ago formally added these events as a key element in its environmental plan. City Councilmember Will Chen and Port Commissioners David Preston and Jay Grant were on hand to show their support and thank Crawley and her team for helping raise awareness of this issue.
By the end of the morning. Crawley and her team had collected enough debris from beneath B and C docks to fill a large dumpster. While impressive, she stresses that this represents only a small dent in the worldwide problem of ocean pollution.
Learn more about how you can join Crawley's team at the Our Ocean and You website.
— Story and photos by Larry Vogel