I recently heard about Missoula Children's Theater (MCT) from my friend Emilie, who helped with an MCT show at Syree Elementary. Emilie has a background in theater and kept raving about how impressed she was with the organization. Students worked on their production for a week and put on a great show, lines memorized, by the weekend! Read more about MCT's wild origin story here. This will be such an amazing opportunity for the young actors and actresses of Edmonds!
Cascadia Art Museum hosts Community Art Day May 7
Sunday, May 7, 10 a.m – 5 p.m.
Cascadia Art Museum
190 Sunset Ave. S., #E, Edmonds
Cascadia Art Museum presents Community Art Day, Sunday, May 7. This free event has something for everyone, with hands-on art activities, sketching, talk and walk, story time with Sno-Isle Libraries, music, museum/scavenger hunt, ambassador-led tours of exhibitions and more.
10 – 11 a.m. Sketching Talk & Walk with artist Gabriel Campanario (Seattle Sketcher)
11:30 a.m. – noon Storytime with Sno-Isle Libraries
12:30 – 2:30 p.m. Accessible Art Making Activities with Mary Peterson, teaching artist
3 – 4 p.m. Music with Violinist, Eric Rynes
Noon – 5 p.m. Ambassado-led tours of current exhibitions
All day:
Hands-on Art Making Activities

Museum/Scavenger Hunt

Art for All (adaptive and inclusive) Showcase (sponsored by Foundation for the Edmonds School District)
For more details, click here.
~ ~ ~ ~
Samantha Saether Bead Artistry Exhibit at the Frances Anderson Center
Now through the end of May
Frances Anderson Center
700 Main St., Edmonds
Edmonds artist Samantha Saether's exhibit of her unique beaded sculptures are on exhibit in the Edmonds Arts Commission's display case in the Frances Anderson, now through the end of May. She is an active member of the Edmonds arts community, having served eight years with the Edmonds Arts Commission and currently as a board member of the Edmonds Arts Festival Foundation.
Saether hails from a small town in northeast Ohio, and earned a BFA from Ohio State. She moved to Atlanta to pursue a career in marketing and advertising. Upon early retirement, Saether moved to the Pacific Northwest, eventually settling in Edmonds. She explored what to do with an ever-expanding bead collection, discovering a somewhat unconventional creative expression by embellishing various objects with beads.
Fascinated by precise, detailed work, Saether uses a variety of imported glass beads strung on thread, then placed in glue onto a hard surface such as twigs, boxes, wood balls and created clay objects. An early piece featuring beads applied to hardboard set in a floating frame won an Edmonds Arts Festival Honorable Mention 2011, and in 2022 a piece titled Dragon Tale (pictured) won Edmonds Arts Festival First Place Sculpture.
The Frances Anderson Center is open 8:30 a.m.-8:30 p.m. Monday-Friday and 9 a.m.-2 p.m. on Saturday. For more information about the Edmonds Arts Commission, click here.
~ ~ ~ ~
Spring Has Sprung at Gallery North
Free artists reception Saturday, May 13, 1-4 p.m 
Gallery North
401 Main St., Edmonds
For the entire month of May, Gallery North proudly announces a new exhibit entitled "Spring has Sprung" featuring work from all Gallery North artists.
The colors of spring burst into life in this exhibit, with paintings from Susan Swapp, Lonni Flowers, Lynnea Mattson, Leanna Leitzke and Theresa Williams, photography by Mary Bess Johnson and Anne Prather, and artisan work from Anne-lise Deering, Hannah Mason and Naomi Schneider. Plus you'll see art from four new gallery artists: Nicole Caulfield (colored pencils), Marzy Rahrovi (mixed media), Ken Hornung (photography) and Michael Ruhoff (mixed media).
The artist's reception is open to the public.
~ ~ ~ ~
Erica Miner book signing at the Seattle Opera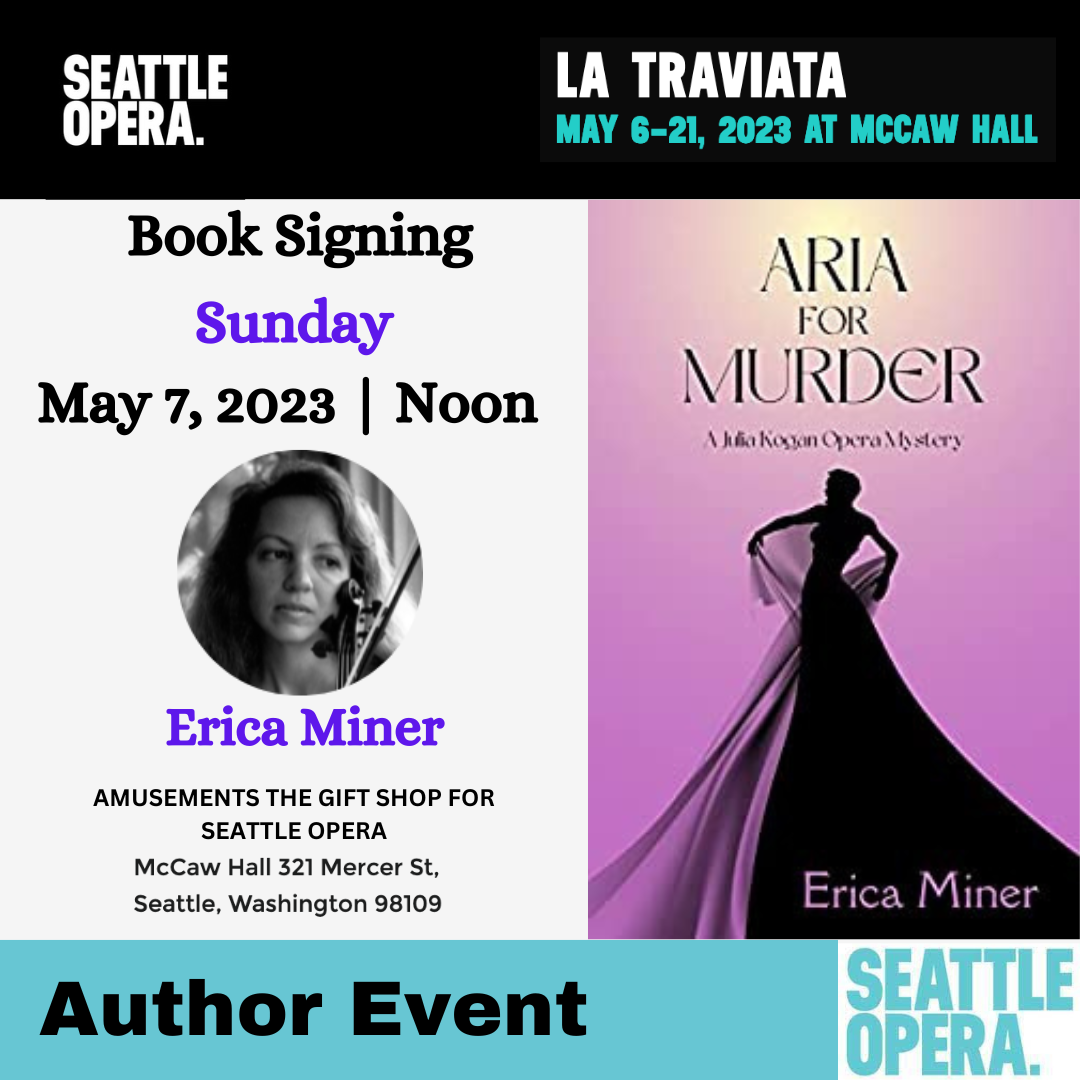 Sunday, May 7, noon to 2 p.m. and during intermission
McCaw Hall
321 Mercer St., Seattle
Art Beat readers may remember when Erica Miner released her book, Aria for Murder, back in November. She is participating in a book-signing event during La Traviata at the Seattle Opera for Aria for Murder on Sunday, May 7 in the lobby of McCaw Hall.
She will be signing books from noon until the first act curtain at 2 p.m., and then during the performance intermission. Book lovers can enter the lobby even if you are not attending the show, or you can get tickets to La Traviata here.
~ ~ ~ ~
21st annual Edmonds Jazz Connection
Saturday, May 20
The Edmonds Center for the Arts – showcasing the Big Bands, 410 4th Ave. N., Edmonds
The Edmonds Theater – featuring combos, 415 Main St., Edmonds
Old Edmonds Opera House – featuring Choral Groups, 515 Dayton St., Edmonds
Edmonds Jazz Connection, presented by the Edmonds Rotary Daybreakers, is a local festival showcasing some of the best high school jazz programs from throughout the Pacific Northwest. These programs feature many very highly talented student musicians, and many have performed at prestigious jazz competitions nationwide. At the end of the academic and competitive year, Jazz Connection is an encore for these hardworking students to perform for families, friends and their community, and showcase their improvisational talents while playing side-by-side with professional musicians.
In addition to raising funds to support an exceptional music education experience in Edmonds Schools, it has become a wonderful annual spectator event bringing 3000+ attendees each year to the city of Edmonds, an incredible performance experience for all performers and audience alike. Learn more about donating and about the show on the event website.
~ ~ ~ ~
Save the date: Missoula Children's Theatre Summer Camp will be in Edmonds July 24-29
Online registrations will open on a first-come/first-served basis on Thursday, May 4 at noon. See here for details.
Rehearsals and performances will be held at the Wade James Theatre (950 Main St., Edmonds)
2023 Registration Price: $135 per student (plua optional add-ons)
Students entering first grade (in September 2023) through 12th grade are eligible to participate
The Secret Garden, an original Missoula Children's Theatre rendition, is a joyful retelling of a story of hope and celebration and all good things in life. Mistress Mary Quite Contrary embarks on a journey from India to her uncle's home in England. Along the way she makes friends with the hilarious Canadian Geese and the colorful Giant Bugs that Rock! In time she learns to appreciate everything around her, including the Moor Animals and the helpful Fireflies. Add to that a good healthy dose of caring, and what happens? Colin, Martha, Archibald – well, the whole household – begin to enjoy the return of health and happiness in a garden carefully tended…until it blossoms once more.
— By Elizabeth Murray
Elizabeth Murray is a freelance writer thankful to call Edmonds home. When she's not busy wrangling her two kids (and husband), you can find her playing ukulele and singing with The Band LeLe.