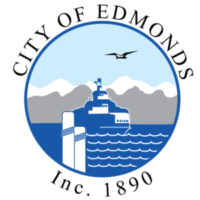 Following a public hearing last week, the Edmonds City Council at its May 23 meeting is scheduled to vote on permanent standards for certain projects zoned general commercial as part of the Highway 99 subarea plan.
The proposed standards — discussed at the May 2 city council meeting — would replace those contained in an emergency interim ordinance approved by the council Dec. 10. The council ordinance was aimed at addressing concerns voiced by Gateway neighborhood residents regarding the planned 261-unit Terrace Place apartment building there.
The council is considering a planning board recommendation to revise the interim ordinance so that it requires a 10-foot stepback at 25 feet and a 30-foot stepback for buildings over 55 feet when adjacent to or across the street from single-family zones. Buildings 55 feet and under would be exempt from stepback requirements. The planning board also recommended eliminating an Architectural Design Board review for such projects — now required in the interim ordinance — to comply with the state Legislature's recently approved House Bill 1293, aimed at streamlining development regulations.
Another topic on the council agenda May 23 is revisting a proposed memorandum of understanding (MOU) between the city and the Washington State Department of Transportation (WSDOT) related the Unocal property located next to the Edmonds Marsh. (A memorandum of understanding is a nonbinding agreement that states each party's intentions to take action.)
The council spent nearly two hours at its April 18 meeting discussing the MOU, which is being advocated by Mayor Mike Nelson as a way to ensure marsh restoration. As the council debated the issue, they voted 4-3 to draft a letter to the state — jointly signed by the Edmonds mayor and city council — that demonstrates Edmonds is committed to the state's environmental goals when it comes to the Unocal property — regardless of when or whether the MOU is signed.
A draft of that letter is also on the council agenda for May 23.
The council is also scheduled to consider adoption of an ordinance to add a compost procurement requirement to comply with state law and a resolution adopting the 2024 budget planning calendar.
Prior to the 7 p.m. business meeting, the council is scheduled to hold its annual joint meeting at 6 p.m. with the South Snohomish County Regional Fire Authority Commissioners.
Both meetings will be held in council chambers, Public Safety Complex, 250 5th Ave. N., in downtown Edmonds. You can join either or both meetings by following this Zoom meeting link: https://zoom.us/j/95798484261. Or access by phone at US: +1 253 215 8782 Webinar ID: 957 9848 4261.
Regular council meetings beginning at 7 p.m. are streamed live on the council meeting webpage (where you can find the full agenda), Comcast channel 21, and Ziply channel 39.