Mother's Day is May 14 this year – we have many lovely cards to choose from and we would be very happy to help you select a book for any [and all!] mothers or moms or mother-adjacent humans in your life! We also offer complimentary gift wrapping [and we are totally fine if you claim you did it yourself!].
May is Asian American, Native Hawaiian, and Pacific Islander Heritage Month. Celebrate the many cultures and stories within the AANHPI community with books by authors of Asian, East Asian, Native Hawaiian, and Pacific Islander heritage and cultures.
Staff recommendations [alphabetically by author]:
Hiro Arikawa: "Travelling Cat Chronicles" [fiction]
Peter Bacho: "Uncle Rico's Encore: Mostly True Stories of Filipino Seattle" [memoir]
Victoria Chang: "Obit;" "The Trees Witness Everything" [poetry. Published by Copper Canyon Press.]
Ava Chin: "Mott Street: A Chinese American Family's Story of Exclusion and Homecoming" [memoir]
Nicole Chung: "All You Can Ever Know: A Memoir;" "A Living Remedy: A Memoir." [memoirs]
Cathy Park Hong: "Minor Feelings" [memoir]
Hua Hsu: "Stay True: A Memoir" [memoir] 2023 Pulitzer Prize Winner!
Joe Ide: The IQ series of Southern California Crime thrillers. Including "IQ," "Righteous," "Wrecked," "Hi-Five," "Smoke," and the newest "Fixit" (May 9, 2023). [fiction/mystery]
Jay Caspian Kang: "The Loneliest Americans" [memoir/reportage]
Deepti Kapoor: "Age of Vice" [fiction/mystery]
Min Jin Lee: "Pachinko" [fiction/historical]
Grace D. Li: "Portrait of a Thief" [fiction/thriller]
Kenji Lopez-Alt: "The Food Lab;" "The Wok;" [cooking] "Every Night is Pizza Night." [kids! Ages 3 and up.]
Celeste Ng: "Our Missing Hearts" Reese's Bookclub pick [fiction]
Red Pine: "Dancing with the Dead: The Essential Red Pine Translations;" "Poems of the Masters: China's Classic Anthology of T'ang and Sung Dynasty Verse" [poetry. Published by Copper Canyon Press.]
Lisa See: "The Tea Girl of Hummingbird Lane" [fiction/historical]
Alex Tizon: "Big Little Man: In Search of My Asian Self" [memoir/Pulitzer Prize-winning journalist]
Gail Tsukiyama: "The Samurai's Garden" [fiction/historical/1930s]
Ocean Vuong: "Night Sky with Exit Wounds;" [poetry] "Time Is a Mother;" [poetry] "On Earth We're Briefly Gorgeous" [fiction]
And a very special mention: local author Michelle Li's "Very Asian Guide to Korean Food."
The Very Asian Foundation, in partnership with We Need Diverse Books, launches The May Book Project to help schools and libraries build and maintain robust Asian American youth literature collections for all readers.
From Seattle to St. Louis to New York City and beyond, the Very Asian Foundation's mission is to shine a light on Asian experiences through advocacy and celebration. More information is here.
A great interview with Michelle Li, here.
Also: On our blog post we have included all of our staff recommendations, as well as books recommended by Moira MacDonald, of Seattle Times Entertainment Reportage fame; best sellers on our local PNBA list; and books recommended on npr or in The Washington Post or the New York Times…. So many great books to add to your TBR list! The link is here.
Edmonds Bookshop Events.
Event Sept. 21. Join us to celebrate Catherine Kyle's brand new [May 2023] poetry collection, "Fulgurite."
Named for the glassy, mazelike structures that form underground when lightning strikes sand, "Fulgurite" weaves together reality and myth. Informed by fairy tales, domestic fabulism, and environmental concerns, she examines gender on large and small scales.
All kinds of information on our events page, here. Updates may happen. So do check back!
Edmonds Bookshop Book Club: May 17! Wednesday morning 9-10 a.m.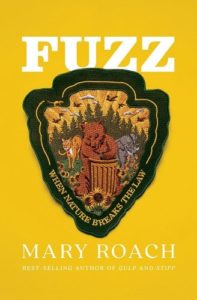 Our May 2023 book is "Fuzz: When Nature Breaks the Law" by Mary Roach.
"Join America's funniest science writer…" (Washington Post), Mary Roach, on an irresistible investigation into the unpredictable world where wildlife and humans meet.
When it comes to problem wildlife, she finds, humans are more often the problem–and the solution. Fascinating, witty, and humane, "Fuzz" offers hope for compassionate coexistence in our ever-expanding human habitat.
More information about the book and our book club is here.
Send us an email here to register your email for book club membership.
Third Thursday Art Walk. May 18, 2023. 6 p.m. Join us to meet Stephanie Kerschbaum, UW professor and author of "Signs of Disability."
How can we learn to notice the signs of disability? By adding perception to the understanding of disability's materialization, she significantly expands our understanding of disability, accounting for its fluctuations and transformations in the semiotics of everyday life.
All kinds of information on our Event Page here.
 Recent book releases of note:
"Women are the Fiercest Creatures" by Andrea Dunlop. In this wildly addictive novel, three overlooked women take on the charming, manipulative tech CEO who wrote them out of his startup's history. Now in paperback. Local author! Pencil in our June event: We are so looking forward to welcoming Andrea for our June Third Thursday Art Walk! All the information here.
"Tress of the Emerald Sea" by Brandon Sanderson. The bestselling author brings us deeper into the Cosmere universe with a rollicking, riveting tale that will appeal to fans of "The Princess Bride." On our PNBA Bestseller list!
"Homecoming" by Kate Morton. A sweeping novel that begins with a shocking crime, the effects of which echo across continents and generations.
"Romantic Comedy" by Curtis Sittenfeld. Reese's Book Club Pick. A comedy writer thinks she's sworn off love, until a dreamy pop star flips the script on all her assumptions. On our PNBA Bestseller list!
"A Living Remedy: A Memoir" by Nicole Chung. Her first memoir "All You Can Ever Know" is staff recommended. Her second memoir explores the treacherous crosscurrents of class, race, and inequality in America. Chung tells of her upbringing as a Korean adoptee and her terrible grief when her loving parents die in quick succession—largely due to outrageous inequalities in healthcare.
"The Invisible Life of Addie LaRue" by V. E. Schwab. Finally in paperback.
"You Could Make This Place Beautiful: A Memoir" by Maggie Smith. The writer and poet gets personal in this innovative take on the standard memoir format. Using a series of lyrical vignettes (and a poet's ear for language), she digs into her own failed marriage and the strange sensations that follow coming of age in your middle age. On our PNBA Bestseller list!
"Wager" by David Grann. 1740, British warship The Wager disappeared while chasing a treasure-filled Spanish galleon. Two years later, a patched-together lifeboat washed up on the shores of Brazil with 30 emaciated survivors. Their story was a sensation until six months later, when another batch of survivors washed ashore—with a different story. Great review here in The Seattle Times. On our PNBA Bestseller list!
"City of Dreams" by Don Winslow.  Following the epic, ambitious, instant bestseller "City on Fire," "The Godfather for our generation" (Adrian McKinty), comes the dramatic second novel in an epic crime trilogy. Staff recommended.
For middle grade readers  "The Rhythm of Time" by Questlove and S. A. Cosby. After accidentally traveling back in time and rewriting the future, twelve-year-old best friends Rahim and Kasia must work together to restore their timeline.
"The Last Remains: A Ruth Galloway Mystery #15" by Elly Griffiths. Staff recommended!
"Small Mercies" by Dennis Lehane. An all-consuming tale of revenge, family love, festering hate, and insidious power, set against one of the most tumultuous episodes in Boston's history. From the author who does Boston so well!   On our PNBA Bestseller list!
"Monsters: A Fan's Dilemma" by Claire Dederer. This book grapples with how to reconcile the legacies of artists whose behavior was reprehensible, from Michael Jackson to Pablo Picasso and beyond. Do geniuses get a free pass? Is female monstrosity different from male monstrosity? How should we balance moral outrage with an appreciation for the work? As Dederer poses these uncomfortable questions, she admits her own complicity, too. Interview in The Seattle Times here.  On our PNBA Bestseller list!
"Honey, Baby, Mine: A Mother and Daughter Talk Life, Death, Love (and Banana Pudding)" by Laura Dern and Diane Ladd.  A deeply personal collection of conversations between the legendary actors!  Lovely interview/review in The Seattle times, here.
"Happy Place" by Emily Henry. The inimitable author returns with the story of a recently split couple obligated to attend the annual gathering of their old group of friends. Determined not to ruin the vibe, Harriet and Wyn decide to pretend to still be together.  On our PNBA Bestseller list!
"In the Lives of Puppets" by T.J. Klune. This intriguing cross-genre tale plays in the waters of fantasy and sci-fi both, with damaged humans and conflicted androids questing through otherworldly domains to the City of Electric Dreams.  On our PNBA Bestseller list!
"Don't Tell Anybody the Secrets I Told You: A Memoir" by Lucinda Williams. The prolific songwriter and singer draws on her Southern upbringing — she was raised in a home with a musically talented mother dealing with mental illness and a father struggling to find his way as a writer — and deeply personal catalog in this new autobiography.
"Project 562: Changing the Way We See Native America" by Matika Wilbur. "A photographic celebration of contemporary Native American life and an examination of important issues the community faces today…" Review here in The Seattle Times.  On our PNBA Bestseller list!
Books of note being released in May:
"Meet Me at the Lake" by Carley Fortune. A random connection sends two strangers on a daylong adventure where they make a promise one keeps and the other breaks, with life-changing effects, in this breathtaking new novel from the bestselling author of "Every Summer After." May 2, 2023.
"The Sun and the Star" by Rick Riordan.  As the son of Hades, Nico di Angelo has been through so much, from the premature deaths of his mother and sister, to being outed against his will, to losing his friend Jason during the trials of Apollo. But there is a ray of sunshine in his life–literally: his boyfriend, Will Solace, the son of Apollo. Together the two demigods can overcome any obstacle or foe. At least, that's been the case so far… LGBTQ+  May 2, 2023.
"Chain Gang All Stars: A Novel" by Nana Kwame Adjei-Brenyah. Two top women gladiators fight for their freedom within a depraved private prison system not so far-removed from America's own in this explosive, hotly-anticipated debut novel from the bestselling author of "Friday Black." A Read With Jenna Book Club Pick. May 2, 2023. Recommended by The New York Times.
"The Covenant of Water" by Abraham Verghese. A stunning and magisterial epic of love, faith, and medicine, set in Kerala, South India, and following three generations of a family seeking the answers to a strange secret.  May 2, 2023. Recommended by The New York Times.
"No Two Persons" by Erica Bauermeister. From Erica:  "This is my love letter to books and readers, an exploration of how differently people can perceive and be affected by the same book. It starts with Alice, a young writer who has always played it safe with her work—until a tragic event inspires her to write a powerful novel. Her words go out into the world and change the lives of nine very different readers—a free-diver, an intimacy coordinator, a literary agent and her assistant, a caretaker of a ghost town, a homeless teenager, an exiled actor. Each gets their own chapter, their own story. Strangers to each other, they are connected by the experience of reading a book called Theo, and interwoven as well in ways they may never know." May 2, 2023.
Want to read an excerpt and some amazing early praise? Click here. Staff recommended.
"Warrior Girl Unearthed" by Angeline Boulley. The author of "Firekeeper's Daughter" [staff recommended and award winning] takes us back to Sugar Island in this high-stakes thriller about the power of discovering your stolen history. Old rivalries, sister secrets, and botched heists cannot – will not – stop her from uncovering the mystery before the ancestors and missing women are lost forever. Sometimes, the truth shouldn't stay buried. May 2, 2023.
"The Half Moon" by Mary Beth Keane. The author ("Ask Again, Yes") returns with a carefully observed profile of a marriage in peril. Bar owner Malcolm and lawyer Jess are running out of time—for having a child, for planning a future. Keane's story charts one fateful week when a secret is revealed, a massive blizzard descends, and everything changes for regulars at the beloved Half Moon bar. May 2, 2023.
"The Ferryman" by Justin Cronin. On the utopian archipelago of Prospera, rules are rules. Citizens live in paradise until health sensors, embedded in the flesh, drop below 10 percent. Then it's off on a ferry ride to the island known as the Nursery, where renewal and rejuvenation are promised. The author ("The Passage" series) profiles one particular ferryman, who makes some unpleasant discoveries. May 2, 2023. Recommended by The New York Times.
 "Swamp Story" by Dave Barry. An escapade through The Sunshine State full of oddballs and more twists than a snake slithering away from a gator. Broke and desperate for a way out, Jesse stumbles across a long-lost treasure, which could solve all her problems—if she can figure out how to keep it. The problem is, some very bad men are also looking for the treasure, and they know Jesse has it…nothing in the story goes as planned. May 2, 2023.
"Elektra" by Jennifer Saint. A spellbinding reimagining of the story of Elektra, one of Greek mythology's most infamous heroines, from the author of the beloved international bestseller, "Ariadne." Three women, tangled in an ancient curse. … May 2, 2023.
"The Secret Book of Flora Lea" by Patti Callahan Henry. When a woman stumbles across a mysterious children's book, long-held secrets about her missing sister and their childhood spent in the English countryside during World War II are revealed. May 2, 2023. View a great interview with Patti Callahan Henry on The 10 Minute Book Talkby a couple of our favorite local authors, Marie Bostwick and Rachel Linden, here.
"Soil: The Story of a Black Mother's Garden" by Camille T. Dungy. A seminal work that expands how we talk about the natural world and the environment as National Book Critics Circle Criticism finalist Camille T. Dungy diversifies her garden to reflect her heritage. May 2, 2023. Recommended by The Washington Post.
"You Are Here: A Novel" by Karin Lin-Greenberg. As a once-bustling mall prepares to shut its doors for the final time, the residents of an upstate New York town must reckon with a shocking act that forces them to reevaluate who they are in this "remarkable study of ordinary people's extraordinary inner lives." (Publishers Weekly, starred review) May 2, 2023. Recommended by The Washington Post.
"The Many Daughters of Afong Moy" by Jamie Ford. Now in paperback!  May 2, 2023.
"Trust" by Hernan Diaz. Now in paperback. May 2, 2023. Just announced May 8, 2023: 2023 Pulitzer Prize winner for Fiction!
"The Making of Another Major Motion Picture Masterpiece: A novel" by Tom Hanks, R. Sikoryak.
Moira MacDonald: Apparently the Oscar-winning actor is a pretty good writer too? This novel is about the making of a superhero film and the comic books that inspired it — and includes a book-within-the-book bonus of three comics created by Hanks. May 9, 2023. Recommended by The New York Times.
"The Private Life of Spies and the Exquisite Art of Getting Even: Stories of Espionage and Revenge" by Alexander McCall Smith. From the beloved author of the No. 1 Ladies' Detective Agency series comes a new short story collection: half spy stories, half tales of revenge, all highlight the kinder, funnier, and gentler side of espionage and retribution. May 9, 2023.
"To Shape a Dragon's Breath: The First Book of Nampeshiweisit" by Moniquill Blackgoose. A young Indigenous woman enters a colonizer-run dragon academy–and quickly finds herself at odds with the "approved" way of doing things–in the first book of this brilliant new fantasy series. Paperback original. May 9, 2023.
"The Midnight Library" by Matt Haig. Now in paperback. May 9, 2023.
"The Guest" by Emma Cline. Summer is coming to a close on the East End of Long Island, and Alex is no longer welcome. A misstep at a dinner party and the older man she's been staying with dismisses her … propelled by desperation and a mutable sense of morality, she spends the week leading up to Labor Day moving from one place to the next, a cipher leaving destruction in her wake. Taut, propulsive, and impossible to look away from, this is a spellbinding literary achievement. May 16, 2023. Recommended by The New York Times.
"Yellowface: A Novel" by R. F. Kuang. Moira MacDonald: A new-author sensation isn't who she says she is — or the race she implies that she is — in this highly anticipated, timely novel from bestselling fantasy author. May 16, 2023. Recommended by The New York Times.
"King: A Life" by Jonathan Eig. Moira MacDonald: Eig, author of "Ali: A Life," writes the first new major biography of the Rev. Dr. Martin Luther King Jr. in decades — and the first to include recently declassified FBI files. May 16, 2023. Recommended by The New York Times.
"Quietly Hostile: Essays" by Samantha Irby. A hilarious new essay collection from the bestselling unabashed fan-favorite invites us to share in the gory particulars of her real life, all that festers behind the glitter and glam. May 16th, 2023. Recommended by The New York Times.
"Sing Her Down: A Novel" by Ivy Pochoda. Moira MacDonald: I loved Pochoda's elegant, tough L.A. noir "These Women" two years ago. Her latest is described as a feminist Western thriller, in which two unexpectedly freed cellmates pursue each other — and the truth about their crimes. May 23, 2023.
"Women We Buried, Women We Burned: A Memoir" by Rachel Louise Snyder. For decades, she has been a fierce advocate reporting on the darkest social issues that impact women's lives. A piercing account of Snyder's journey from teenage runaway to reporter on the global epidemic of domestic violence, this is a memoir that embodies the transformative power of resilience. May 23, 2023. Recommended by The New York Times.  Recommended by The Washington Post.
"The Celebrants" by Steven Rowley. A Big Chill for our times, celebrating decades-long friendships and promises–especially to ourselves–by the bestselling and beloved author of "The Guncle." LGBTQ+  May 30, 2023. Recommended by The Washington Post.
"Deep as the Sky, Red as the Sea" by Rita Chang-Eppig. For readers of "Piranesi," and "The Night Tiger," a dazzling historical novel about a legendary Chinese pirate queen, her fight to save her fleet from the forces allied against them, and the dangerous price of power. May 30, 2023. Recommended by The Washington Post.
"Witch King" by Martha Wells. The writer of the beloved "Murderbot Diaries" series returns with her first fantasy novel in more than a decade. Here, a demon from the underworld awakens after being murdered to find a lesser mage attempting to steal his magic. You know, typical day-at-the-office stuff.  May 30, 2023.
Some great blog posts/lists:
The Washington Post recommends 10 books to read in May. On the blog here.
The New York Times recommends books coming in May.   On our blog here.
Have you seen our list of staff favorite books of 2022? It's still a really great list. Here.
Pacific Northwest Booksellers Association [PNBA] bestseller list. Updated weekly. We do our best to have all of these books in stock.  [there is a link on the home page – under the picture – directly to the current bestseller list!]
We will keep posting our favorite reads, along with links to all kinds of book-related interesting things! In all the places: on our website, Facebook, and Instagram.
You may pre-order any forthcoming title by visiting our website.  

Stay safe. Enjoy the little things. And as always: Happy reading!
— By Elaine Mattson
Edmonds native Elaine Mattson has worked at The Edmonds Bookshop off and on since she was 12 years old, and has also worked at a book wholesaler, a book publisher, and for the book publishing division of a large local software company (yes, that one). "I was raised a book lover [thanks, Mom!]," Mattson says. "We got book lights by our beds as soon as we were old enough to read. And then I probably got in trouble for reading too late the very next night. And I still read too late!"