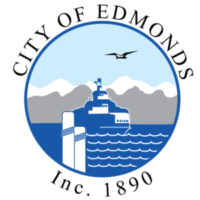 The 2024 City of Edmonds budget season is just around the corner, and the Edmonds City Council wants to hear from the community how to prioritize city spending.
The process started in April at a budget retreat for city staff, the mayor and councilmembers.  Last month, the council approved the 2024 budget planning calendar and now will turn its focus to identifying priorities for the 2024 budget. The council plans to communicate these priorities to the mayor and city staff in July, as their work begins on building the budget.
Mayor Mike Nelson will present the proposed budget to the council in early fall.
"There are several ways for Edmonds residents to be engaged early in the process," said Edmonds City Council President Neil Tibbott. "We really want to hear from the community on this, so we've added some extra ways to connect."
During the month of June, the city council will add special meetings and a public hearing specifically seeking public input about the 2024 budget.
Two budget outreach workshops are scheduled in locations away from the typical council chambers — June 12 at the city's public works building and June 22 at the Meadowdale Clubhouse. These budget outreach workshops will be open public meetings. They are designed to facilitate discussion with those who attend about what the council should preserve funding for, consider ways for the council to reduce spending, and suggest new items for the 2024 budget.
The public hearing during the June 20 council meeting will be a structured opportunity for individuals to make a three-minute public comment in person, over Zoom or by submitting an online public comment.
There is also an online form aimed at making it easy to provide specific feedback to the council on the 2024 budget priorities, both for those attending the outreach events and for those who can't. This online form can be found here. You can also use this QR code:
2024 budget outreach events:
Monday, June 12 at 7 p.m. – 2024 budget outreach workshop, Public works and utilities building, 7110 210th St. S.W., Edmonds
Tuesday, June 20 at 7 p.m. – Public hearing on 2024 city budget priorities during the city council regular meeting, 250 5th Ave. N., Edmonds
Thursday, June 22 at 5 p.m. – 2024 budget outreach workshop, Meadowdale Clubhouse, 6801 N. Meadowdale Road, Edmonds
Tuesday, June 27 at 5 p.m. – Special meeting on 2024 budget priorities prior to the regular council meeting, third floor Brackett Room, Edmonds City Hall, 121 5th Ave. N.
For more information, contact Council President Neil Tibbott, neil.tibbott@edmondswa.gov, or call 425-478-4565.