The 2022 Edmonds Citizen of the Year, Michael Reagan, whose work to create portraits of fallen heroes has gained worldwide recognition, was honored Thursday during an Edmonds Chamber of Commerce luncheon at Thai Cottage restaurant.
Reagan's efforts through his Fallen Heros Project resulted in his selection in 2015 to receive the Citizens National Medal of Honor.
"This is our 28th year of recognizing the Edmonds Citizen of the Year," said the Edmonds Kiwanis Club's Juliana Van Buskirk as she greeted attendees.  She noted past Citizen of the Year recipients have included former Edmonds Police Chief Al Compaan, Rick Steves, Teresa Wippel, the Edmonds Food Bank, Frannie Cohen and the first recipients, Stan and Valerie Dickinson in 1994.
Next to speak was fellow Kiwanian and retired Superior Court Judge John Rutter, who talked about the worldwide reach of Kiwanis.
"Almost every town and city has a Kiwanis group – there are more than 550,000 of us on the planet," he said.  "Our overriding mission and concern is kids – kids are what Kiwanis is all about.  Among the things we've done here in Edmonds is provide free safety helmets for bicyclers and skateboarders, but our big push is raising money for cancer research with the goal of ending childhood cancer."
Bruce Nicholson, a lifelong friend of Reagan's and a 70-year Edmonds resident, then took the podium to introduce Reagan.
"Mike has lived in Edmonds 42 years," he began. "Mike's home base is Perrinville, but his art is known – and significant – worldwide.  What he does is from the goodness of his heart, and often goes unnoticed. I don't know anyone else who does this kind of stuff. Bottom line — Mike helps cure and heal families."
Taking the microphone, Reagan began by noting that since he dedicated himself 20 years ago to honoring the fallen and bringing comfort to their families, he has completed more than 8,900 portraits.
While his work has centered on portraits of those who have died in battle, it has expanded to include others.
"I was in the midst of working on fallen hero portraits when the news reports came in on the shootings at Sandy Hook Elementary," he recalled. "I almost immediately began getting calls from people – mostly from back east – for whom I'd done portraits, asking if I'd consider doing them for the Sandy Hook victims.  I felt I had to do it, but had no idea where to start."
He went on to relate how a series of coincidences led him to contact a friend living in Shelton, Connecticut, one town over from Sandy Hook, who also happened to know the mayor.
"He asked me how he could help," continued Reagan. "I told him I needed photos of all the children who were killed. He talked to his friend the mayor, and the photos began arriving. We ended up doing all of them, and even found a person who runs a framing shop in Shelton to frame them all."
"When the first portrait was ready – a young girl who'd lost her life that day – the framer delivered it personally to the family," he continued.  "The victim's sister tore off the wrapping paper, and immediately kissed the image of her dead sister on the lips."
"This is kind of thing we do," he explained. "It's not about me, it's not about the art – it's about the families and bringing them comfort and a sense of closure.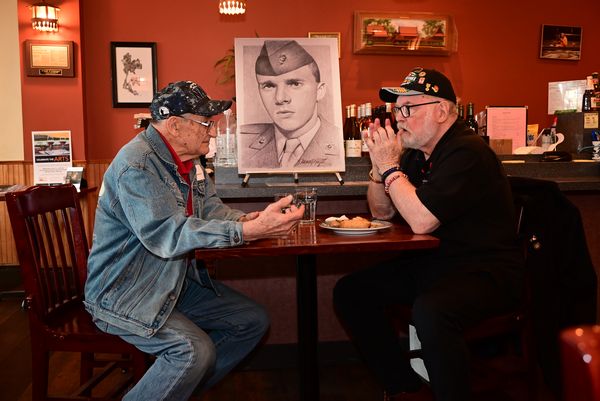 "When I started this project, all I cared about was doing what I do best [art] and trying to help through this," he concluded. "I had no idea it would become what it has. I can't take vacations – every day I'm away from my drawing table is a day I can't draw. I know that I need to do these portraits to help heal the horrible pain of the families left behind, and that's more important. I've come to believe that this is my destiny.  Some ask how long I plan to keep doing this. My answer: I'll stop one day before I'm gone and someone has to do a portrait of me. This project is the most important thing I've ever done in my life."
Learn more about Michael Reagan, his work on the Fallen Heroes Project, and being selected as the 2022 Edmonds Citizen of the Year here.
— Story and photos by Larry Vogel