Registration now open for free family event in Lynnwood June 24
If you were walking, biking or driving past Lynnwood Elementary School on a sunny Saturday morning last June, you might have seen a curious sight — kids, parents, dogs, face painters, an ice cream truck and more — all excited to be at school on a weekend! Why were they there and why were they so happy about it? It was the event that satisfies the "need for speed" for kids of all abilities — the Rotary Challenge Series Race — and registration is now open for this year's event! My grandson and I have been part of the event since the beginning and we look forward to it every year.
The Rotary Club of Lynnwood will host the 6th Annual Challenge Series Derby Race on Saturday, June 24 from 9 a.m. to 1 p.m. at Lynnwood Elementary School. It's a great, fun and free way to celebrate the end of the school year. While created for families of students with developmental disabilities, the race is fun for students of all abilities. Students from all area schools are welcome, and the day includes much more than just racing. Read on for the details, and don't forget to register right away at Challenge Series Races – Rotary Club of Lynnwood (click for full details and registration).
The Challenge Race allows kids with developmental disabilities (and any young student who wants to ride) the experience of a thrilling soap box derby-type race in a car safely piloted by a trained peer. Two cars sit side-by-side on the starting ramp, and once the flag drops, gravity allows them to race each other down the course to the finish line. Cars, helmets, event t-shirts and trained volunteer drivers are all provided.
Event organizer Debbie Bodal of the Rotary Club of Lynnwood emphasizes that early registration is key to making sure the event goes smoothly. "We want to make sure we have enough t-shirts, medals, lunch and ice cream for everyone, so nobody gets left out," she said. Debbie has spearheaded the event since 2016 and has grown the list of sponsors to a truly impressive size. "Local business loves to sponsor free family events, and we think this is one of the best in town. It seems our sponsors agree," she said.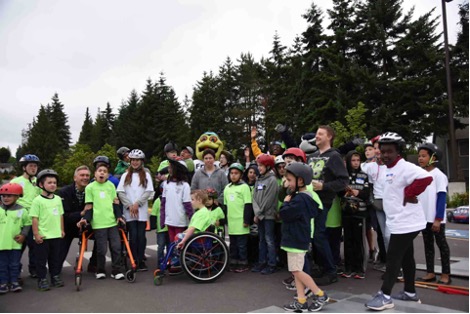 Kids with specific sensory needs are accommodated, too. As the registration coordinator, I regularly make arrangements for families who need to arrive late and leave early, or for kids who don't stand in line but need to be called in when it's their turn. Siblings are welcome, and if a child needs to wear headphones or be lifted into the race car, we always do whatever we can to work it out. It often helps for parents to enter the starting area with their students, easing the transition into the race car. We have seen over and over that the fun atmosphere enables most students to give it a try and they almost always end up enjoying it.
The Challenge Race actually has a much longer history outside of Lynnwood. The idea was started in 1989 by Leo Finnegan, father of a special-needs child named Tim. Leo wanted Tim and others to have the experience of racing, so he built the first two-seater cars himself. The Rotary Club in Issaquah started the races that same year and Rotary Club of Lynnwood brought the race to our area in 2016.
Families come to enjoy the morning together, bringing lawn chairs and shade umbrellas. They line the course alongside costumed mascots, uniformed officers and Rotary volunteers who cheer the racers on. Kids enjoy the face painting, the bouncy house and the ice cream truck. Emcees provide music and commentary, and even invite the racers to introduce themselves to the crowd. Music adds to the festive atmosphere, and after the racing, lunch from Chick Fil A is served for all the kids during an awards ceremony (held indoors or outdoors, depending on the weather).
My grandson and I —  and all the Rotarians and sponsors — invite you to sign up early and be part of that excited crowd at Lynwood Elementary June 24!  Easy and free registration is online at www.rotarycluboflynnwood.com/challenge-series-races.
The Rotary Club of Lynnwood is so grateful to the sponsors who make this event possible: Starting Line Sponsors: ChildStrive and Lynnwood Event Center; Race Car Sponsors: SlabJack, Lynnwood Police Guild, Award Services, Community Transit, Ultralign CPA LLC, and Mountain Pacific Bank; Race Course Sponsors:  Mr. Kleen Car Wash, Edward Jones, Chermak Construction, Chick Fil A, Carter Acura, South County Fire and John Niemi; and Event Partners: City of Lynnwood, Life Enrichment Options, Edmonds School District and Lynnwood Today.
— By Anne-Marie Lake, Rotary Club of Lynnwood