I hope everyone had a fun and safe fourth of July. What an amazing turnout at the 4th of July Main parade. My kids came away with half their body weight in candy! Do parade floats count as art? My jaw dropped at some of the cool designs: the Garden of Eatin' float by the Edmonds Floretum Garden Club, Holy Rosary School's rolling mini parish, and the PLL Stadium were my personal favorites. Readers, share your favorite parade feature or memory from the day in the comments.
~ ~ ~ ~
Mountlake Terrace hosting Movies in the Park; first up, 'Black Panther: Wakanda Forever'
Thursday, July 13, 9 p.m.
Terrace Creek Park
23200 48th Ave. W., Mountlake Terrace
What better way to celebrate the summer than with a Movie in the Park. Movies will start as close to sunset as possible on scheduled nights so arrive early to get your spot. These are free movies and all are welcome to attend. Feel free to bring blankets, chairs and snacks.  Umbrellas and canopies are not permitted. The parking lot will be closed for these events but there is plenty of street parking.
This year they will have two movie nights, one on July 13 and another on Aug. 24.
July 13 –  Black Panther: Wakanda Forever. This showing is brought to you by multiple community partners. For the full list, see the event Facebook page.
Aug. 24 – The Sandlot. This showing is brought to you by Brighton School.
If you have any questions about these events, contact Events Coordinator Andrew Appelwick.
~ ~ ~ ~
Mermaids on the Beach 
Sunday, July 16, noon to 2 p.m.
Brackett's Landing Jetty
50 Railroad Ave., Edmonds
When my daughter was younger she would decisively answer the question, "what do you want to be when you grow up?" with "a mermaid." She'll be happy to know that someday her dreams can come true! Do you have a little mermaid lover, too? The Emerald Sea Sirens are paying a quick visit to the Brackett's Landing jetty on Sunday, July 16, from noon to 2 p.m.. Meet a mermaid there, and then come back to take a "shellfie" with one at Taste Edmonds! The Emerald Sea Sirens will be in the Kids' Zone at Taste on Sunday, Aug. 13.
~ ~ ~ ~
The Edmonds Driftwood Players announce their 65th season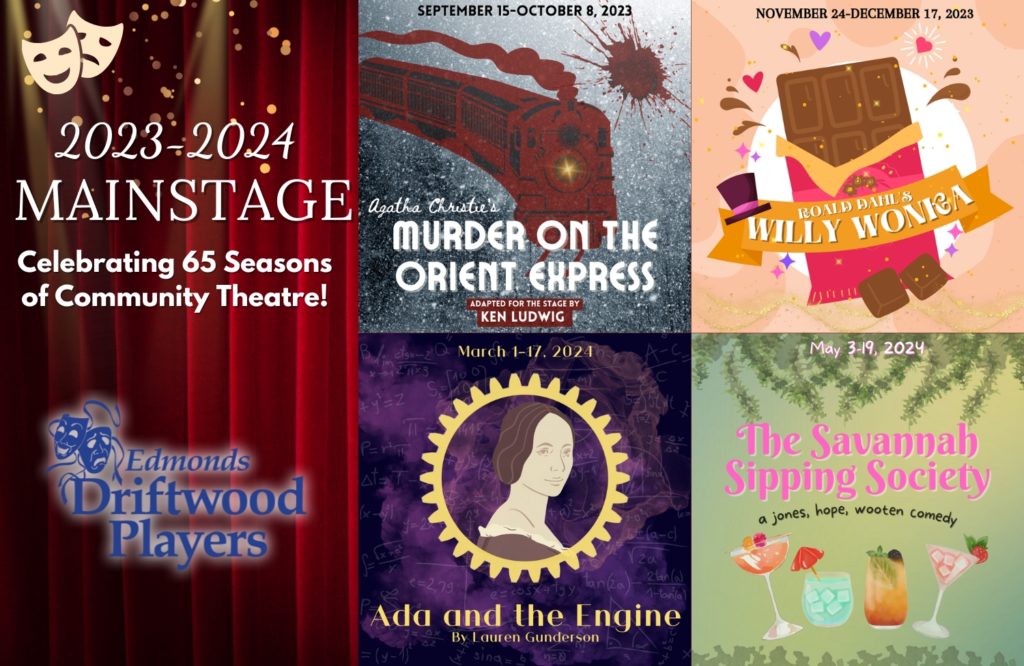 Mainstage Season 65 is bursting with variety and excitement, and the best way to enjoy it is with a season subscription. You'll get discounted tickets and first pick of reserved seats, plus additional benefits. Returning subscribers can renew starting July 10, and new subscribers can sign up starting on July 24.
Driftwood Players' 2023-2024 Mainstage Season will feature:
Agatha Christie's Murder on the Orient Express, adapted by Ken Ludwig (Sept. 15-Oct. 8, 2023): The Orient Express is about to go off the rails. With a train full of remarkable suspects and an alibi for each one, it's the perfect mystery for detective Hercule Poirot.
Roald Dahl's Willy Wonka (Nov. 24-Dec. 17, 2023): Roald Dahl's timeless story of the world-famous candy man and his quest to find an heir comes to chocolate-covered life.
Ada and the Engine by Lauren Gunderson (March 1-17, 2024): Ada Lovelace is our main character — a fiery, brilliant woman who wrote the first computer program and imagined that computers would make music…in 1830. Jane Austen meets Steve Jobs in this poignant pre-tech romance heralding the computer age.
The Savannah Sipping Society by Jones, Hope, Wooten (May 3-19, 2024): In this delightful, laugh-a-minute comedy, four unique Southern women, all needing to escape the sameness of their day-to-day routines, are drawn together by Fate — and an impromptu happy hour — and decide it's high time to reclaim the enthusiasm for life they've lost through the years.
— By Elizabeth Murray
Elizabeth Murray is a freelance writer thankful to call Edmonds home. When she's not busy wrangling her two kids (and husband), you can find her playing ukulele and singing with The Band LeLe.