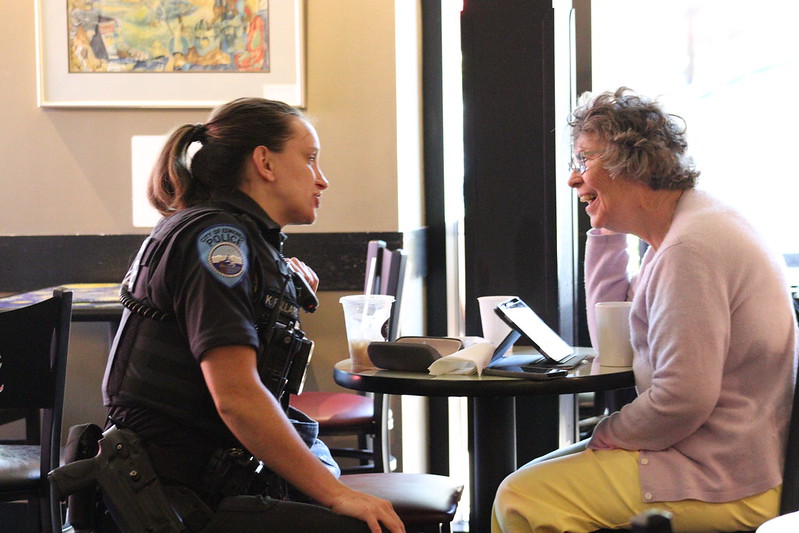 Edmonds residents who stopped by at Cafe Louvre Thursday afternoon sipped coffee and chatted with more than a dozen Edmonds police officers —including Police Chief Michelle Bennett — during the first Coffee with a Cop event.
The biggest issues that residents brought up were related to speeding and parking—including loud vehicles.
"[We had] some compliments, too, like 'Thank you for slowing speeders down,' which is nice to hear when a conversation starts with 'I have a good thing to tell you,'" Bennett said. "There are other problems in the city, at least right now, these are the biggest complaints in this particular event."
With the COVID-19 pandemic waning, the Edmonds Police Department wanted to increase community engagement. Officer Tabatha Shoemake, who is the department's community engagement coordinator, started Coffee with a Cop after she asked Haifa Alhussieni, the co-owner of Cafe Louvre, if she would host the event.
"I thought [Cafe Louvre] would be a great location because it has the capacity for a lot of people, and I was hoping for a great turnout and I wasn't disappointed," Shoemake said.
She spoke with a resident who complained about shopping carts that are strewn around the Safeway along Highway 99. "A lot of people don't want to take up our time because they think it's a small thing," Shoemake said. "But it was nice to address that because that's one thing we are looking into right now — the shopping cart rodeo. [We're] trying to get in touch with the businesses that [the carts] belong to and get them to pick them up."
Commander Josh McClure, who started with the Edmonds Police Department as an Explorer in 1993 at age 17,  took notes at the cafe as he listened to some of the residents' concerns.
"I just spoke to some community members who are frustrated about the speeding issues in their neighborhood up north, and all of those are valid," he said. "We need to be doing active listening. Instead of just saying this is something we can't do anything about, we spent a good half an hour working through their understanding of what we can do. I took note of our conversations and take it back to our traffic sergeant and city officials. What are the possibilities and can we make them realistic? That community member goes back to their community group and tells them that 'I was heard' and 'look we got some changes may be coming'."
Coffee with a Cop is part of the Edmonds Police Department's strategy to be more involved with the community, which is similar to the department's park tours that were held in summer 2020 at the beginning of the COVID-19 pandemic.
"Everything's shut down, we can't go anywhere, but how about we come to your community and talk to us about your concerns," McClure said. "Those were really successful, and [Coffee with a Cop] is an expansion of that. Tabatha has done a great job in expanding our opportunities for engagement."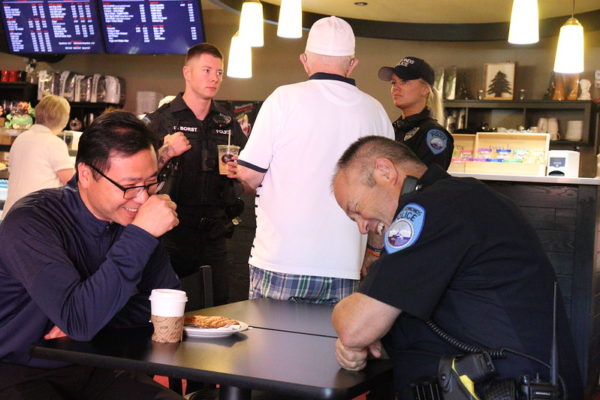 Added Bennett: "I don't think people would go down to the police station and talk, you know. I think they would much rather come out to the community and [say] 'Oh, there's an officer.' It really builds and enhances community relations.
"We're continuing to build community relations as communities are coming out of the pandemic. That gives us an opportunity to be more involved with our community members," Bennett added.
The next Coffee with a Cop event will be held at Woods Coffee on Highway 99 near 220th Street Southwest in late August.
— Story and photos by Nick Ng