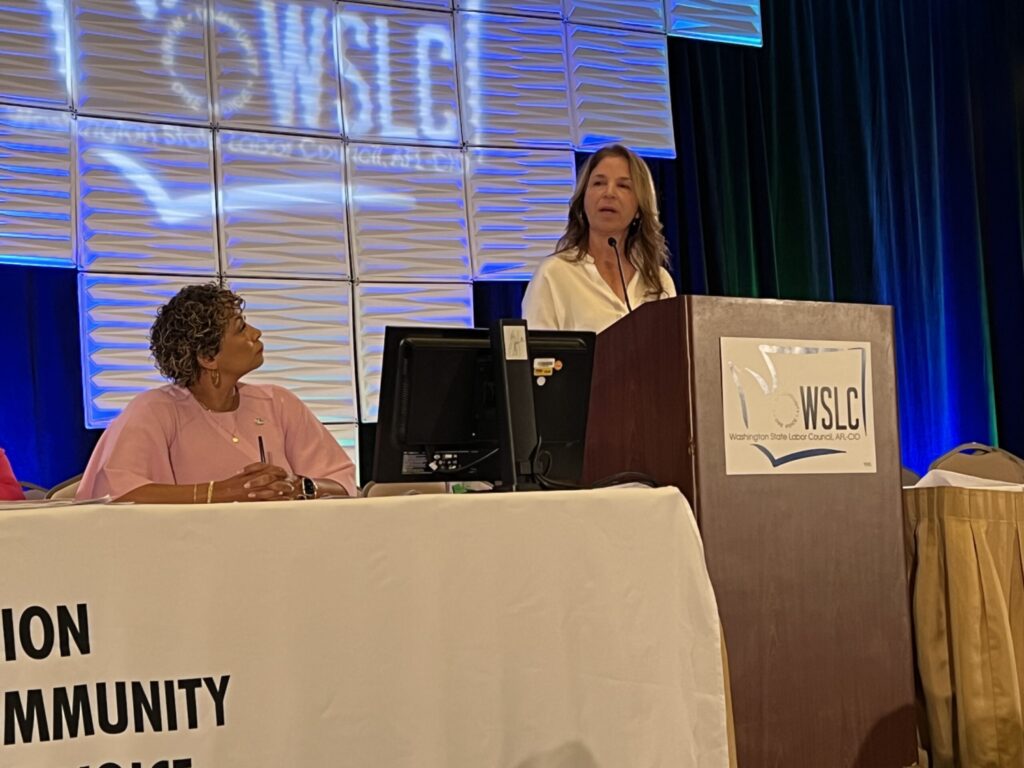 When she was 3 years old, Hilary Franz says she was taken from her bed, her house, her friends and her toys. And she recalls being told she would never see her father again.
In the weeks that followed, Franz remembers eating a lot of dates – a snack she hated, encountering a rattlesnake at a campground and sleeping in the back of a windowless van.
Franz and her older sister spent nine months in the early 1970s traveling from Portland, Oregon to Pennsylvania after being kidnapped from her father by a close family member during what she described as a "volatile and tumultuous" chapter of her childhood.
She went from campground-to-campground – never knowing what her next meal would be or where she would sleep that night.
It was incredibly frightening, she said, and there was no sense of safety.
Franz, now 53, shared her story publicly for the first time on Wednesday. It's an experience she says shapes who she is, her political priorities and how she would lead as governor.
"Who we are and how we show up everyday is based on the foundation of our childhood," Franz, who's in her second term as commissioner of public lands, told the Standard. "It makes you more understanding of how easy it is to lose something and how important it is that we take care of our most vulnerable."
Franz, a Democrat running to succeed Gov. Jay Inslee in 2024, revealed the episode Wednesday during a speech at the Washington State Labor Council convention, as she outlined why she wants to be governor.
She was the second candidate to address the gathering of about 400 labor leaders. Attorney General Bob Ferguson, so far the likely Democratic frontrunner in the race, spoke at the convention on Tuesday, vowing to "change the culture of state government."
Democratic state Sen. Mark Mullet is also running. So are Republicans Dave Reichert, a former congressman and Semi Bird, a Richland school board member.
The Standard was not immediately able to obtain records verifying the events Franz described about her early childhood, but she spoke at length about her recollections of what unfolded.
Father's fight inspired Franz campaign
Franz's traumatic journey with her sister ended in Reading, Pennsylvania – a place she remembers vividly because of its fireflies, which she would capture in jars to bring into the house.
And after about nine months of searching, Franz's father, with the help of the police, was able to locate his daughters.
Franz remembers sitting in an upstairs apartment looking out the window when she saw her father, who later took her and her sister onto a plane back to Portland.
"He's the real hero in all of this," she said, because of his "unbelievable determination."
She told the Standard on Wednesday that she decided to share this story with labor leaders because her father's fight reminded her of the way unions stand up for their members.
"They're fighting for them and on behalf of them every single day when the rest of us may not be recognizing their full worth and their full value," she said.
In her speech Wednesday, she urged labor leaders to support her because she would continue to stand up for working people.
Franz also ran through top issues she would focus on if elected governor, including housing, education and climate change, though she has not yet released many detailed policy proposals. She pointed to her experience in her current job modernizing how the state fights wildfires, expanding investments in clean energy and building affordable housing on public lands.
But the mention of the kidnapping stood out as a deeply personal event to open up about on the campaign trail.
The scarring childhood incident, she says, taught her "enormous resilience" and influences how she approaches public office. "I'm in this race trying to fight for those who are most vulnerable," she said, "because I know what vulnerability looks like."
— By Laurel Demkovich, Washington State Standard
Washington State Standard is part of States Newsroom, a network of news bureaus supported by grants and a coalition of donors as a 501c(3) public charity. Washington State Standard maintains editorial independence. Contact Editor Bill Lucia for questions: info@washingtonstatestandard.com. Follow Washington State Standard on Facebook and Twitter.