City of Lynnwood officials and the news media treated Lynnwood City Councilmember Josh Binda differently from other city councilmembers and he was unfairly targeted because of his race and age. Those were among the results of a preliminary investigation conducted by the NAACP of Snohomish County and announced during a Thursday press conference outside Lynnwood City Hall.
NAACP Snohomish County President Janice Greene and Seattle King County President Gerald Hankerson spoke about the investigation, which began in May 2023. Their investigation, sparked by a complaint from a third party, was based on interviews with Lynnwood City Council leaders and City of Lynnwood administration, public records requests and internet searches. Greene confirmed that the city had complied with the investigation.
Allegations against Lynnwood City Council President Shannon Sessions and the City of Lynnwood
"It is evident that the allegations made against Councilperson Binda by Council President Shannon Sessions were found to be untrue and lacking merit," Greene stated. She alleged that Sessions created a hostile work environment, overstepped her authority and created barriers for Binda's participation as a councilmember. 
Hankerson referred to Sessions as "Karen" Sessions and stated that Sessions was opposed to Binda even prior to his election. The NAACP's evidence list contains an email in which Sessions said she was concerned about then-candidate Binda because of an article she read about Binda's campaign fund misuse, something that the Washington State Public Disclosure Commission (PDC) later fined him for. In response to that report, Sessions recommended that councilmembers "discuss starting the process of our ethics board" and brought the item to a city council meeting. 
Many of the investigation's findings referred to a reimbursement dispute that began in April 2023, when Binda traveled to Washington, D.C. to attend a National League of Cities event. Binda spoke at a portion of the event focused on youth delegates. At an April 12 business meeting, Binda publicly requested reimbursement for the trip. At the time, Sessions stated that Binda was not authorized to attend the event as a representative of Lynnwood, did not communicate with the council before or during the trip, and did not present his findings. Later, the council voted 5-2 to recommend that Finance Director Michelle Meyer not reimburse him. 
Binda stated at a later council meeting that no permission was required for the trip, so Sessions was overstepping her authority by attempting to prohibit his attendance and — later — his reimbursement. The NAACP said its investigation backs up Binda's claim. Binda did not respond when asked by Lynnwood Today whether he was reimbursed. Lynnwood's public information officer was not able to answer the question immediately.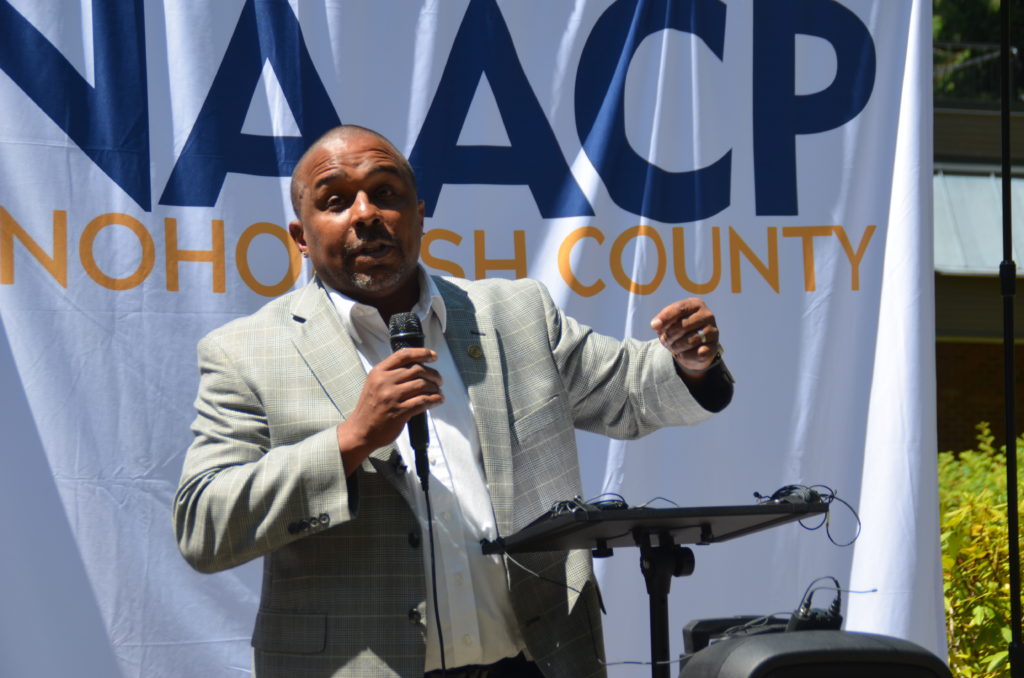 Hankerson stated that over the past few months, Sessions introduced rules based on Binda's behavior, which he termed "Binda rules." These rules included limits regarding virtual attendance. As of May 8, during the year 2023 Binda has been absent from four meetings and has attended nine over Zoom.
The NAACP speakers said that Binda was subjected to double standards compared to other councilmembers. They referenced email conversations that stated Council Vice President Julieta Altamirano-Crosby had exceeded her travel reimbursement allotment of $2,500 by about $400. Those emails also noted that Altamirano-Crosby had initiated a conversation to repay that overage. Additionally, she did not need to seek approval as she was already the chosen delegate for the event. 
The NAACP also said it believes both the city council and the media treated Binda's ethics violation differently than Councilmember Jim Smith's racial and sexual discrimination violations.
Allegations against the media
"You think folks in Lynnwood ain't got better things they need to be dealing with and worried about than whether this Black man got his shirt off?" Hankerson asked, referring to a controversy in which Binda posed with his shirt off on Instagram to show off a tattoo commemorating his Love Conquers All tour for local schools.
Hankerson and Greene claimed that the media was fed incorrect information and some outlets published misinformation targeting Binda. Hankerson was specifically focused on the Lynnwood Times when Times Publisher Mario Lotmore began to interrupt and argue with the speakers, something he was occasionally booed for. Binda later stated that Lotmore had stalked his girlfriend, and that Lotmore's associates were the ones to originally complain to the PDC about his violations. Lotmore denied the stalking allegation and threatened to sue Binda for defamation.
When asked after the news conference whether he believed his coverage of Binda was fair, Lotmore said "Yes." 
Multiple members of the media present stated that Binda would not reply or speak with them. Some asked the NAACP speakers how they were supposed to report on something when given no information about it, making it difficult to share Binda's side of the story. Hankerson replied that the NAACP's work was continuing, and the organization was doing the investigation that the media should have done.
City of Lynnwood spokesperson Nathan MacDonald said that the city administration is deferring questions and requests for comment regarding the NAACP's investigation to the city council.
"We all want Councilmember Binda to succeed and many people have tried to help him," Sessions said in a statement emailed to Lynnwood Today. As council president, Sessions said it is her responsibility to ensure the city council is following its own rules. "I don't do this in a vacuum," she said. "Other councilmembers, attorneys, staff and community members have all weighed in on best ways to address ongoing concerns regarding CM Binda.

"All of the rules and regulations that are on the books and that have been updated by a major majority of the city council, are applicable to all of us, and the rest of us have no problem complying with them," Sessions continued. "Sadly, this is another example of councilmember Binda deflecting and not taking responsibility for his own poor decisions, and thinking he is above everyone else and that the rules all other elected officials are required to follow don't apply to him.

"I'm glad the NAACP is finally coming alongside councilmember Binda. Hopefully they can help mentor him."
Defense of Binda for PDC violations and ethics violation
Reporters and others attending the news conference brought up Binda's PDC violations, Overall, Binda was fined $1,250 for two violations: not filing his Personal Financial Affairs Statement and misusing about $3,000 of his campaign funds for personal expenses.
Hankerson stated that these violations were rookie mistakes due to inexperience and ignorance of the rules. 
Hankerson used the same reasoning when referring to Binda's ethics violation, in which Binda admitted to using his status as a councilmember for personal benefit. Per his settlement with the City of Lynnwood, Binda agreed that he did violate the code of ethics but did not do so knowingly. 
When reporters asked Binda if he felt he was treated differently because of his race, he replied that he believed race played a major role. "I think it's intersectionality. Race, age, what I represent, my style," he said.
Members of the Recall Binda campaign were also in attendance and stood near the street wearing shirts to promote the recall effort, which has garnered "a couple hundred" signatures, said recall organizer Diodato Boucsieguez.
Calling the NAACP's announcement "performative," Boucsieguez said: "I really wish they wouldn't have backed someone who is a corrupt politician. Someone who's a liar and a cheat and doesn't pay fines to a government organization [PDC]." 
Boucsieguez also said that he does not believe supporters of the recall effort are motivated by racial biases. 
Greene said that the NAACP plans to reveal its full investigation at a later date. since investigators  received new information recently. The current findings can be found on the NAACP website. 
–Story and photos by Jasmine Contreras-Lewis