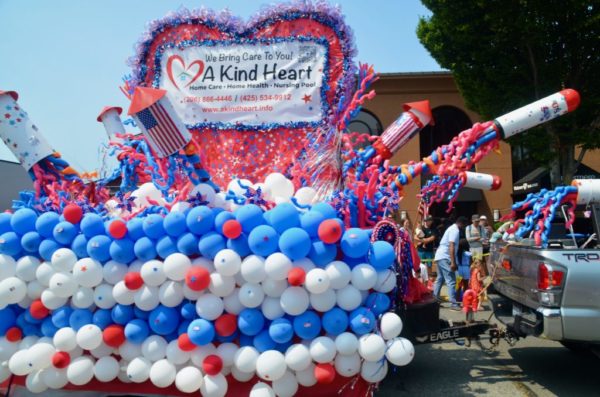 Traditions old and new were celebrated Tuesday as thousands lined the streets of downtown Edmonds for the annual Edmonds Kind of Fourth of July Parade, put on annually by the Edmonds Chamber of Commerce.
There were bagpipers, church singers and musicians from the Edmonds School District Summer Music School. Lion dancers, Irish dancers and the Latin Dancing Horses of Washington. Members of the Pride of Edmonds and the Edmonds Diversity, Equity, Inclusion and Accessibility Commission. Roller derby competitors, high school football players, and the Edmonds Mountain Bike Team.
Leading the parade was an Edmonds Police Department drone, highlighting the department's use of that technology in its work. Edmonds Police Chief Michelle Bennett also walked the parade route, greeting parade goers.
In addition, the parade featured a number of candidates for political office, from city council and mayor to Snohomish County judge.
Joe Mclalwain, executive director of the Edmonds Center for the Arts, was the parade grand marshal. (Read more here.) Also honored during the parade was Fallen Heroes Project artist Michael Reagan, the 2022 Edmonds Citizen of the Year.
The winning parade entries were as follows:
Most Patriotic: A Kind Heart
Most Original: Holy Rosary
Funniest: Edmonds Floretum Garden Club
Mayor's Trophy: Latin Dancing Horses of Washington
Best Decorated: Pacific Little League
Chamber Trophy: Camp Vintage
— By Teresa Wippel