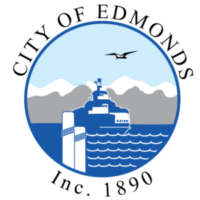 The Edmonds City Council has three main items on its agenda July 25: Approving a resolution to explore annexation into the South County Fire regional fire authority (RFA), an update on amendments to the city's tree code, and a July budget amendment ordinance.
According to the agenda memo, the purpose of the resolution is to officially communication to the RFA that the City of Edmonds "intends to investigate the advantages and disadvantages of annexation, and that we would like the RFA to investigate the ramifications to them as well."
The city council will make a decision later this year or in early 2024 whether to proceed with putting the issue of annexation before Edmonds voters. Edmonds currently contracts with South County Fire for fire and emergency medical services, but voters in nearby jurisdictions — including Lynnwood, Mountlake Terrace and Brier — in recent years have voted to join the RFA.
As for tree code amendments, the city council last received a project update on the tree code at its Jan. 17, 2023 meeting. Since that time, staff and consultants have conducted a series of community meetings, surveys and stakeholder interviews as well as solicited input from the Edmonds Planning Board and Tree Board. On Tuesday, staff will provide a brief summary of public engagement efforts and community feedback as well as planning board direction and tree board input on amendments to the existing development-related code and new property owner tree removal allowances.
The planning board is scheduled to hold work sessions to review draft tree code language at its Aug. 23 and Sept. 13 meetings, with the public hearing occurring as soon as Oct. 11.
The council's 7 p.m. business meeting will begin at 7 p.m. in council chambers, Public Safety Complex, 250 5th Ave. N., downtown Edmonds. For those who want to attend virtually, click on this link:
https://zoom.us/j/95798484261. Or comment by phone: US: +1 253 215 8782 — Webinar ID: 957 9848 4261.
Regular council meetings beginning at 7 p.m. are streamed live on the council meeting webpage (where you can also see the complete agenda), Comcast channel 21, and Ziply channel 39.
Prior to the 7 p.m. meeting, the council will meet at 6:20 p.m. in executive session to discuss pending or potential litigation.