Cascadia Art Museum just opened "Native American Modern," an exhibit that revolves around the life and work of Seattle artist Julius "Land Elk" Twohy (1902–1986), who had contributed much to Seattle's art scene during the Great Depression.
Museum curator David Martin has been studying Twohy's life and work for more than 25 years and collected many of his surviving works.
Not only did Twohy paint and sketch using the traditional, geometric and abstract styles of most Indigenous art, he also blended the modernist style to portray his Ute culture and heritage in Utah and Northwest tribes.
"He was a modernist trying to express himself in figurative as well as abstract, spiritual shapes," Martin said. "I believe some of his imagery came from studying with modern artists at the [University of Washington], several of whom studied and exhibited in Paris, like Ambrose Patterson, Walter Isaacs and others. I also see influences of non-objective artists like [Wassily] Kandinsky in his work."
Martin said that Twohy's first recorded exhibition was at the 1932 Northwest Annual at the Art Institute of Seattle, which later became Seattle Art Museum (SAM). His entry, listed under his Indigenous name "Two-vy-nah-auche"—which means "land elk"—was an oil painting titled "Conception of Ute Chief." In the next year's event, he had a solo exhibition of his paintings that showed tribal dances at Seattle's Cobb Building.
In 1935, Twohy had two exhibitions: one at SAM with his oil painting "Flag Maker" and the other at the 11th annual Pacific Coast Painters and Sculptors League at the Western Washington State Fair in Puyallup, where his two entries "Modern Wrestlers" and "Forerunners at Rest" were exhibited.
Twohy was also a member of the Work Projects Administration (WPA) where he worked as a printmaker, painter and muralist. During the mid- and late 1930s, he worked with local artists in creating murals, including "Men Who Work the Ships" with artist Kenneth Callahan for the Seattle Marine Hospital under the Treasury Relief Art Project (TRAP).
"The Flight of the Thunderbird" was one of the few documented artworks, and was featured in a magazine called "Indians at Work" by the United States Office of Indian Affairs in 1939. In 1936, the WPA Federal Art Project commissioned Twohy to paint a 72-foot-wide mural in the dining room of Tacoma's Cushman Hospital in Puyallup.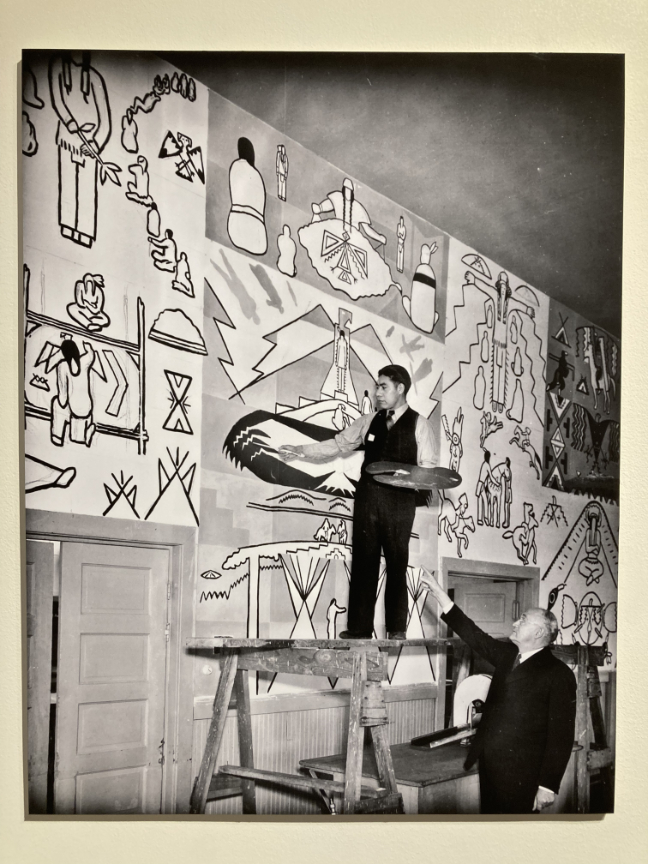 "The assignment was given by Twohy's friend and fellow artist R. Bruce Inverarity, who was then State Director of the WPA," Martin said. "We don't know how long it took to complete but likely around six months."
However, the mural was eventually painted over some time before it was destroyed in 2003 when the hospital was razed to make way for the Emerald Queen Casino and a hotel complex.
"He went to ceremonies, Spirit Dances, etc., and he did participate in the ceremonies of other Northwest tribes. His own art uses abstracted symbols derived from his own heritage and other Northwest tribes," Martin said. "He was very successful in Seattle as a portrait painter and as a fine artist. His original desire to be an illustrator is interesting but no illustrations by him have survived."
In fact, much of his artwork was destroyed in his apartment during a series of arson fires in 1939. "Flag Maker" is one of the few that survived the fire, and visitors can still see the heat blisters on the paint.
Twohy continued to exhibit his artwork at various events in Western Washington, Spokane and even in Vancouver, B.C., in the 1940s. In 1947, he went back to the University of Washington to continue his art studies, including private sessions with Mark Tobey.
In 1952, Twohy moved back to Whiterock, Utah, where he focused more on Indigenous American activism than art. But during the 1960s and 1970s, he continued to exhibit his artwork and promote his culture around the country, including a traveling exhibition "America Discovers Indian Art" at the Smithsonian Institution in 1967.
Martin said that he had wanted to do this exhibition for a long time because Twohy's work was unique and talented, a cross-cultural art that people don't often see in the U.S. Only a few historical Northwest artists were commemorated in the past 50 years.
"We are rediscovering artists to present to the public to show how broad and unique our regional art is. I feel that Julius Twohy was an important artist in our regional cultural heritage," Martin said. "He is unique within the entire country for his use of indigenous imagery as filtered through European Modernism. He is also an example of how a once-great artist can become completely unknown because he had no one to champion his life and art. He never married or had children, and his only relatives were in Utah and California. Cascadia Art Museum is the voice for these artists."
The "Native American Modern" exhibit runs at the Cascadia Art Museum from July 27 to Oct. 29, 2023. It is displayed with local contemporaries, including Delbert J. McBride, R. Bruce Inverarity and Worth D. Griffin. Check here for hours and admission information.
— Story and photos by Nick Ng