Part 2 of 2 parts. You can read Part 1 here.
Jane Harris (Cunningham) Continues to Serve Her Country
Upon returning to Tucson, Jane realized she wanted to do more for her country. Two months after being deactivated, she joined the American Red Cross. After completing training in Washington, D.C., she was flown back to Seattle, where she boarded the Matonia, a luxury liner that had been converted into a troop carrier, which was headed to the Marianas.
As Jane documented, "the ship left in July 1945 with 500 nurses, troops of segregated black and white troops and 13 Red Cross women. We zig-zagged across the Pacific with brief stops in Hawaii, Wake Island, Guam, where we offloaded troops, and then onward to Tinian, and to Saipan, where a big hub hospital was being built. Everyone at that time thought the war would last longer than it did."
Author's note: Jane was on Saipan when the B-29 (Enola Gay) took off from Tinian, and dropped the atomic bomb on Hiroshima.
Once on Saipan, everyone was escorted to a large compound, which was guarded around the clock by heavily armed military personnel who constantly paroled the fence line. Once inside, Jane and her companions were escorted to Quonset huts, where two women were assigned to each room.  The rooms contained very little…a cot and a small closet that had an outlet for a large light bulb, which was used to keep their shoes dry, since it was so humid.
Once situated inside the compound, the American Red Cross set up a large Quonset-type building for use as a canteen. It required a lot of work to construct, and it contained pingpong tables, a pool table, multiple card tables and a counter where the sailors from all the Navy ships in the harbor could come at times and get a cup of coffee or lemonade, plus a donut or small sandwich.
Jane recalled that she had served food and drink to not only the U.S. sailors and soldiers, but also to several celebrities including heavyweight boxing champion Max Baer and actor Tyrone Power, among others.
As Jane recounted: "By the time I arrived, the worst part of the war had washed over the island of Saipan, and had left behind much destruction and death. But, as in most disasters, out of the rubble there was the growth of new life. From the time the island was taken by the Americans in June of 1944 to when I arrived in July of 1945, many basic structures in the style of a Quonset hut had been built. On Saipan you don't need insulated homes, you need a roof over your head to keep the rain out and screens to keep the bugs out."
Author's note: Japan had controlled Saipan since 1914 when the League of Nations had ceded power over the island to Japan. The battle of Saipan was one of the bloodiest in the Pacific. The U.S. lost 3,400 men, and the Japanese lost 27,000 through fighting or through suicide when they realized the Americans were going to take control. Many Japanese soldiers and natives jumped off an 800-foot cliff at the end of the island, dying by suicide. Saipan was an important victory for the Americans, as it was the first of many Japanese islands that fell, and it was also where the airstrip for the B-29 bombers was established.
Jane served eight months on Saipan. Japanese sympathizers as well as lonely U.S. servicemen posed a potential threat to the nurses and Red Cross workers, so the women were under constant guard. Jane recalled: "We were never allowed to go outside the compound without accompaniment of two men, one armed. There were military people who felt that we had no place being there."
Once her tour of duty was over in Saipan, Jane traveled to Kwajalein Atoll, a part of the Marshall Islands, where the American Red Cross helped evacuate the 167 natives off the Bikini Atoll before atom-bomb tests were conducted.
Author's note: The U.S. military, which had won a decisive victory, was determined to cement its superiority. The day after Emperor Hirohito surrendered, a U.S. military advisor proposed to Secretary of the Navy James Forrestal a test of nuclear weapons on naval vessels to demonstrate their survivability. As a result, Operation Crossroads was approved and a number of scuttled Navy ships were brought in to test the results of the explosion on the ships.
On the day of the first test, according to Jane's account (paraphrased): "The date was July 1, 1946 and we were evacuated to Ebeye, an island about two miles away from where we were staying at 3 in the morning. That was to protect us in case the plane carrying the A-Bomb crashed on take-off. We were fairly ignorant of the enormity of the destructive potential of the atom bomb, even after Hiroshima."
Kwajalein was where the two bombs had been assembled. One was dropped that morning above Bikini Atoll along with the U.S. warships that were stationed around the island, and the second was dropped into the lagoon next to the island on July 25.
Jane remembered, "I never knew what the impact of the tests were until I saw a documentary years later, showing the young sailors smiling at the camera as they were tested for radiation, and the counter sounding a rapid tick-tick-tick.  Someone must have realized the danger though, as we were made members of the Order of Guinea Pigs. Even if it was done as a joke, the potential disaster was there."
The four months at Kwajalein ended Jane's 12-month tour as an American Red Cross worker in the Pacific. She returned to San Francisco  and moved back to Los Angeles for a short period of time before moving to Seattle to be closer to her sister.
Jane went to work for Boeing, and there met an engaging young man by the name of Frank Cunningham in the first part of 1948.
The Cunninghams make Edmonds their home 
Jane and Frank Cunningham were married on May 28, 1949 and first moved into an apartment near the Edmonds High School. In 1951, their first daughter, Laurie, was born while they lived there. Shortly thereafter, Jane and Frank moved into a house on Grandview Street, where they would reside for the next 54 years. During the first three-and-a-half years there, their son Christopher would be born in 1953, and their youngest daughter Ellyn would arrive in 1955.
Frank started working at Boeing, making and putting together parts for the B-17 bomber and performed other menial tasks like steam cleaning the insides of airplane wheel inner tubes. He soon realized he wasn't cut out for this type of work and quit after six months. At the encouragement of a friend, he enrolled at the University of Washington and earned an education degree.
Frank's first teaching job was an English teacher at Edmonds High School. At first he thought he wasn't really qualified to be a teacher, but he soon realized that his life experiences afforded him the opportunity to be creative in his materials and his teaching approach. As a result, he taught English at EHS for 18 years and at Lakeside School for 12 more years.
Author's note: Prior to settling in the Seattle area, Frank had been the stroke on the national championship rowing team at Harvard in 1947. Once situated in the Northwest, he became a rowing coach and well-known repairer of racing shells along with his teaching duties. By the end of his coaching career he had amassed 50 years of coaching at the Green Lake Crew and the Lake Washington Rowing Club. He also wrote a well-received book entitled "The Sculler at Ease."
Throughout their married life, Jane was the bedrock of the family, not only helping Frank with his endeavors, but also being an attentive and supportive mother, as well as an active member in the community.
As a community volunteer she was active in a number of ventures. Here are just a few of them:
Edmonds Community Concerts
Seattle Symphony Family Concerts
Driftwood Theater – Fund raising
Multiple Parent Teacher Associations
Edmonds Art Festival
American Red Cross
Mayor's Liaison Committee
Juvenile Conference Committee for Edmonds School District #15
Snohomish County Law & Justice Planning Committee
St. Mark's Church
Museum of Flight
Author's note:  I had the opportunity to talk to a number of long-time Edmonds residents who knew Jane. Everyone without exception told me that Jane was always someone willing to help, and would always follow through on her commitments.
They also expressed that Jane always had a smile, and was happy to see you. Her daughters said emphatically: "Our mother was the type of person who would give a total stranger a hug".
1977 Jane and the other WASP members get their just reward. 
 Thirty years after the WASP program had been disbanded in December of 1944, the U.S. Air Force announced that women were going to be allowed to serve as military pilots for the first time. When the Air Force Academy put out a statement saying "for the first time women were going to fly military aircraft" it really set a bomb off with the WASP members, and their supporters.
In 1976, many in the press felt that the lack of benefits for WASP members was an injustice, and began writing articles about it. At the same time, WASP found a powerful champion on Capitol Hill: a former World War II pilot, Senator Barry Goldwater, who had also ferried planes during the war. Although he failed on his first attempt to get the WASP military recognition, he persisted.
With testimony before the Senate Committee on Foreign Affairs, by Colonel Bruce Arnold — the son of World War II General Hap Arnold, who had worked with Jackie Cochran to form the WASP program –the case was made for the program's strong contribution to the nation's security. Testimony by other military personnel echoed Colonel Arnold's comments.
But there was also strong opposition from the American Legion, Veterans of Foreign Wars and the Veteran's Administration that claimed that if WASP members were granted veterans benefits, then other civilian organizations during World War II — such as the Civic Air Patrol –would want veterans' benefits too.  That proved to be untrue.
After hearing all the testimony, both the House and the Senate voted in the fall of 1977, via the GI Bill Improvement Act of 1977, to grant WASP members military status and to make the women pilots eligible for veterans' benefits. For many WASP members, it was not about the financial support they would receive, but about the acknowledgement of their services and accomplishments during the war. As one WASP stated: "this gives the families of the girls who were killed, a feeling that they died for their country."  This also gave WASP members the right to place a Stars and Stripes at the graves of WASP colleagues on Veterans Day for the first time.
In the early 1980s, Jane went back to school to learn printing. After graduating, she went to work for St. Mark's church as their printer for several years.  This was a job which she took great pride in and totally enjoyed
Local Recognition
Despite all of her service to both her country and her community, Jane thought she hadn't done anything exceptional. But those who had the privilege of knowing and working with her knew otherwise.
As a small expression of the community's gratitude for everything she had done, Jane was selected to be the Grand Marshal of the Edmonds 1995 Independence Day Parade, which she proudly accepted.
Continued WASP Involvement 
During her final years, Jane continued to volunteer and was actively involved in WASP reunions, which were held every two years. She recounted how many friends she had made during the WASP's time together, and recalled attending the 1969 WASP reunion at WASP leader Jackie Cochran's ranch. As Jane exclaimed "It was a once-in-a-lifetime experience."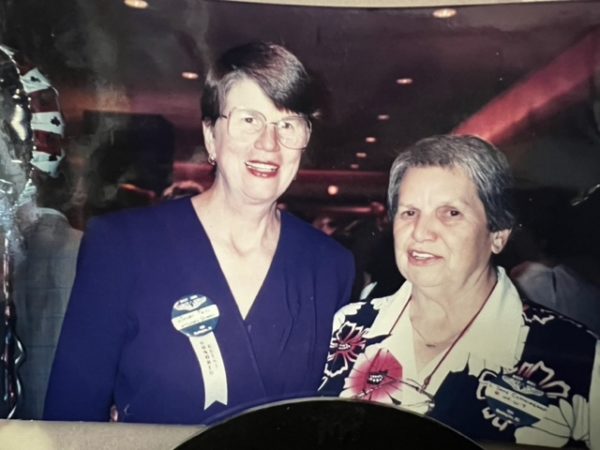 Jane passed away on Sept. 15, 2004 after living in Edmonds for over 55 years. Given her love of flying, it isn't hard to imagine her soaring with the angels above. Her husband followed her on March 3, 2013.
WASP: Further Recognition.
The official announcement read:  On March 10, 2010, for heroic service over 60-plus years ago, the Congressional Gold Medal was given to the Women Airforce Service Pilots (WASP) at a ceremony held in Emancipation Hall at the Capitol Visitor Center in Washington, D.C
Since the American Revolution, Congress has commissioned gold medals as its highest expression of national appreciation for distinguished achievements and contributions by individuals and institutions.
Jane's daughter and granddaughter travelled to Washington, D.C. to pick up the medal posthumously for Jane. They gathered with others at Arlington National Cemetery, where there were a lot of photos and historical information on the walls regarding WASP, along with guest speakers Eileen Collins, American astronaut, and a brigadier general.
The final event was moved to the visitor center due to it being the largest gathering ever in the space. A total of 150 of the 300 WASPs still alive attended, and each had a military escort from all branches of the service.
One woman was ceremonially presented the gold medal in honor of all the WASPs living and dead. Ellyn and Sara later picked up Jane's individual gold medal.
Author's final note: In 2016, Congress passed a separate law affording WASPs burial rights in Arlington National Cemetery after the Secretary of the Army denied WASP Elaine Harmon's burial there.
This article was researched and written by Byron Wilkes. Thanks go out to the Jane and Frank Cunningham's children, Ellyn, Laurie and Christopher, who provided so much value information, photos, insight and editing of this two part article. Thanks also to the Edmonds Historical Museum and the Sno-Isle Genealogy Society for access to their historical files.  Additional thanks to those who spoke with me about their reflections and memories of Jane, and her positive impact on the Edmonds community.
Lastly a well-deserved thanks to all the women in the WASP program who risked their lives while serving our country, plus the 38 women who made the ultimate sacrifice to help preserve our freedom and way of life.