As summer winds down, we prepare to kick things back into high gear for the fall. You may be rounding up your family for the back-to-school shuffle or simply slowing down after a season of vacations and outdoor activities. In the back of your mind, you're probably also thinking about a fashion reset for the coming season. Beyond stocking up on sweaters, fall is a perfect time to spice up your accessory collection.
As everyone seeks out a way to set their style apart from the rest, custom jewelry has become one of the hottest fashion trends. There's no better way to capture a piece of your personal story than by working with a jeweler to create something truly one-of-a-kind. And there's no better way to add some vibrance to your wardrobe than with colored gemstones.
With a whole rainbow of gemstones to choose from, where do you begin? In honor of all things autumn, let's start by checking out some gorgeous fall birthstones. We caught up with local jeweler Andy Cline to talk about these unique birthstones and their boundless possibilities.
September Birthstone Jewelry
September's birthstone, the regal sapphire, hardly needs an introduction. This birthstone is a timeless symbol of elegance and fine taste. While sapphires may be any color but red, they are best known for their suite of blues. From deep navy to vibrant royal blue, the sapphire has long been coveted for these vibrant hues.
"We frequently work with sapphire in our custom designs," says store owner Andy Cline. "People love sapphire jewelry for its effortless, classic beauty."
This custom sapphire ring features a cushion cut sapphire nestled between two trapezoid cut diamonds to create a striking contrast of shapes and colors.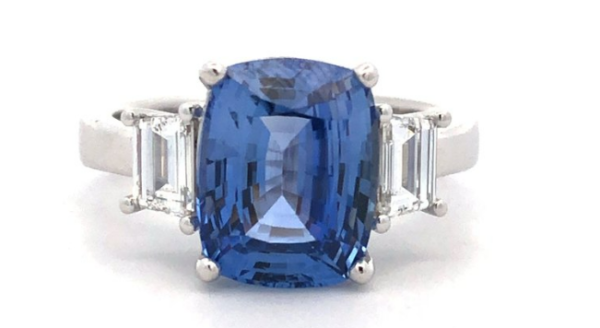 October Birthstone Jewelry
Those born in October get two birthstones to choose from. Opal is the traditional October birthstone, while pink tourmaline has been added to the list in recent years.
English speakers had to coin a new word to adequately describe the opal's distinctive shimmer: opalescent. Opals can be found in parts of the western United States, as well as in Central and South America, but Australia produces most of the world's opals. Variations include tha black opal and the spectacular red fire opal.
October's breathtaking birthstone is particularly soft and damage-prone, so it may not be the best choice for a ring. However, it makes for a gorgeous pendant, with this custom diamond halo and opal pendant being the perfect example.
Tourmaline, October's modern birthstone, comes in all manner of striking colors. In fact, its name is derived from the Sinhalese word turamali, meaning "stone of many colors." However, its watermelon pink variant may be the most popular. To see why, all you have to do is take a look at this stunning tourmaline necklace. Accented with radiant diamonds, this pendant will have you feeling pretty in pink all year long.
Though it might make things a touch more personal, you certainly don't have to have an October birthday to appreciate these gemstones. "Opal and tourmaline might be fall birthstones, but these can be worn year-round," says Andy Cline. "They're very versatile gems, so you can pair them with any of the typical spring, summer or winter colors, too."
Citrine and Topaz: November Birthstone Jewelry
November babies, good news: You have two birthstones, too! The traditional November birthstone, topaz, comes in nearly every color of the rainbow and then some. Meanwhile citrine, the modern November birthstone, embodies the golden glow of fall.
From the pinkish-orange imperial topaz to the kaleidoscopic mystic topaz, this gem offers a world of variety perfect for custom jewelry design. With a strong hardiness score and an undeniable allure, topaz in any color is a wonderful choice for your jewelry. Says Andy Cline: "We love working with topaz because it can do so much. It's well suited for rings, earrings, necklaces and bracelets. Plus, you can find it in just about any color you can imagine." This topaz and diamond ring is just one example of the jewelry you can create when making custom pieces with topaz.
Fall is a great time for earth tones, and citrine, which ranges from amber to deep orange, suits autumn colors beautifully. It was once said to symbolize abundance and blessings, making it a perfect match for the month of Thanksgiving. Citrine's special glow is sure to bring a smile to your face, whether or not you were born in November. Let this citrine pendant inspire you to start dreaming up some custom citrine jewelry of your own.
Explore Custom Birthstone Jewelry and More at Cline Jewelers in Edmonds
"Here at Cline Jewelers, we like to say that if you can dream it, we can design it–and that goes for everyone," Andy Cline says. "We have a huge collection of colored gemstones, and we invite you all to come take a look at them in person."
If you don't know where to start in your custom design journey, or if you happen to be an autumn baby, fall birthstones are a fantastic place to start. Varied and vibrant, these five birthstones would all make stunning additions to your wardrobe.
You can explore more colored gemstones in-store at Cline Jewelers, or take a peek at the collection online.